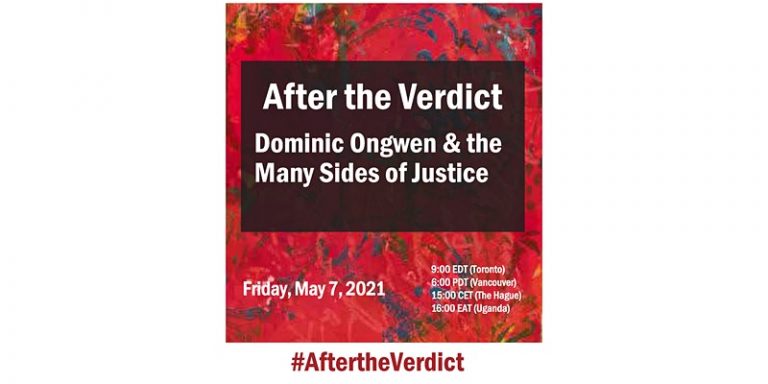 This virtual public Symposium includes panelists from the community to the Court. Listen to a diversity of views on the International Criminal Court's sentencing of Dominic Ongwen for war crimes and crimes against humanity in northern Uganda.
All are welcome. For more information and to register, please visit: AfterTheVerdict.eventbrite.ca
Panelists:
Ambrose Olaa, Prime Minister, Ker Kwaro Acholi, northern Uganda
Anushka Sehmi, ICC: Victims' lawyer
Ayodele Akenroye, Postdoctoral Fellow, University of Toronto
Judge Benjamin Gumpert, QC, former Senior Trial Lawyer on Dominic Ongwen's prosecuting team at the ICC
Beth Lyons, Senior Defence Counsel representing Dominic Ongwen at the ICC
Evelyn Amony, Co-founder and Chairperson, Women's Advocacy Network
Ketty Anyeko, PhD candidate in Interdisciplinary Studies and Liu Scholar, University of British Columbia
Moses Komakech, Youth Representative, Women's Advocacy Network Uganda
Ongwen Family Representative
Vincent Oyet, Victim's Representative, Lukodi Massacre Survivor Association
Moderators:
Kamari Clarke, Distinguished Professor, Centre for Criminology & Sociolegal Studies and the Centre for Diaspora & Transnational Studies, University of Toronto
Isaac Okwir Odiya, Program Coordinator, the Justice and Reconciliation Project
Erin Baines, Ivan Head South-North Chair and Associate Professor, School of Public Policy and Global Affairs, University of British Columbia
With music by Jeff Korondo, musician and a community peace builder, Music For Peace.
Download the poster here.
Hosted by the Transitional Justice Project in collaboration with the Transformative Memory Project at the University of British Columbia, and the Justice and Reconciliation Project, Uganda.