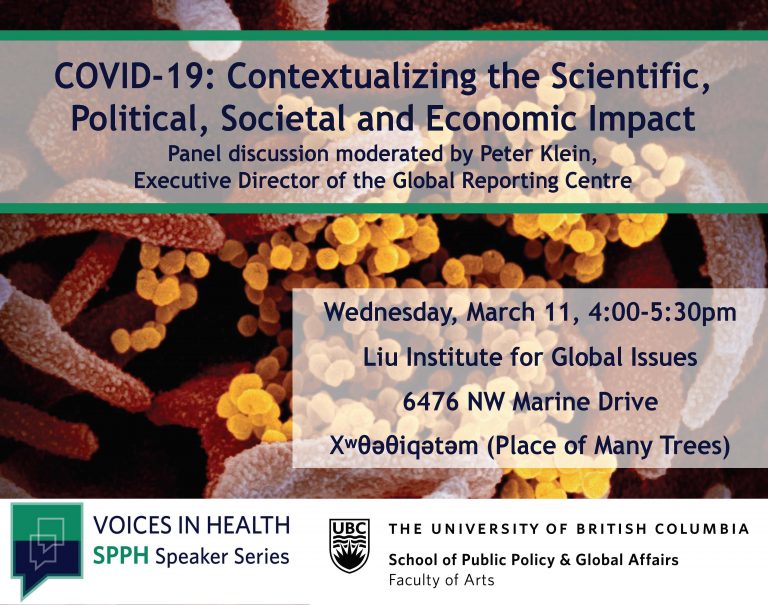 Learn more about COVID-19, the disease caused by the new coronavirus, through a moderated panel discussion with local experts, as part of the Voices in Health event series.
EVENT DETAILS
Date: Wednesday, March 11, 2020
Time: 4:00 – 5:30 PM
Location: Liu Institute for Global Issues – Place of Many Trees, 1st floor, 6476 NW Marine Drive
In recognition and support of the Joint Statement released by the BC Ministry of Health on March 9th, the School of Population and Public Health (SPPH) and the School of Public Policy and Global Affairs (SPPGA) welcome and invite those interested in the event to attend virtually. We will still be hosting the event in-person, but should you opt to attend virtually, please visit the SPPH YouTube channel at www.youtube.com/ubcspph1
Click here to read more information on the Joint Statement.
SCHEDULE
4:00 – 4:05: Welcome
4:05 – 4:15: Moderator Introduction
4:15 – 5:00: Panel Discussion
5:00 – 5:30: Questions
MODERATOR
Peter Klein was a longtime producer with CBS News 60 Minutes, and has produced projects for many of the major American news programs, including Frontline, Nightline and 20/20. He has written for The New York Times, The Christian Science Monitor and other newspapers. His work has been honoured by the National Academy of Television Arts & Sciences (Emmy x3), Society of Professional Journalists (SDX x2), Radio Television Digital News Association (Murrow x6), International Academy of Digital Arts and Sciences (Webby honor x2) and Online Journalism Organization (ONA).
PANELISTS
Srinivas Murthy is a Clinical Associate Professor in the Department of Pediatrics at the University of British Columbia and an Investigator at BC Children's Hospital. Infections in children are still a major cause of early morbidity and mortality throughout the world, despite the advances made in preventive care. Infections are often a reason for children to become critically ill, and often occur in the critically ill child. Dr. Murthy's research focuses upon stemming this burden through optimizing their management in a variety of settings. Additionally, the ability of various settings and healthcare systems to cost-effectively manage critically ill children, especially those with infection, is an area of focus.
Kelley Lee is trained in International Relations and Public Administration with a focus on international political economy. She spent over twenty years at the London School of Hygiene and Tropical Medicine, initially analyzing the role of the UN in health. She was a core member of two major donor-led studies on WHO reform during the 1990s. She co-established the WHO Collaborating Centre on Global Change and Health, and chaired the WHO Resource Group on Globalization, Trade and Health. Dr Lee also co-led a major international initiative to secure public access to tobacco industry documents, and analyze their contents in relation to the globalization of the tobacco industry. She joined the SFU Faculty of Health Sciences in 2011 as Associate Dean, Research and Director of Global Health. She is a Fellow of the Faculty of Public Health, Royal College of Physicians and Fellow of the Canadian Academy of Health Sciences.
Pitman Potter is Professor of Law and Director of Chinese Legal Studies at the Peter A. Allard School of Law. His teaching and research focus on PRC and Taiwan law and policy in the areas of foreign trade and investment, dispute resolution, property law, contracts, business regulation, and human rights. He has published over 100 articles and essays and several books, including The Legal System of the People's Republic of China (Cambridge: Polity Press, 2013) and Assessing Treaty Performance in China: Trade and Human Rights (Vancouver and Toronto: UBC Press, 2014). Dr. Potter is a fellow of the Royal Society of Canada. Dr. Potter is ordained a Deacon in the Anglican Church of Canada (Diocese of New Westminster).
David Patrick is an Infectious Diseases Specialist and Epidemiologist with a career interest in responding to emerging infectious diseases. His current focus is on the broad effort to contain the threat of antimicrobial resistance in Canada and around the World. He is particularly interested in understanding the drivers of antibiotic utilization in the community and intervening to reduce unnecessary use.
For further questions about the event, please contact voices.in.health@spph.ubc.ca
Co-Hosted by: School of Population and Public Health and the School of Public Policy and Global Affairs