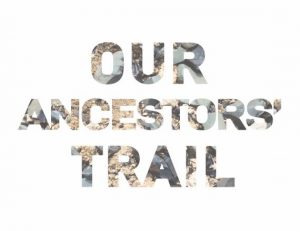 Our Ancestors' Trail is a result of collaboration between Tahltan youth and artists and scientists, educators, cultural practitioners and Elders and Tahltan allies—who support and/or teach youth to learn and realize Tahltan ways of knowing. Artwork and archeological work happened on the Tene Mehodihi land-based education program 2018-2019.
Exhibition Dates and Locations:
February 27th – November 30th, 2020: On View during business hours. No RSVP necessary.
Lobby Gallery at the Liu Institute for Global Issues, UBC, 6476 NW Marine Dr, Vancouver – visit the website for details on temporary building closure due to COVID-19
The Lab of Archeology at the Museum of Anthropology, UBC 6393 NW Marine Dr, Vancouver – visit the website for details on temporarily closure of MOA due to COVID-19
Artists:
Sage Novak
Una-Ann Moyer
Tsēmā Igharas
Sophia Biedka
Ocean van Mierlo
Freya Podlasly
Collaborators:
Brendan Gray
Curtis Rattray
Candis Callison
Nadja Kunz
Brittany Seymour
Shesley Callison-Hanna
Nathan Skubovius
Duncan McLaren
With Support From:
The University of British Columbia:
School of Public Policy and Global Affairs
Liu Institute for Global Issues
School of Journalism, Writing, and Media
The Lab of Archeology, MOA
Norman B. Keevil Institute of Mining Engineering
Faculty of Applied Science
Sandpiper Signs & Decals Inc.
T-WILD: Tū'dese'chō Wholistic Indigenous Leadership
For updates on times and events, please visit the Tene Mehodihi website.