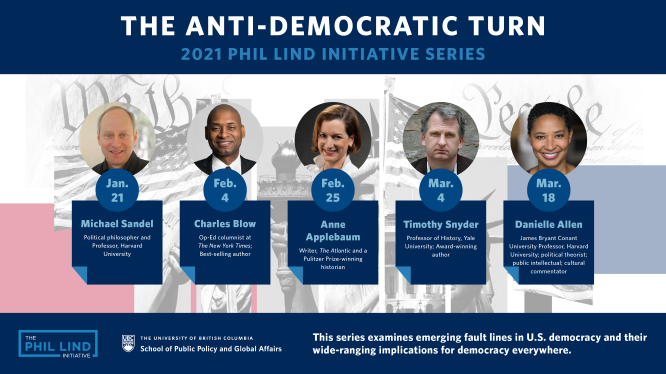 #LIND21 | January – March, 2021
The unprecedented assault on the rules and norms of democracy in the US over the past four years has exposed its vulnerability. The problems have become all too familiar: corruption, disinformation, foreign interference, gerrymandering, social media complicity, voter suppression, and the previously inconceivable threat that the outgoing president would refuse to concede and instead launch a series of futile but harmful legal challenges to democracy itself. Despite the eventual outcome of the presidential election, democracy in the US may not be as resilient as we once thought. If we accept that the previous administration is a symptom of more deeply rooted problems in American society, how do we begin to address these emerging fault lines in the democratic process? How can we protect the integrity of our democracies in an era marked by authoritarian resurgence and nativist backlash?
The Phil Lind Initiative 2021 series on The Anti-Democratic Turn will explore these questions and more, with virtual events featuring leading intellectuals and authors including Michael Sandel (January 21), Charles Blow, (February 4), Anne Applebaum (February 25), Timothy Snyder (March 4), and Danielle Allen (March 18).
Each of our public events held virtually is free to attend. Tickets will be available approximately a month before each event.
The Phil Lind Initiative is hosted by the UBC School of Public Policy and Global Affairs. The initiative's mandate is to invite prominent U.S. scholars, writers, and intellectuals to UBC to share ideas with students, faculty, and the wider community on some of the most urgent issues of our time.
Subscribe to our Phil Lind Initiative Newsletter for updates on events.
Video recordings of our events can be found on our Phil Lind Initiative website.