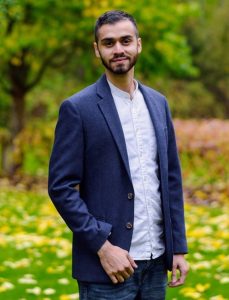 Bassam Javed is currently a PhD student at the University of British Columbia's Institute for Resources, Environment and Sustainability and a recipient of UBC's Four Year Fellowship. His interdisciplinary research combines quantitative and qualitative methods to develop public policy insights for the sustainability transition in the transportation sector. His research to date has focused primarily on Canada, and on emerging economies, particularly China and India.
Bassam's professional career has included roles in the energy and mining sectors. He holds an M. Eng. in Clean Energy Engineering, and bachelor's degrees in Chemical Engineering and Biochemistry. Bassam lives in Vancouver and has two young children. He enjoys volunteerism, which has included program development and board governance in social services, mental health, and environmental sustainability non-profits. In his spare time, Bassam enjoys swimming, reading philosophy, and practicing martial arts.
Bassam's Liu Scholars project is mentored by Dr. Kristen Hopewell, a study of China's international policies supporting its electric vehicle industrial aspirations vis-à-vis its domestic transition to low-carbon transportation.
Research interests: Low-carbon transportation, Socio-technical transitions, Energy systems policy
Email address: bassam.javed@ubc.ca