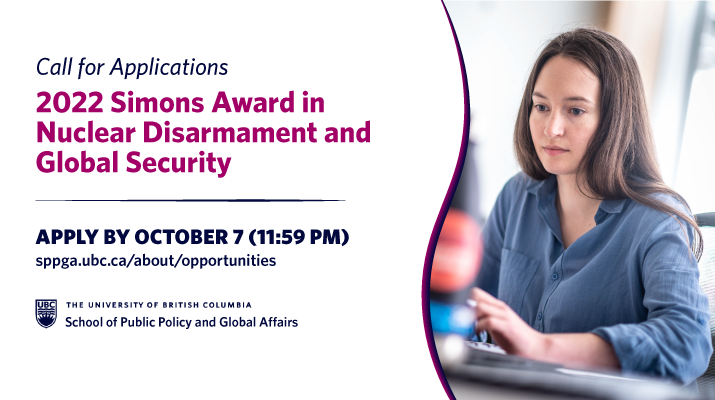 The Liu Institute for Global Issues in the UBC School of Public Policy and Global Affairs invites applications from UBC students intending to undertake research on topics broadly related to nuclear disarmament, including nuclear energy, and global security.
Students selected will produce a research paper or some other suitable product (long form journalistic article, for example) by May 15, 2023. They will also be expected to attend any webinars and other activities related to nuclear disarmament and global security organized by the Liu Institute for Global Issues or the School of Public Policy and Global Affairs. Upon satisfactory production of the paper, undergraduate and graduate students will receive awards of $1,000 and $1,500 respectively.
Eligibility:
All full-time UBC graduate students and undergraduate students of at least third year standing of all disciplines who meet the UBC Senate requirements for Awards, are eligible to apply. Multiple participants that represent a balance across disciplines, gender, and experience levels will be selected.
Application Process:
Applicants should submit a research proposal; a covering letter; a curriculum vitae; and a sample of the applicant's prior work. An Application Form must also be submitted. Details on the application materials can be found below.
Applications will be reviewed by the Simons Chair in Disarmament, Global and Human Security, Liu Institute for Global Issues. Awards are made on the recommendation of the School of Public Policy and Global Affairs, and in the case of graduate students, in consultation with the Faculty of Graduate and Postdoctoral Studies.
Deadlines:
Applications must be received by October 7, 2022.
Successful applicants will be notified by October 21, 2022.
Research Proposal:
Applicants should identify a research project of interest that broadly relates in some way to nuclear disarmament and/or global security. Sample topics include nuclear weapons and energy in Canada, the history of anti-nuclear activism in British Columbia and the lower mainland, implications of countries acquiring nuclear energy technology, the environmental and public health impacts of nuclear weapons and nuclear energy production, and artistic responses to the nuclear age. The proposal should provide a well-defined research question, a brief overview of the relevant literature(s) on the topic, and a research design within 1000-1500 words. The research proposal should be prefaced by a short abstract of roughly 300 words summarizing the applicant's initial understanding of the topic and its significance.
Covering Letter:
Applicants should provide a covering letter, not to exceed one (1) page, that, inter alia, describes their interest in nuclear disarmament and/or global security.
Curriculum Vitae:
Curriculum vitae should not exceed two (2) pages.
Sample of Prior Work:
Applicants should provide a sample of prior work; written work is not to exceed fifteen (15) pages; we welcome multimedia submissions (art or video projects, presentations, and so forth) at the applicants' discretion.
Application Form:
Submit your application here.
Contact for Questions:
Hui Jia
Program Coordinator
Master of Public Policy and Global Affairs
The University of British Columbia | Vancouver Campus
Email: mppga.program@ubc.ca