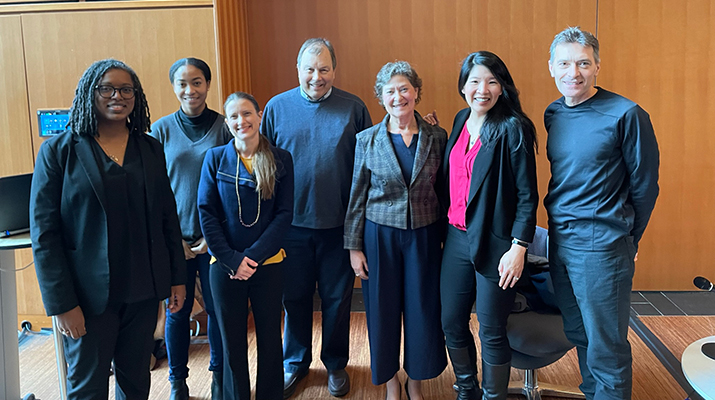 "At the end of the day, what we are focused on is addressing human rights abuse" – Sheri Meyerhoffer 
On January 25, 2023, the Canadian Ombudsperson for Responsible Enterprise Sheri Meyerhoffer visited UBC for a keynote talk that reflected on sustainability challenges in mining, her career in law, and her experiences building the Canadian office of the Ombudsperson for responsible enterprise.
Moderated by UBC Professor Sara Ghebremusse in the Franklin Lew Forum at the Allard School of Law, over 100 UBC students, staff, faculty and community gathered to hear more about Sheri Meyerhoffer's work with human rights, transparency, and accountability related to Canadian companies.
"(It means a lot) for me to be here speaking to academics and civil society, and at the same time speaking to governments and industries. I need to do this in equal measure so that everyone feels that my mandate is addressing all of their concerns."
Students from different disciplines all across the UBC campus had the opportunity to engage in discussion and ask questions following this informative presentation. Closing remarks were given by Susan Porter, Dean of Graduate Studies.
This event was the first in a series of public talks hosted by the Killam Connections Award-winning course, Heavy Metal: The Future of Minerals and Sustainable Societies, led by Professors Nadja Kunz, Carol Liao, Scott Dunbar, Allison Macfarlane and Philippe Tortell.
The next public talk in the Killam Lecture Series "Extraction: The Frontiers of Green Capitalism" takes place on Wednesday February 15 at 1pm and will feature Thea Riofrancos. Click here for more info and to RSVP.