The Master of Public Policy and Global Affairs (MPPGA) program at the School of Public Policy and Global Affairs hosts a mentorship program, matching graduate students with both professors and public policy professional mentors to support their academic and career goals.
MPPGA second year student Esther Ocheni is a current mentee and reflected on what she has learned from meeting with her mentor: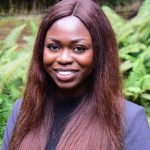 "I was matched with Diane Davoine, an International Finance Corporation staff member who works on services for women's empowerment and productivity in the workforce. Diane previously worked in the private sector on issues related to private sector development, capacity building, strategic analysis and research—all of which either match my previous work experiences or are fields of interest to me.
My mentor and I are a good personality match and have built a relationship dynamic where I am comfortable discussing professional, academic, and personal topics with her. Some of the practical tips I have received include but are not limited to 1) understanding that life decisions of today are unlikely to have immutable impacts on my life/career, 2) rest is a right, not a reward, and 3) prioritize courses and relationships closest to my field of expertise over others when time and energy are low.
Outside of the general advice, my conversations with her have helped me design a clear job search strategy as well as insider tips on how to apply for positions at international organizations."