We are thrilled to announce that Master of Public Policy and Global Affairs (MPPGA) second year student, Jessika Woroniak, has received the James Robert Thompson Fellowship, on the recommendation of the UBC Faculty of Graduate Studies and a committee of SPPGA faculty members.
The Fellowship, totaling $9700, is made to students planning a career related to preservation of the natural environment. It was the expressed wish of the donor that recipients of the fellowship would demonstrate a desire to use their talents and abilities to establish a significant career role in preserving the natural and wilderness areas in B.C and the Yukon.
We spoke to Jessika to learn what this award means to her and her career path.

Where does you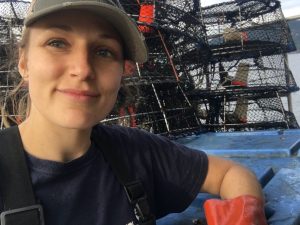 r interest in marine conservation come from?
My early interest in aquatic ecosystems began at the bottom of Lake Memphremagog while diving for mussels and lost golf balls as a child. At the age of 16, I took up scuba diving which enabled me to explore deeper waters for longer durations. In a sense, this first scuba diving certification was a gateway to a vast new world, much of it still unapprehended. My interest for the marine environment quickly flourished into an ardent appreciation for marine ecosystem complexity and diversity.
My desire to explore and learn has exposed me to novel marine and coastal environments around the world. These experiences, however, also uncovered many of the important stresses such environments face and the impacts felt by those who depend on them. This fostered a strong desire to drive positive change in ocean health which has led me from my early years snorkelling in the lake, to advancing our understanding of fisheries and marine resource management through research, and now, to pursuing a master's degree in public policy and global affairs.
What does receiving the James Robert Thompson Fellowship mean to you? How does it align with your career ambitions?
I am honoured and very grateful to have been awarded the James Robert Thompson Fellowship. At a very young age, I set my eyes on environmental conservation and am very fortunate to have been able to pursue this career path – a career path I consider not only worthwhile but necessary. With an affinity for wildlife and a deep passion for everything ocean related, marine conservation came naturally. This award recognizes the efforts I have put forth academically and professionally and validates the worth of the career path I have chosen to pursue.
Following the completion of my graduate studies, I intend to dedicate my efforts to international governance of marine resources in the hopes of driving conservation of these precious, and for many, essential, resources. Globally, marine resources are central to livelihoods, culture, food security, and the health and wellbeing of people. I aim to preserve the health and richness of marine habitats worldwide.
What policy change do you hope to drive once you graduate from the MPPGA program?
With Canada's coastline defined by three oceans, the Pacific, the Arctic and the Atlantic, the expansive connection we have to our marine ecosystems is central to our national identity and the culture and economy of coastal communities. Despite the importance of our coastal environments and marine natural resources, they too face pressing challenges. The decrease in sea ice cover, changes in species abundance, increase in marine pollution, and rising sea-surface temperatures and ocean acidity, are just a few examples of such challenges. Challenges that, I believe, can be mitigated.
I aspire to strengthen international actions to mitigate the challenges our Ocean, and those who depend on its resources and ecosystem services, face today. The Ocean is an interconnected system whereby actions and changes, be it positive or negative, can have far-reaching impacts. In this sense, actions aimed at marine conservation and restoration have the potential to engender profound benefits – economically, socially, and environmentally.
I seek to bring forth evidence-informed conservation and management to ocean governance by finding holistic solutions to restore and maintain marine ecosystem complexity, diversity and resilience in light of these current overarching issues of environmental change and human interactions through policy.
Congratulations Jessika!