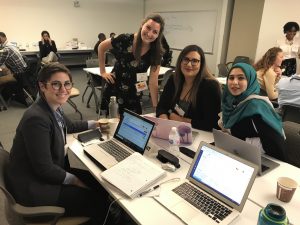 The 2019 NASPAA-Batten Student Simulation Competition focused on issues of forced migration and refugees in a day-long event that allowed graduate students in public policy and related fields to test their skills on real-world data. This year, four of our MPPGA students attended the competition in Austin, Texas. Learn more in their reflections below:
Hadir Ali, MPPGA Student
On February 23, 2019, I along with three colleagues participated in the NASPAA-Batten Student Simulation Competition, at the University of Texas in Austin. The competition itself was a daylong event on the Saturday we arrived a day before and left the next day. The simulation competition involved students in groups of 4 – 6 taking on different cabinet-level positions of a virtual country.
The policy issue at stake was how to deal with an influx of migrants from a neighboring failed country. Our responsibility was to make policy decisions as to how many migrants to allow into our country, the type of migrants (refugees, temporary asylum seekers, etc.), and how much social assistance (such as healthcare, education, housing, etc.) to provide. The goal was to assess how much aid our country could offer while maintaining our GDP and ensuring continued GDP growth and political satisfaction among citizens.
The competition itself was incredibly educational and held valuable lessons in regards to policymaking. The NASPAA-Batten Student Simulation is a must do for hands-on training in policymaking. It helps students apply an academic understanding of policymaking to real-life situations and it requires their immediate, thoughtful response.
Through our participation I was able to come to the conclusion that policymaking is a long-term game and results should not be anticipated in the short-term, rather sometimes its more effective to anticipate slow or negative results at first while maintaining/standing by the policy for longer than "one year". One of our group's shortcomings was our immediate response to any negative results. Our strategy was to alter our policies as soon as results were negative; in hindsight, this was not a good approach. This is one example of many other takeaways in regards to successful policymaking. Ultimately, I believe this experience was incredibly valuable and should be a required undertaking for any policy maker in the making.
"The NASPAA-Batten Student Simulation is a must do for hands-on training in policymaking. It helps students apply an academic understanding of policymaking to real-life situations and it requires their immediate, thoughtful response." – Hadir Ali, MPPGA Student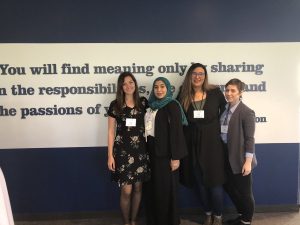 Claire Casher, MPPGA Student
In February 2019, I took part in the one-day NASPAA Batten Simulation Competition in Austin, Texas as part of a team of four students from the UBC SPPGA. It was a very novel and rewarding experience that brought classroom concepts to life. The theme of this year's simulation was a Global Migrant Crisis. As a team we made a series of policy decisions on behalf of our assigned fictional country, and through the simulation software, we applied them in context and learned firsthand how they would impact our country's economic and social metrics. Throughout the day we applied the skills we have been honing in the MPPGA, like cost-benefit analysis, negotiation, and policy memo writing. At the same time, we got to interact with other students of public policy from across North America. It was inspiring to uncover the common threads that had lead us all to this field, despite our diverse backgrounds.
"Competing in the NASPAA-Batten Simulation on the Global Migrant Crisis gave me new insight into the complexity of policymaking. I got to see the economic and social consequences of my decisions play out in real time, and my strategies adapted accordingly throughout the game. By the end of the day, I had a whole new perspective on refugee policy, which I'll carry forward in my work and studies."– Claire Casher, MPPGA Student

Tamara Friedman, MPPGA Student
The simulation was incredible. I really enjoyed steering away from the theoretical approaches and diving straight into practical approaches. I learned a lot about GDP, humanitarianism and how a country's priorities may not align with humanitarian ones or those of the international community.
I also really appreciated the role-playing and how the roles rotated – it contributed to the encouragement of diverse thought and leadership abilities.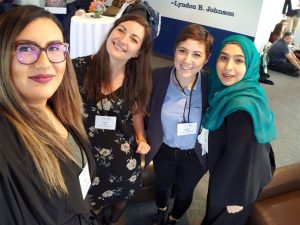 Israa Noureddine, MPPGA Student
Attending the NASPAA-Batten stimulation was an interesting and fruitful experience, one that I would recommend future students to participate in. I learnt several new concepts, met new people, and represented an interesting country! Our assigned site was Austin, Texas.
Upon arriving to our competition site, we were taken into a room where they presented the concept of the stimulation to us. We were provided with information prior to the competition as well so we could have an understanding of what to expect. The stimulation was a full day event, with two breaks in between, one for lunch and one for stretching. The atmosphere is quite competitive, but also engaging and fun.
Each individual plays a role in their assigned country. My team and I had a tricky country named "Durrit" which was intolerant to immigrants entering their country. Our goal was to provide policies that allowed immigrants to enter without causing a political uprising, at the same time we wanted to increase the country's GDP, Humanitarian Aid Index while reducing political tension. This allowed us to give a depiction and a taste of how policies affect societies as you see it occur virtually in front of you.
All in all, this experience was educational and entertaining. It makes you realize that when it comes to policies, you sometimes have to go out of your comfort zone to provide adequate policies for your society. You also sometimes have to let go of what you believe in because, yes, we would all love to have policies that are as humanitarian as can be, but other factors have to be included into our decisions as well. It also shed light on how important knowledge of economic concepts are. It would be nice to see this type of system or program utilized by policy schools because it gives them a small taste of how the real policy-making world is.