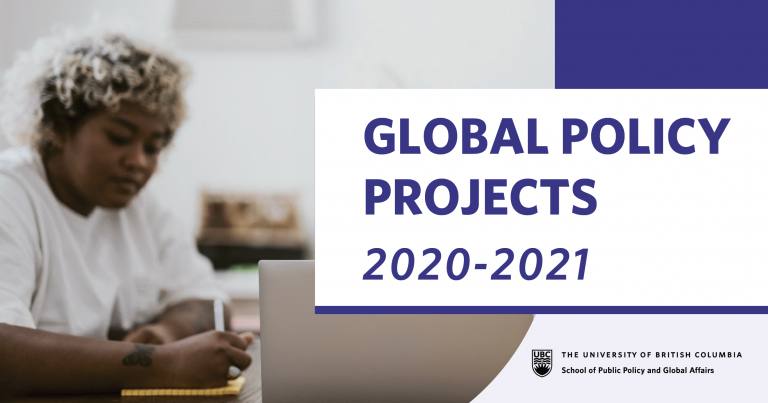 In January 2021, four UBC Master of Public Policy and Global Affairs (MPPGA) student teams began their Global Policy Projects, working with clients on topics related to climate action, sustainable energy, and decolonization. PPGA 590B is being led by Andrea Reimer, Adjunct Professor of Practice, UBC School of Public Policy and Global Affairs.
The Global Policy Project is a 6-credit course that provides the opportunity for MPPGA students to engage with policy makers and civil society organizations on a real-world policy challenge, both in Canada and around the world. Client organizations present a specific policy problem facing their organization to students, provide context to help students further define the issue and support the students as they work address it. With the support of a SPPGA faculty member, students work in teams to apply their creative thinking and analytical skills to their policy challenge.
Learn more about this year's projects below:
Climate Action Strategy: Coordinating Action on Squamish Nation Territory
Client: Sḵwx̱wú7mesh Úxwumixw (Squamish Nation)
Faculty Lead: Andrea Reimer
Students: Kingsley Eze, Remy Hellstern, Nidhi Sharma, Claire Ross
Decolonizing 'The Vancouver Plan'
Client: City of Vancouver
Faculty Lead: Andrea Reimer
Students: Isabella Pepe, Alexander Howes, Michael Law, Archana Lakshmi Kousalya Rajendren
Sustainable Energy for Decentralized Food Processing
Client: SELCO Foundation, India
Faculty Lead: Matias Margulis
Students: Ziwei Luo, Gavin Davies, Matthew Collenbrander, Clinton Mix
Refugee Resettlement – Exploring Barriers to Success in Vermont
Client: State of Vermont Office of the Lieutenant Governor
Faculty Lead: Andrea Reimer
Student: Hazel Brewster
Students will complete their Global Policy Project (GP2) with the development of a final deliverable(s) for their client, as well a presentation of their findings and policy recommendations presented during the annual MPPGA symposium held at UBC in early April 2021.
Please follow our SPPGA Twitter, Facebook, and LinkedIn accounts for reflections from our students on their fieldwork and engagement with this year's clients.
Learn more about the 2020-2021 PPGA 590A Global Policy Projects