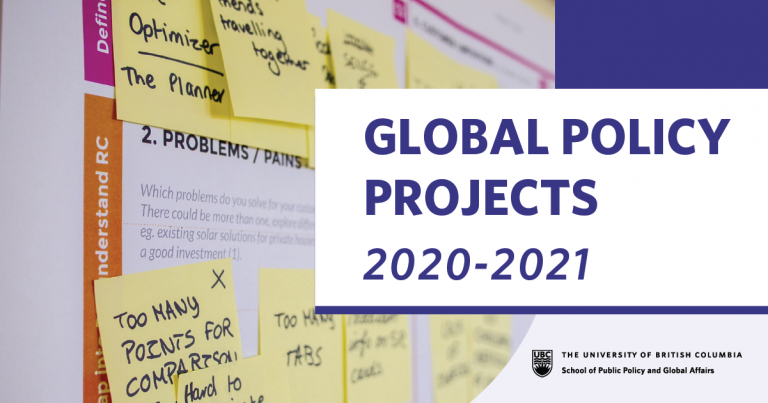 The 2020-2021 Global Policy Projects are now underway, with UBC Master of Public Policy and Global Affairs (MPPGA) student teams conducting virtual fieldwork with clients on seven different projects in Canada, the United States, Singapore, and Nepal throughout December 2020.
The fieldwork component is a defining piece of UBC's professional MPPGA curriculum. Led by School of Public Policy and Global Affairs Professor Julian Dierkes, the Global Policy Project (PPGA 590A) is a 6-credit course that provides the opportunity for MPPGA students to engage with policy makers and civil society organizations on a real-world policy challenge, both in Canada and around the world.
Project clients include different levels of government, including First Nations governments and community organizations, as well as non-profit and community-based organizations. Each presented a specific policy problem facing their organization to students, providing context to help students define and address it. With the support of a SPPGA faculty member, students work in a team and apply their creative thinking and analytical skills to their policy challenge.
The themes of the current projects range from gender, security, climate adaptation, and digital trade to Indigenous education policy. Learn more about the projects below.
---
Canadian Armed Forces Implementing the Women Peace and Security Agenda
Client: Dallaire Centre of Excellence for Peace and Security, Ottawa, Ontario
Students: Claudia Kobetitch, Muhialdin Bakini, Travis Liu
Faculty Lead: Erin Baines
Project Support: Ketty Anyeko, Liu Scholar, PhD student, Interdisciplinary Studies Program, UBC
Project Description: Assessing the role of Canada's National Action Plan on Women Peace and Security in the Canadian Armed Forces approach to implementing UNSCR 1325 within its operations in Iraq.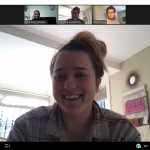 "Our team conducts subject-matter-expert interviews with CSOs professionals and Canadian military personnel to develop a policy to strengthen the Canadian government's commitment to implement the UNSCR 1325 on women, peace, and security. Every participant brings distinct contributions to the interviews, which may validate or contradict the information accumulated. Our task is to piece together this information, identify gaps, and refine questions. Our client said, 'I like the seamless flow of your interviews and participant-tailored questions.'"
---
Lax̱g̱alts'ap Climate Adaptation and Land Zoning Act
Client: Nisga'a Village Government of Lax̱g̱alts'ap
Students: Brayden Pelham, Victoria Ker, Stephen Patenaude, Erica Steele
Faculty Lead: Andrea Reimer
Project Description: Assessing the adaptation strategies that are available for Lax̱g̱alts'ap as they respond to sea-level rise along the Nass River.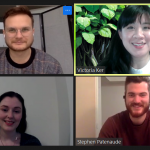 "It was incredibly eye-opening to be able to speak with experts in their field and to hear compelling perspectives on our project. Through the 'Zoom environment' we were able to connect with a wider variety of people than if we had been meeting in person.
Over the period of our field work, our op-ed was published in the National Observer. It gave us perspective into academic vs public writing, and was good experience for the next term when we will be writing our final report together."
---
Digital Trade and the Future of Canada-ASEAN Trade
Client: Canadian-ASEAN Business Council, Singapore
Students: Esther Ocheni, Edwin A. Edou, Shane Dial
Faculty Lead: Kai Ostwald
Project Description: Understanding the gaps that Canada's future ASEAN Free Trade Agreement can address through electronic commerce and digital trade to enhance competitiveness.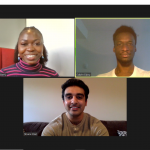 "Participating in a partnership with the CABC has provided a unique learning environment that has enriched our interests in Southeast Asian trade and engagement. In our fieldwork, we have been able to harness the virtual platform to better access stakeholders in an unprecedented year while gaining remarkable insights about the growth, opportunities, and challenges in the arenas of digital trade and eCommerce. Shane Dial remarks 'it has been insightful to learn about the current state of digital trade in Canada and ASEAN member states'".
---
Land-Based Learning as a Wholistic Tool for the Tahltan Nation
Client: Tu'dese'cho Wholistic Indigenous Leadership Development Society (TWILD)
Students: Sumaiyyah Adam, Khushi Haranahalli, Lilian Shams-Amiri, Jessika Woroniak
Faculty Lead: Nadja Kunz
Project Description: Working with the Tahltan community to develop meaningful and relevant education policy for TWILD's land-based education initiative that reflects the Tahltan priorities, values, and beliefs.
The all-female led TWILD team, has been working in a collaborative process with the TWILD organization, and it has been an eye-opening experience thus far. Lilian Shams-Amiri, a member of the team said, "Our focus is to promote engagement among Tahltan youth to continue the tradition of Tahltan ways of life".
---
Prioritizing Threats to Canadian National Security
Client: Canadian Security Intelligence Service, Ottawa, Ontario
Students: Daniel Park, Easton Smith, Nicolas Jensen, Yahe Li
Faculty Lead: Julian Dierkes
Project Description: Improving the policy planning process at CSIS pertaining to the challenge of balancing priorities between short-term threats to life (e.g. terrorism), and long-term strategic threats (e.g. economic security) by developing a menu of prioritization options by studying how other governmental and private sector organizations balance competing priorities.
The students working with CSIS used their research time to reach out to potential interviewees and build on their policy report with further desk research. One of the student leads on the project, Nicolas Jensen, said "we hope our work to compile and evaluate different methods of priority setting will inform future national security work here in Canada."
---
COVID-19, Socio-Economic Disparities, and Nepal's Back-to-School Model
Client: Open Learning Exchange Nepal (OLE), Nepal
Students: Boyd Hayes, Nabila Farid, Riya Sirkhell
Faculty Lead: Sara Shneiderman
Project Description: Assessing the opportunities and challenges particularly with regards to gender and socio-economic disparities that have emerged as the Nepal education system adapts to COVID-19 through a hybrid back-to-school model.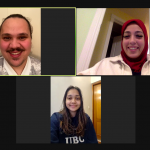 The OLE team just finished their fieldwork to understand the socioeconomic impact of Covid-19 on education in Nepal. They connected with parents, teachers, and civil society members to learn about their unique challenges. Nabila Farid described this process as "a great opportunity to understand first-hand the prevalence of the lack of educational infrastructure needed to support students".
Read the article: Nepal's Challenges in Delivering Education Amidst the COVID-19 Pandemic
---
Freedom from Gender Based Violence in a Climate Crisis
Client: Global Justice Center (GJC), New York, New York
Students: Joshua Diemert, Sogol Ghattan, Paige Rumelt, and Gina Zuno
Faculty Lead: Erin Baines (supporting role)
Project Mentor: Ketty Anyeko, Liu Scholar, PhD student, Interdisciplinary Studies Program, UBC
Project Description: Determining the gaps in the Haitian legal and policy frameworks, which allow climate emergency events (eg. hurricanes) to heighten the risk of sexual and gender-based violence.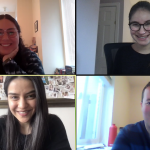 Team GJC is hard at work conducting interviews with experts on SGBV, internal displacement, and climate change. The team is also analyzing the legal and policy frameworks in Haiti to inform the GJC's legal advocacy efforts.
---
Students will complete their Global Policy Project (GP2) with the delivery of a report and a policy brief to their client, as well a presentation of their findings and policy recommendations in a symposium held at UBC in early April, 2021.
Please follow our SPPGA Twitter, Facebook, and LinkedIn accounts for reflections from our students of their fieldwork with clients.
Learn more about the 2020-2021 PPGA 590B Global Policy Projects