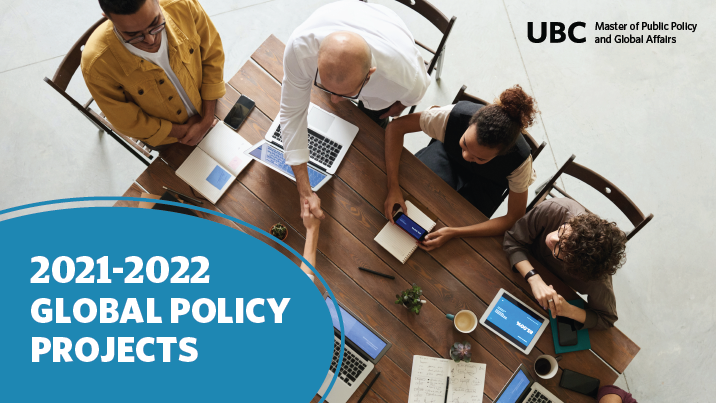 UBC Master of Public Policy and Global Affairs (MPPGA) student teams have been conducting virtual fieldwork with clients on projects in Canada, India, and Mongolia as part of the 2021-2022 Global Policy Projects.
This fieldwork component is a defining piece of UBC's professional MPPGA curriculum. Led by School of Public Policy and Global Affairs Professor Julian Dierkes, the Global Policy Project (PPGA 590A) is a 6-credit course that provides the opportunity for MPPGA students to engage with policy makers and civil society organizations on a real-world policy challenge, both in Canada and around the world.
Project clients include different levels of government (municipal, federal and First Nations governments) as well as non-profit and community-based organizations. Each client presented a specific policy problem facing their organization that the students further defined and are working to address. With the support of a SPPGA faculty member, students work in a small team and apply their creative thinking and analytical skills to their policy challenge.
The current projects span a wide variety of themes from health policy to assisting with the prevention of recruitment of child soldiers. Learn more about the projects below.
---
Activating the Mongolian Diaspora
Client: International Organization for Migration, Mission to Mongolia (IOM Mongolia) in Ulaanbaatar, Mongolia
Students: Hari Narayan, Jemimah Ogundele, Anoushka Chandarana, Anthony Coompson
Faculty Lead: Julian Dierkes
Project Description: Assessing the needs of the Mongolian diaspora in North America while researching best practices for engagement to activate benefits to and from Mongolians.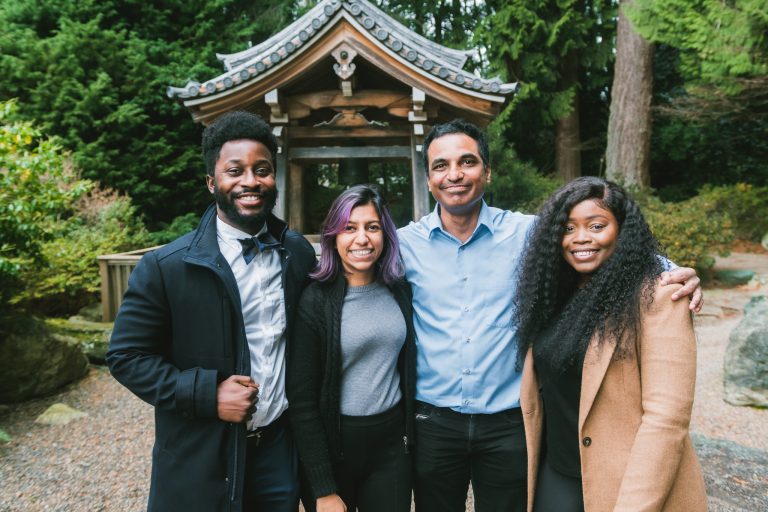 From the students:
"Our two week period for field work was met with information that confirmed our preconceived notions but also opened our eyes to new perspectives. Through that time we interviewed a variety of Mongolian experts in the field of education, linguistics, mining and construction. We found out that despite differences in location and fields of study, Mongolian identity is closely tied to their ability to speak, write, read and propagate knowledge of the Mongolian language.
Across the board, all our interviewees were motivated and interested in 'giving back' to Mongolia – whether financially, through skill-building and knowledge transfers, or donations – which underscores the importance of maintaining relationships with the Mongolian community in North America and back home in Mongolia."
– Student Team
"I think, as a group, we learned that we will experience challenges no matter how prepared we are. To overcome them, it's important to build on our adaptive capacity as best as we can."
– Anthony Coompson
---
One Health' policies in Asia: Applications for BC
Client: Genome BC in Vancouver, Canada
Students: Lisa Slager, Lindsey Wall, Soumya Kolluru, Benedetta Beltramo
Faculty Lead: Kai Ostwald and Drona Rasali
Project Description: Exploring the implementation of One Health (a health approach that recognizes and addresses the interactions between human, animal, and environmental health) in jurisdictions in Asia to find best practices that can inform, strengthen, and accelerate One Health policy implementation in British Columbia, Canada.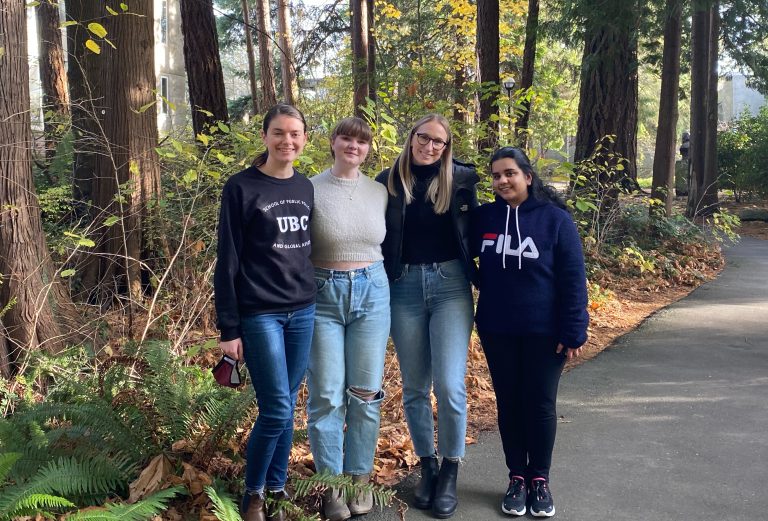 From the students:
"Our team had such a great experience with our Global Policy Project fieldwork, and for me it was definitely a highlight of the MPPGA program."
– Student Member
"Part of what made fieldwork so interesting is that One Health (a concept that recognizes and addresses the interactions between human, animal, and environmental health) is a very prescient policy issue, and real experts are actively exploring the same questions we are – how to implement the One Health concept in policy.
During our GP2 fieldwork we were able to have conversations with experts who reside in places like Bangladesh, Thailand, Singapore, and Hong Kong. We conducted interviews using tools like Zoom, which allowed us to take a very global approach to our project – we could speak to an individual in Singapore on one day, and someone in Bangladesh the next. It was so motivating to have the opportunity to speak to these experts; it helped us really appreciate how important the One Health concept is, particularly as our work continues to grapple with overlapping crises like climate change and pandemics. Having completed fieldwork, we can see how our GP2 will have real policy impact, and we feel excited to bring the project forward to the next step."
– Student Team
---
Mapping Social Procurement Policies and Best Practices
Client: SELCO Foundation in Bangalore, India
Students: Julia Brown, Katherine Pease, Tasha Carruthers, Annabel Steidl
Faculty Lead: Matias Margulis
Project Description: Mapping out and analyzing social public procurement policies and how to best engage social enterprises in the process. The project outlines best practices of how such policies are being done well and determines their relevance and applicability for India.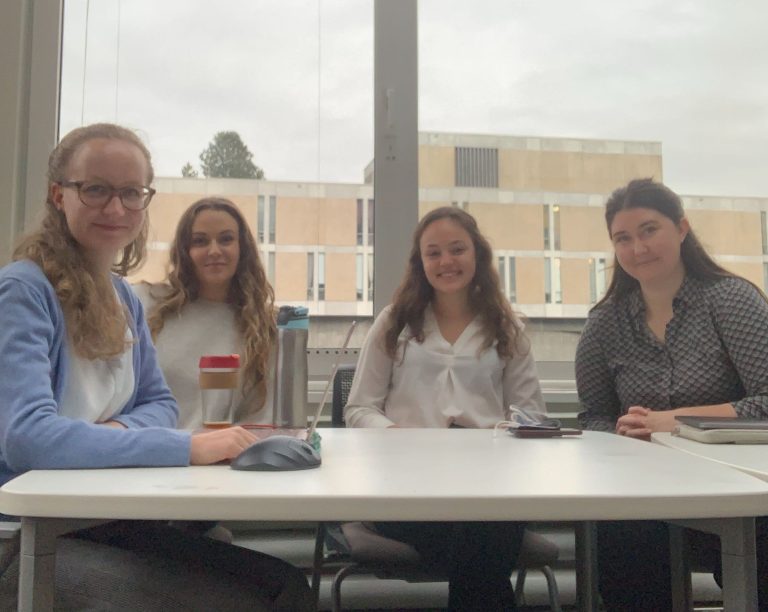 From the students:
"The SELCO team just completed their fieldwork, focusing on social public procurement practices and how to engage social enterprises in the process. The team is conducting their project by looking at case studies, seeing what could be applied to the Indian context in which their client operates. The SELCO team interviewed academics, lawyers, and professionals working with social enterprises, learning about the social public procurement ecosystems in their respective countries."
– Student Team
"This experience is invaluable context that can only be achieved through speaking with the right stakeholders, leading to the most meaningful project for the client."
– Student Member
"Speaking to experts is both validating our independent findings so far, as well as challenging certain assumptions we have held about social public procurement. Overall, the expert interviews will enrich our final project and add nuance and a diversity of perspectives."
– Student Member
---
Collaboration to Prevent the Recruitment of Child Soldiers
Client: Dallaire Centre of Excellence for Peace and Security (DCOE) in Kingston, Canada
Students: William Shelling, Wilson Dargbeh, Moysal Sana, Kshitij Sharan
Faculty Lead: Michael Small
Project Description: Examining the role of armed forces in UN peacekeeping missions in the prevention of recruitment of child soldiers through the lens of the Vancouver Principles.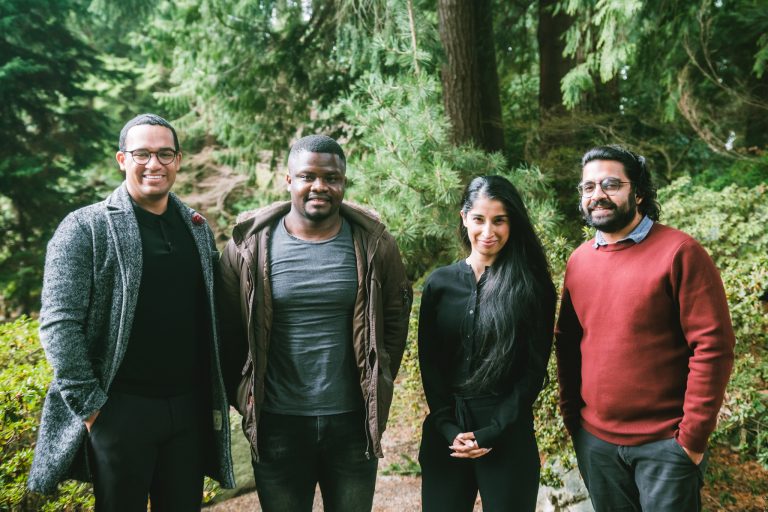 From the students:
"Our team used the fieldwork period to interact with subject matter experts and senior members of UN Peacekeeping missions to gain insights into how the Vancouver principles are being implemented on the ground. We also attended a conference on Knowledge for Prevention of Recruitment of Child Soldiers and were able to find interviewees at the conference on this specific topic. Through a mini peer lecture series, we developed a deeper understanding of the complex UN Peacekeeping Missions, their structures, and their objectives."
– Student Team
"Through our work with the Dallaire Centre of Excellence, we hope to further progress policy in the prevention of recruitment of child soldiers. Every child, near or far, deserves this right."
– Moysal Sana
---
Bias and Ethics in Data: Policy Recommendations for the Collection, Use and Sharing of Data    
Client: Canadian Security Intelligence Service (CSIS) in Ottawa, Canada
Students: Claire Okatch, Savannah Tuck, Melissa Hollobon, David Markwei
Faculty Lead: Timothy Cheek
Project Description: Identifying options for best practices to mitigate the emergence of bias within data management. These options will inform recommendations on how CSIS can balance the privacy-security dilemma, with emphasis on bias mitigation, accountability, privacy rights, and alignment with CSIS' mandate.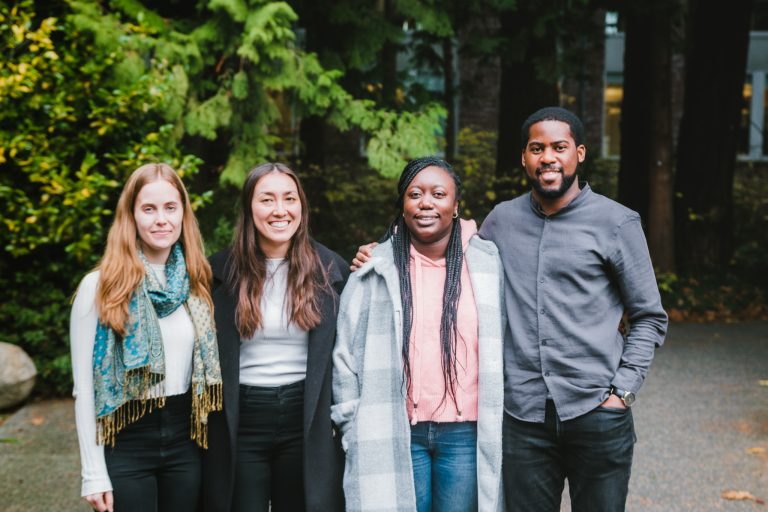 From the students:
"The CSIS team has wrapped up their fieldwork period to gain a broad understanding of the landscape of bias within data management approaches in relation to the national security context. The team conducted interviews with government officials across various departments, academics, and community organizers. These interviews have helped the team gain insights into existing practices and standards targeting bias mitigation and how transferable these practices are to the national security context.
We had an enlightening time engaging with multiple stakeholders from national security, civil society and community perspectives on the issue of bias within data management. From our initial fieldwork stage, we gained comprehensive insight into how salient bias is within these sectors and have begun to map emerging best practices to tackle these issues within the national security context specifically. Our team looks forward to continuing to interact with more participants as we further our research and learning!"
---
Students will complete their Global Policy Project (GP2) with the delivery of a policy report (or equivalent deliverable) and a policy brief to their client, as well a presentation of their findings and policy recommendations at the annual MPPGA Symposium held at UBC in early April, 2022.
Stay tuned for details on the remainder of the 2021-2022 Global Policy Projects!