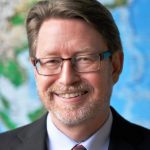 The School of Public Policy and Global Affairs (SPPGA) and the Institute of Asian Research (IAR) at the University of British Columbia are pleased to announce the appointment of Professor Paul Evans as the HSBC Chair in Asian Research effective January 1, 2021. This two-year appointment is designed to enhance the policy engagement work of the IAR and SPPGA on Asia policy; promote better collaboration with suitable Asian institutions and counterparts; and extend and deepen the School's connections with Canadian policy communities, particularly the federal government and the B.C. provincial government. The appointment also provides a mentor and a model for SPPGA faculty seeking to develop skills in these areas.
Professor Evans brings a professional lifetime of research and policy work in Canadian-Asian relations. "We at SPPGA are really pleased to see Dr. Evans in the HSBC Chair. He is exceptionally well qualified for this leadership role and will serve us and the broader community through his extensive knowledge of the field and his connections to broad policy networks," stated Director and Professor Allison Macfarlane, School of Public Policy and Global Affairs.
"The IAR is especially well-served by Dr. Evans' leadership in Asia policy engagement as the Institute seeks to strengthen SPPGA's contributions in global affairs," said Director and Professor Timothy Cheek, the Institute of Asian Research.
"I'm delighted by the award and look forward to fulfilling the responsibilities of a new kind of chair designed to connect academic research to policy practice," stated Professor Paul Evans, HSBC Chair in Asian Research.
Professor Evans' resume and academic c.v. can be accessed on his SPPGA profile.