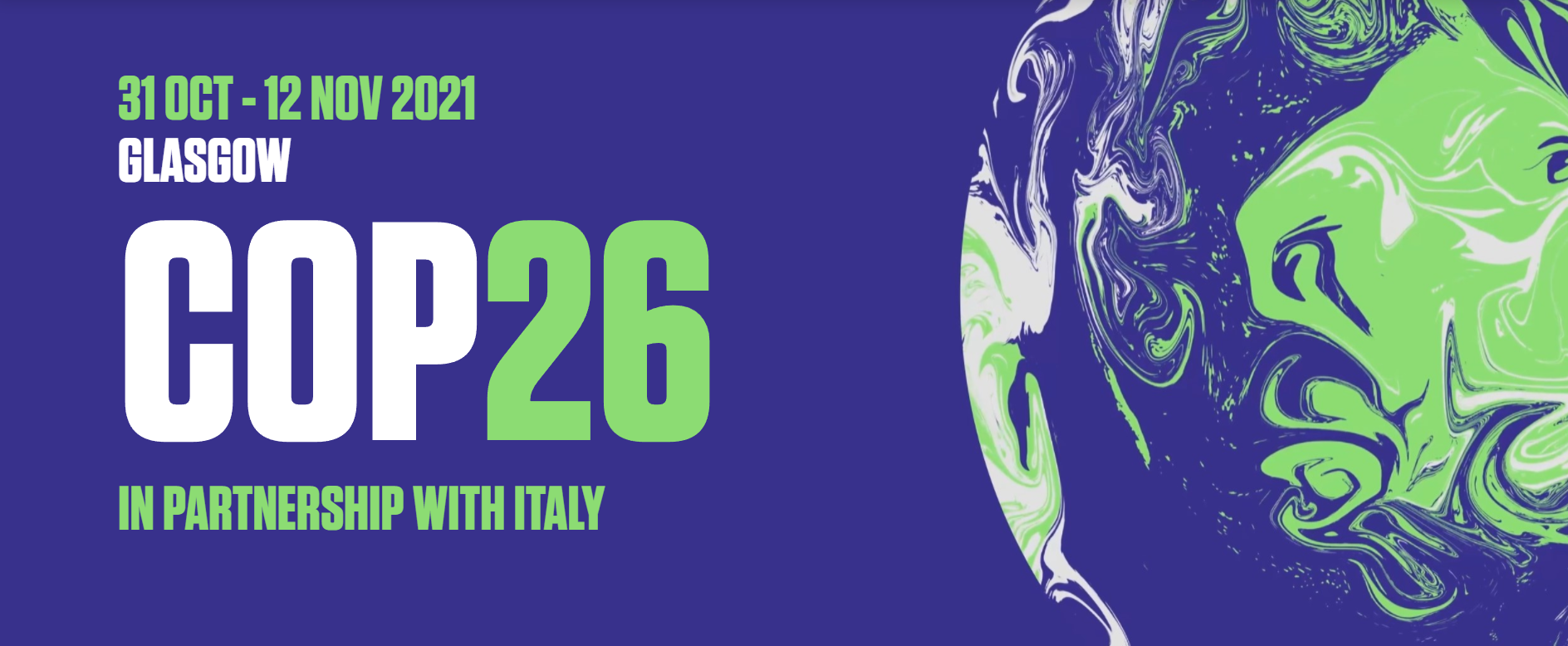 The 26th UN Climate Change Conference of the Parties (COP26), hosted by the United Kingdom in Glasgow, will run from October 31 –  November 12, 2021. The COP26 summit aims to bring parties together to accelerate action towards the goals of the Paris Agreement and the UN Framework Convention on Climate Change.
Several members of the SPPGA community, including Professor Rashid Sumaila (SPPGA, UBC Oceans), MPPGA alumna Denby McDonnell, and PhD student Temitope Onifade (External Partnerships Co-Chair at the Liu Institute Network for Africa), will be attending and sharing reflections for this year's Climate Change Conference. You can follow along on Twitter with Dr. Sumaila at @DrRashidSumaila, with Denby at @denbymcdonnell, and with Temitope at @Temi_Onifade.
Find out more about the broad range of climate emergency-related activities that UBC is involved in at the UBC Climate Emergency website.
On November 10, 2021, tune in to the Climate Justice Series COP26 Live Webinar for a conversation with climate and sustainability researchers including Dr. Rashid Sumaila and Temitope Onifade.
Learn more from the expertise shared by our dynamic community and faculty below:
November 19, 2021
Professor Yves Tiberghien (SPPGA Faculty Associate; Political Science) comments on the controversy surrounding Chinese leader Xi Jinping's absence at COP26 on BIV, Assessing the COP26 China Factor.
November 16, 2021
Temitope Onifade, PhD candidate at the Allard School of Law and Co-chair of the Liu Institute Network for Africa at the Liu Institute for Global Issues at SPPGA, shared why he attended COP26 and what he learned in this interview with SPPGA.
November 13, 2021
SPPGA director and professor Allison Macfarlane discusses the role nuclear energy should play in achieving net-zero targets in this interview with Al Jazeera, Is Nuclear Power the Way Forward to Combat the Climate Crisis?
November 12, 2021
Most of the planet is covered in water, so why is there so little conversation at COP26 about the health of the oceans? Rashid Sumaila is in Glasgow and speaks with CBC On the Coast, Talking About Oceans at COP26.
Associate Professor David Boyd (SPPGA; UBC IRES) asserts that human rights are "being largely ignored" in the discussion of rules on international carbon markets at COP26 on Reuters, Rights Groups Warn Paris Pact Rules on Carbon Markets Leave Indigenous People Exposed.
November 10, 2021
A press release co-authored by multiple scientists, including Professor Rashid Sumaila (SPPGA; UBC Oceans), was cited in Undercurrent News, Scientists Urge COP26 Not to Sideline Fishery Issues.
November 8, 2021
Professor Navin Ramankutty (SPPGA; UBC IRES) remarks on the climate impacts of food production for National Observer, Focus on Food Technology at Climate Conference Ignores What Most of the World's Farmers Need, Experts Say.
November 5, 2021
Professor Rashid Sumaila (SPPGA; UBC Oceans) co-writes that ocean issues should be front and centre when it comes to drafting climate policies, and COP26 is a crucial opportunity to make that happen. Read the article at Euronews, Don't Sideline Fish and the Ocean at COP26.
Temitope Onifade (Liu Institute Network for Africa Co-Chair) states that public rallies that pressure the government to take action and have greater ambition can create change. Read the article at CBC News, Thousands Fill Glasgow Streets Demanding More Action and Ambition from UN Climate Summit.
October 31, 2021
MPPGA alumna Citlali Cruz Cruz discusses a way that COP26 could lay the groundwork for an international emissions-trading system that could bring an end to the production of coal-fired electricity in The Conversation, COP26: Strong Carbon-trading Rules Could Help the World Avoid Dangerous Levels of Global Warming.
October 18, 2021
Professor Yves Tiberghien (SPPGA Faculty Associate; Political Science) discusses China's accomplishments in sustainability in CBC News, Analysts Say China on Track to Meet Carbon Targets Despite Challenges.
October 5, 2021
UBC President Santa J. Ono announced the successful applicants that will represent UBC as official observers at COP26 this November. Among the eight delegates selected is Professor Rashid Sumaila (SPPGA; UBC Oceans) says the Office of the President, UBC Sending Delegation of Eight to COP26.