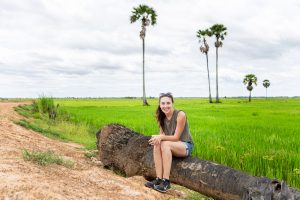 MPPGA second year student Cassandra Jeffery reflects upon her summer internship with the United Nations Development Programme (UNDP) in Cambodia. This opportunity was facilitated by the MPPGA program's partnership with the United Nations Association of Canada (UNAC). Learn more from her below:
"My four months working at UNDP Cambodia has been nothing short of a heart-pounding adventure. In both a professional and social capacity, the experiences I was privileged enough to embody in this beautiful country will last a lifetime.
I worked as a Communications and Policy Consultant at the UNDP office in BKK1. My background is in journalism and marketing, so I took to the communications role with excitement and ease. My primary role consisted of writing articles on the many UNDP projects currently underway. I loved this part of my job because it allowed me the opportunity to travel all over the country, witnessing and living an authentic Cambodia that not many foreigners have had access to. Listening to the stories of communities from Kampot to Battambang, I immersed myself into a culture of learning; learning about the unique and complex challenges facing Cambodia, and the many ways this country is moving forward to a more inclusive and sustainable future.
My other primary responsibility centred around research in the policy unit. Along with a team of environmentalists and analysts, I dived into Cambodia's waste management sector. Our goal is to work alongside the Ministry of Environment to implement policy that will curb single-use plastic consumption in Cambodia. My area of expertise included research on the use of single-use plastic bags. After writing a comprehensive report—which included use cases, primary and secondary research, and data analysis—I drafted several recommendations to present to the ministry. I also contributed to the organization of a stakeholder engagement session, which included stakeholders from the government, business owners, and waste management companies. During the session, each stakeholder will be given the opportunity to provide feedback on our research and policy recommendations.
Data gathering, effective stakeholder engagement, and policy drafting are three primary skills that I learned during my first year in the MPPGA program, and I am happy I was able to bring this skill set to the table during my internship.
This internship solidified my interest in development policy. It reminded me that effective communication and sound policy go hand-in-hand — solving the world's most pressing problems will be impossible without a strong and interconnected foundation in both subjects. My experience at UNDP Cambodia has shown me how to combine my passion for writing with practical policy skills, and it also deepened my ties with the South East Asian region. I would like to continue working with a United Nations organization, or perhaps a Canadian think tank with a focus on the South East Asian region. Eventually, I would like to establish myself as a policy consultant with a specialization in Canadian-South Asian affairs."