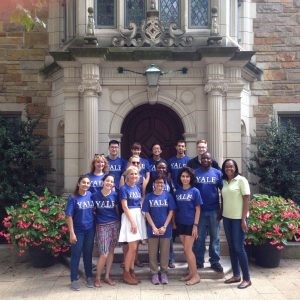 The Liu Institute for Global Issues at the UBC School of Public Policy and Global Affairs invites applications from UBC graduate students annually for the Yale-UBC Fox International Fellowship Program. Applications for 2022 have now closed.
Background:
The Fox International Fellowship Program is designed to enhance mutual understanding between the peoples of the United States and other countries by promoting international scholarly exchanges and collaborations among the next generation of leaders. To accomplish this goal, the program aims to identify and contribute to the education of outstanding students and identify "citizen scholar ambassadors" who, by virtue of their academic and extracurricular record, can be expected in the future to participate in guiding the world toward a more peaceful order. By `citizen scholar ambassador` we mean a student whose research furthers the goal of the fellowship to expand and sustain global civic discourse and who possesses both the ability to communicate with a wider audience and the potential to become a leader in or out of academia. Due to this, the Fox International Fellowship is awarded on account of both the research proposal and the personal leadership qualities of the candidate.
Award Amount:
Yale University will cover expenses directly with Yale-UBC Fox Fellows for 10 months from approximately mid-August 2022 to May 31, 2023. Grants include:
Housing
A stipend covering basic living expenses
Health insurance (in person only)
Visa support (in person only)
Round trip airfare (in person only)
Yale-UBC Fox Fellows will be responsible for continuing their pre-existing fee arrangements with the University of British Columbia.
There is no funding to cover any expenses for dependents.
Eligibility:
Graduate level students pursuing Doctoral or Masters level degrees. The nature of this fellowship is to support an in-depth research project at the level of a doctoral student. The Fox International Fellowship is NOT open to postdoctoral applicants. US citizens are not eligible to apply, unless they have citizenship of another country and have never studied (Undergraduate and Graduate level) in the US.
Each student nominated as a Yale-UBC Fox Fellow shall have the approval of his/her academic supervisor.
Evaluation Criteria:
Personal characteristics. Candidates must demonstrate commitment to serious research and a capacity for leadership and civic engagement.
Field of focus.  Candidates should be engaged in a relevant social science (including political science, sociology, anthropology, economics, psychology and geography) or humanities discipline (including philosophy, history and law). Training in some type of substantive interdisciplinary fields such as business/management, public administration, international relations, environmental policy and public health are especially attractive.
Language skills.  The candidate's language skills must be sufficient both to succeed in their research project and to engage in the intellectual and social community of the host university. Candidates for the Yale International Fox Fellowships at Yale University must an excellent command of the English language in conversation, reading and writing. Requirements to provide TOEFL and IELTS scores are waved for applicants from a university or college where English is the primary language of instruction.
Research Proposal. Candidates will be given preference for demonstrating excellence in their field of study.
Application Procedures:
Interested applicants can apply through the application form available below. The application form will ask that you upload a completed Fox Fellow Application form (click to download).
Please either have two academic referees send reference letters to Hui Jia by the application deadline or upload the references in the application.
Deadlines:
Applications for 2022 have now closed.
Notifications will come via email from Yale University to successful applicants in April 2022.
If you have questions, please contact Hui Jia.