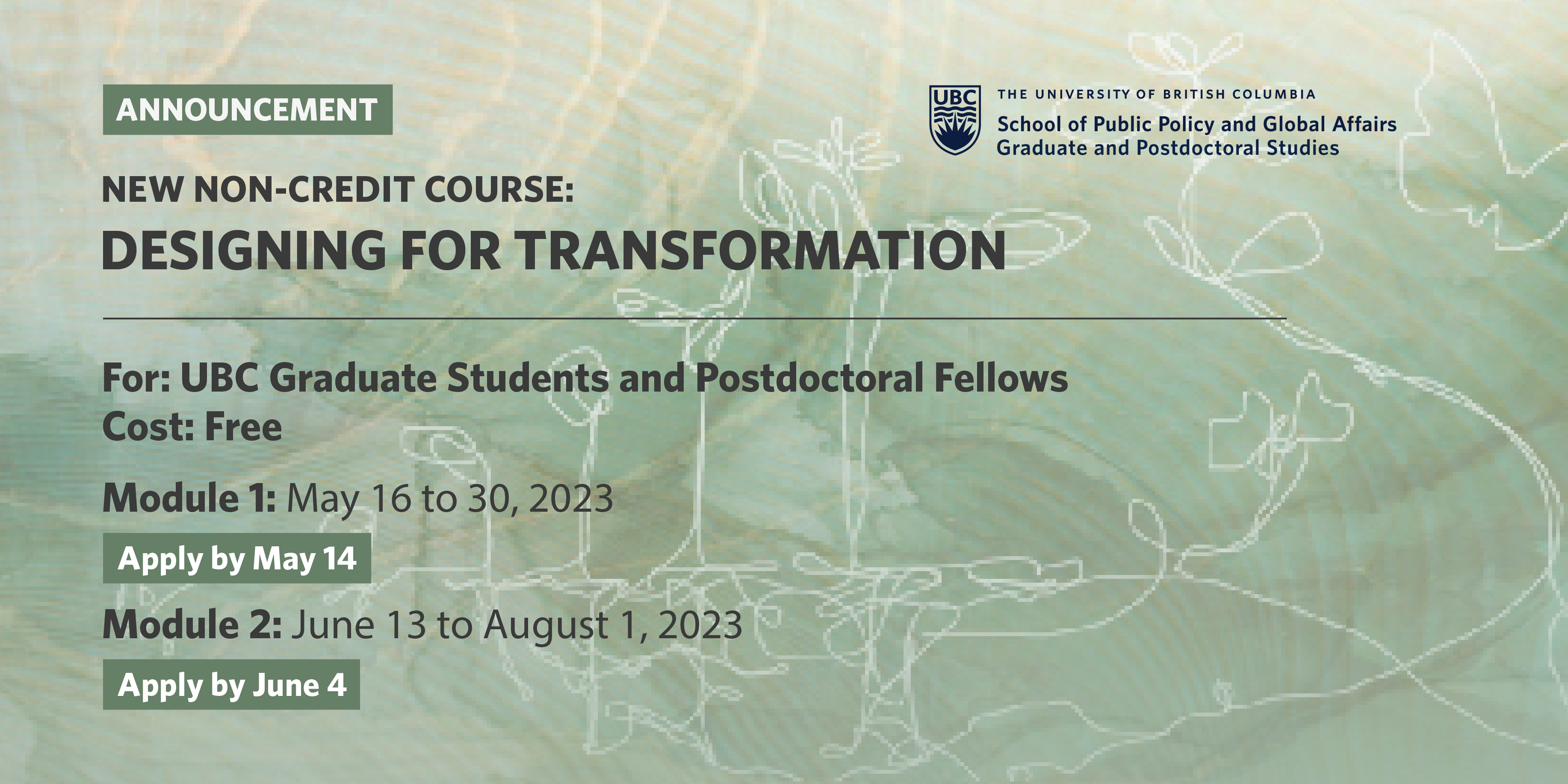 Learning and practicing social innovation, systemic design and regenerative development using equity-centered and decolonizing methodologies to work transformatively on complex, applied challenges that really matter.
The world is defined by increasingly complex and  interdependent challenges – climate, biodiversity, intergenerational health, and at their common core, equity and justice. They open up the potential and responsibility for each of us to do our very best to contribute to desired possible futures with the privileges, gifts, and opportunities that we hold.
To do this, transforming how we think, act, and collaborate is essential. This involves investigating how we work within ourselves and across disciplines, sectors, silos and knowledge systems to unleash our individual – and collective potential – in response to what these complex challenges are demanding/inviting of us at this time.
This program is for graduate students and Postdoctoral Fellows who want to step courageously into this opportunity and responsibility; those interested in learning and practicing frameworks and tools from design and innovation fields to support them in this journey – through their graduate work, and beyond into their workplace and lives.
"This course has been so inspiring and uplifting and has provided me with a community of systems thinkers at UBC… something I am very thankful for."
(PhD student, 2022 cohort)
Format: the course will be taught in two models. All* classes will be online and synchronous. Peer learning groups may choose to meet in person. (*Note: we may hold the last session for Module 2 in person – TBC together).
See below for more details on format, content, schedule and requirements for each module.
Eligibility: registration is open to all current UBC graduate students (Ph.D. or Masters) and Postdoctoral Fellows in any department or program. There are no prerequisites for Module 1. Module 2 requires successful completion of Module 1 (spaces are limited). 
Cost: no additional charge beyond your existing UBC enrollment for Summer  term.
Schedule and Commitment: 
Module 1: May 16 – 30, 2023. 6-7 hours/ week.

Module 2: June 13 – August 1, 2023. 35+ hours (total).
Registration Deadlines:
Module 1:

register by midnight (PT) May 14, 2023

..

Module 2: applications are due

by midnight (PT) June 4, 2023

. (Application details to follow. 25 spaces available)
Non-Credit Certifications:
Module 1: Certificate of Completion

Module 2: Certificate of Proficiency
See below for further details
Additional guests will be announced during the session
FAQ
"I'm so glad I jumped at the chance to be part of [this]!"
(PhD student, 2022 cohort)
If you have any further questions, please contact Jennifer Cutbill at jcutbill@lateralagency.ca