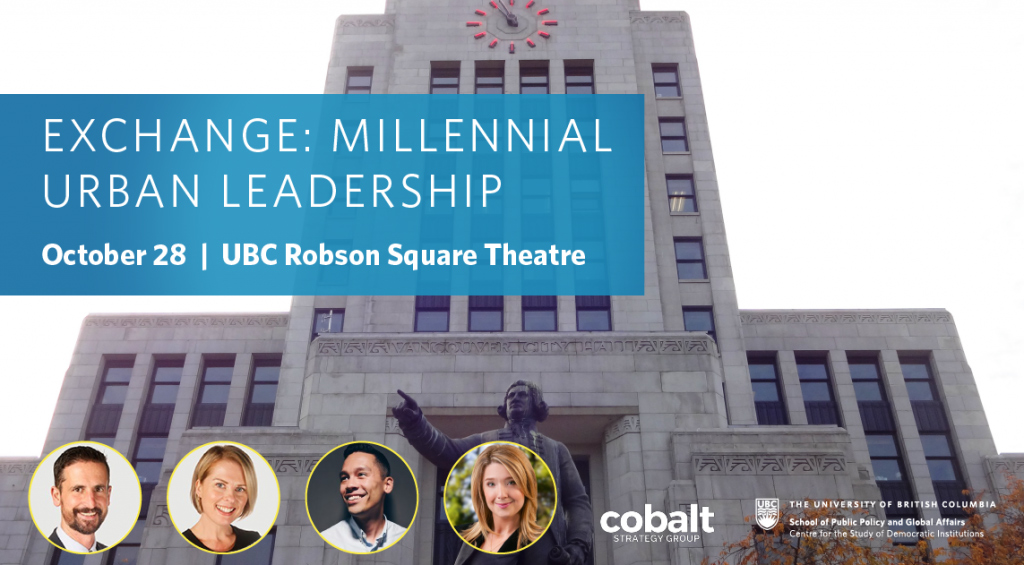 Join us for a Millennial Urban Leadership panel featuring Vancouver City Councillors Michael Wiebe (Green), Rebecca Bligh (NPA), and Melissa De Genova (NPA) along with community activist, human rights educator, and previous OneCity council candidate Brandon Yan, moderated by UBC Professor of Political Science, Gerald Baier. This is intended to be a lively discussion to reflect on the major municipal issues facing Vancouver, as well as the opportunities and challenges that lie ahead in fostering a welcoming, safe, and vibrant city for everyone.
Everyone is welcome. This event is free to attend.
A selection of hors d'oeuvres, coffee/tea and soda/juice will be provided.
We encourage youth under 30 to attend to have an opportunity to hear from and engage with decision-makers meaningfully on issues that matter to you. The event is a forum for debate and discussion, where difficult questions, or questions not yet asked in other forums, are encouraged.

6:00 PM Refreshments & Networking
6:45 PM Program begins
Indigenous Land Acknowledgement: Marissa Nahanee, Maykw Cha7em Squamish & Nisga'a Nations, Eagle Clan
Opening Remarks: Adriaan de Jager, Associate Vice President, Government Relations & Community Engagement, UBC
Welcome Remarks and Introductions: Jude Crasta, Cobalt Strategy Group; Israa Noureddine, Student, Master of Public Policy and Global Affairs
Panelists:
• Vancouver City Councillor Michael Wiebe (Green)
• Vancouver City Councillor Rebecca Bligh (NPA)
• Vancouver City Councillor Melissa De Genova (NPA)
• Brandon Yan (甄念本), community activist, human rights educator, and an LGBT2Q+ advocate
Moderator: UBC Professor Gerald Baier, Political Science; Director, Centre for the Study of Democratic Institutions, UBC
Speaker Biographies:
Professor Gerald Baier (Ph.D, Dalhousie) is Director of the Centre for Democratic Institutions at the UBC School of Public Policy and Global Affairs. He has teaching and research interests in Canadian politics with a focus on the Constitution, federalism and public law. He is a regular commentator on federal politics in national and local media. His past research has explored the role of judicial decision-making in the shaping of federalism in Canada, Australia and the United States. He is presently conducting a comprehensive study of the Supreme Court of Canada's institutional character and processes.
Councillor Michael Wiebe is a strong supporter of rich cultural spaces, accessibility, social inclusion, reconciliation, multi-mode transportation, climate change mitigation, and efficient local governance. As a GREEN City Councillor, he wants to preserve and create new places and experiences that honor our past, foster our creativity, strengthen our identity, and bring people together. Councillor Wiebe gained extensive leadership experience as a public servant and business leader with the Vancouver Park Board (past chair), Art House Society (saved the RIO), eight ½ restaurant lounge, Office of the Premier, Mount Pleasant BIA (president), Persons with Disabilities Advisory Committee, Indigenous Peoples Advisory Committee, LGBT2+/TGV2S, Food Policy Council, Implementation Committee, and other community groups to better serve this city.
Councillor Rebecca Bligh facilitates programs centered around communication and leadership development. She is a passionate supporter of families, education, and the environment. Councillor Bligh has spent time in Africa working on sustainable leadership programs by partnering with NGOs in the education and ecological conservation sectors. She is a founder of a local fundraiser SwingIt24. The event has brought together more than 200 participants and volunteers in the past three years. Locally, Councillor Bligh is an activator and leader in her community. Ongoing, she volunteers in the kitchen and provides pro-bono coaching and executive development for the Dr. Peter Centre and Dr. Peter Aids Foundation.
Councillor Melissa De Genova chose to run for City Council with the NPA for many reasons, including, adding the voice of a millennial to Vancouver government and to bring her experience in housing to create affordable and realistic housing solutions in our city, in light of the Vancouver's housing crisis. Councillor De Genova is a board director and gala chair for Honour House Society, a refuge for Canadian Forces, veterans, first responders, and their families to stay, while they receive medical care in Metro Vancouver. In her professional life, Councillor De Genova is the director of development for the Vancouver Resource Society, a non-profit organization, where she leads initiatives to create and secure accessible housing for persons with disabilities. She holds a political science degree from Simon Fraser University and has in the past worked in senior management roles for many companies and organizations in both non-profit and private sectors.
Brandon Yan (甄念本) is a community activist, human rights educator, and an LGBT2Q+ advocate. He is currently the Deputy Executive Director for Out On Screen, an organization that illuminates, celebrates, and advances queer lives through film, education, and dialogue through its two core programs, The Vancouver Queer Film Festival and Out In Schools. Brandon has collaborated with the Ministry of Education, BC Teachers' Federation, and other stakeholders to address the needs of LGBT2Q+ youth through policies and practices that foster inclusive and more supportive school environments. Brandon understands that representation of diverse and complex intersecting identities is important, and it is this conviction and his experience that led him run for Vancouver city council in 2018 with OneCity. His campaign focused on amplifying the voices of renters, the arts community, young people and other groups who are underrepresented in our local government. Though he didn't win, it brought forward important conversations on representation, sexuality, and race. He has a Masters in Urban Studies from SFU and served on the City of Vancouver's City Planning Commission from 2014 to 2016.
Please Note: Councillor Christine Boyle can no longer attend this event.
Co-hosted by: Cobalt Strategy Group, the Centre for the Study of Democratic Institutions, and the UBC School of Public Policy and Global Affairs
With support from UBC Community Engagement and UBC Robson Square
Disclaimer: Please note that by registering via Eventbrite, your information will be stored on the Eventbrite server, which is located outside Canada. If you do not wish to use this service, please email Joelle.Lee@ubc.ca directly to register. Thank you.