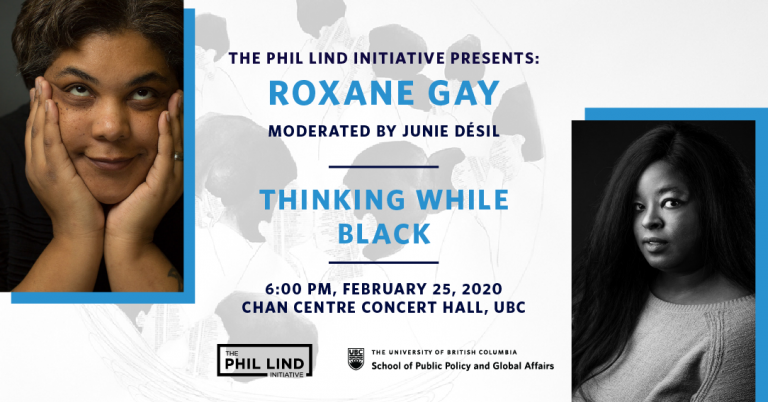 UBC's School of Public Policy and Global Affairs is proud to host Roxane Gay, author and cultural critic, as the third speaker in our 2020 Phil Lind Initiative series on Thinking While Black.
Talk Title: "Roxane Gay: with One N"
This event will be moderated by poet Junie Désil.
Please note: Ticketholders are requested to arrive at the theatre by 5:45 pm to secure your seat – tickets not picked up by 5:45 PM may be released to standby guests. EventBrite tickets are NOT official tickets for this event. Please give your name to our Lind Initiative registration staff at the Chan Centre to receive an official printed ticket.
Please cancel your ticket on EventBrite or by emailing lind.initiative@ubc.ca if you are no longer able to attend. Thank you.
Sold Out: Non-ticket holders may wait in the Standby line outside the venue on the day of the event starting at 4:30 PM. We will welcome in Standby line guests on a first come, first serve basis immediately before the event begins, dependent upon seat availability. We cannot guarantee seats for Standby guests and we may not have any seats available for this event. Thank you for your understanding.
*This event will be live streamed and a video recording will be posted on our website for 45 days following the event. Please bookmark the link below.
Learn more about the 2020 Thinking While Black series here.
Blackness as a form, concept and experience, has fundamentally shaped American iconographies, language, media, and cultural productions. This series invites us to consider Blackness as both a culture and a mode of thinking. This series will meditate on the structures of race in North America and will spotlight the seemingly disconnected forms of racial violence that hide in plain sight. How, despite shifts in rhetoric and political policy, have so many forms of racial violence persisted? How, we ask, can we rethink ourselves by understanding our relations to blackness?
Bio: Roxane Gay is an author and cultural critic whose writing is unmatched and widely revered. Her work garners international acclaim for its reflective, no-holds-barred exploration of feminism and social criticism. With a deft eye on modern culture, she brilliantly critiques its ebb and flow with both wit and ferocity.
Words like "courage," "humor," and "smart" are frequently deployed when describing Roxane. Her collection of essays, Bad Feminist, is universally considered the quintessential exploration of modern feminism. NPR named it one of the best books of the year and Salon declared the book "trailblazing." Her powerful debut novel, An Untamed State, was long listed for the Flaherty-Dunnan First Novel Prize. In 2017, Roxane released her bestselling memoir, Hunger: A Memoir of (My) Body, which was called "Luminous…intellectually rigorous and deeply moving" by The New York Times. She also released her collection of short stories, Difficult Women. The Los Angeles Times says of the collection, "There's a distinct echo of Angela Carter or Helen Oyeyemi at play; dark fables and twisted morality tales sit alongside the contemporary and the realistic…"
In 2018, she released Not That Bad: Dispatches from Rape Culture, a valuable and searing anthology edited by Roxane; it has been described as "essential reading" and a "call to arms" by its readers. Roxane's newest work, How to Be Heard, is set to release in 2019.
Roxane co-hosts Hear to Slay with Tressie McMillan Cottom – a podcast with an intersectional perspective on celebrity, culture, politics, art, life, love, and more. She is also a contributing op-ed writer for The New York Times, was the co-editor of PANK, and formerly was the non-fiction editor at The Rumpus. Her writing has appeared in McSweeney's, The Nation and many other publications. She was the first black woman to ever write for Marvel, writing a comic series in the Black Panther universe called World of Wakanda. Roxane fronts a small army of avid fans on social media and when she finds the time, she dominates the occasional Scrabble tournament.
Subscribe to our Phil Lind Initiative Newsletter for updates regarding when tickets will be released for each event.
Disclaimer: Please note that by using this service, your information will be stored on the Eventbrite server, which is located outside Canada. If you do not wish to use this service, please email lind.initiative@ubc.ca directly to register. Thank you.
Artwork Credit: Sandra Brewster
Hosted by: