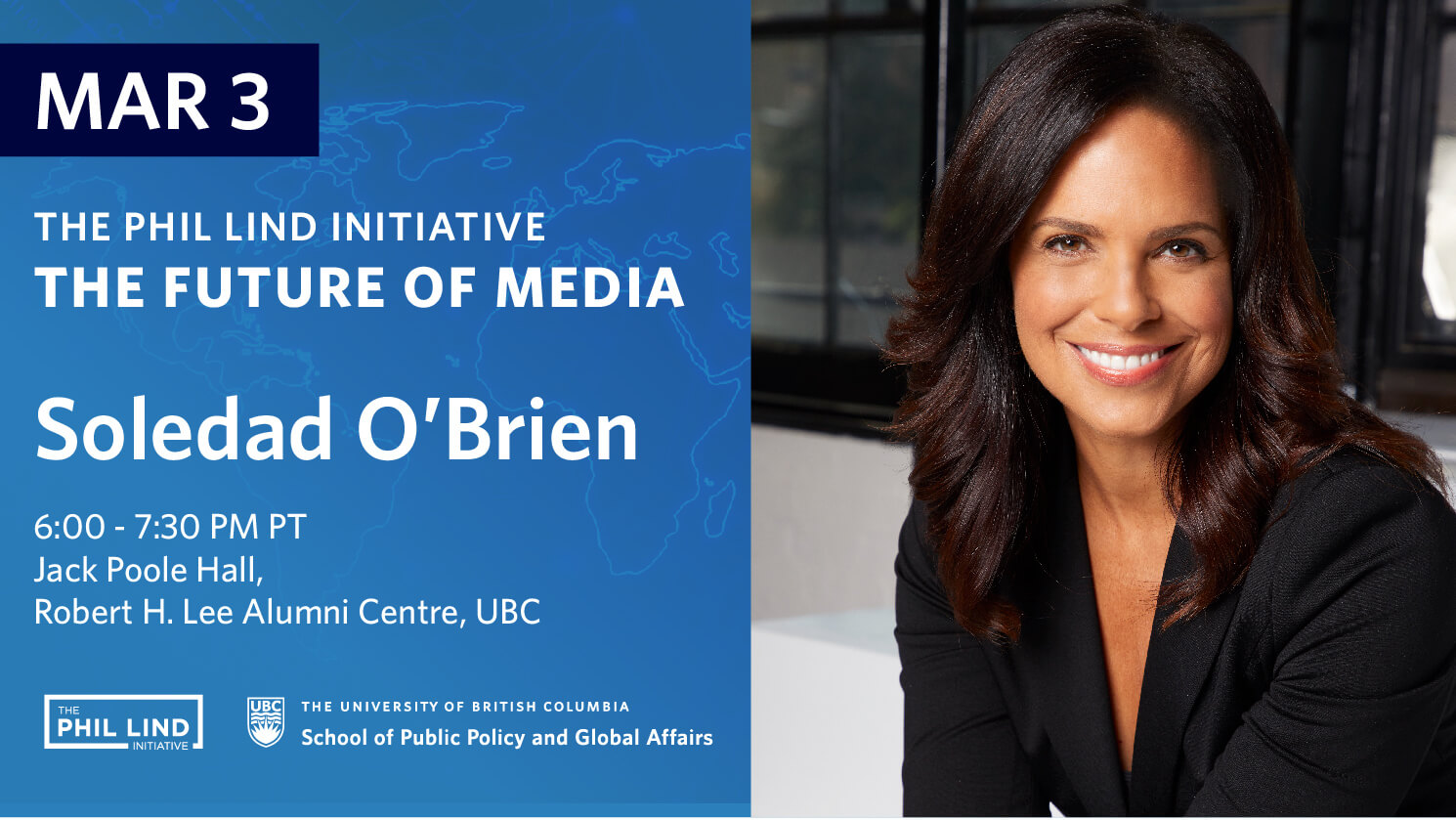 UBC's School of Public Policy and Global Affairs is proud to host Soledad O'Brien, award-winning journalist, entrepreneur, author, and host of the political show Matter of Fact, as part of our 2022 Phil Lind Initiative series on "The Future of Media."
Moderator: Charmaine de Silva, Director, City News (Vancouver & Calgary)
Registration has now closed for in-person tickets but remains open for live stream tickets.
Things To Know:
Non-medical masks are required at all times for guests ages 5+.

Proof of vaccination (2 doses or more) is required for guests ages 12 and over. For guests 18 and over, proof of vaccination must be accompanied by a piece of government issued photo ID.
If you feel unwell, please stay home and use the

BC Self-Assessment Tool

 for guidance.
Learn more about "The Future of Media" series on our website. Each event is open to the public and free to attend.
Series Theme: Media is at a crossroads. Full-time journalists and long-form reporting have been forced to cede public space to click bait news articles, online echo chambers, and disinformation campaigns. It has never been more challenging to inform the public, to bridge political divides, and to stimulate healthy debate.
Yet trust in mass media has never been lower, with only 9% of Americans trusting the media "a great deal" and 60% having "little to no trust at all." From the rise of social media to the erosion of traditional business models to the deep political polarization in American society, how we as citizens consume information has fundamentally changed.
This series explores these changes, but more importantly asks where we go from here. How can we restore trust? How do we reconcile evidence-based reporting with the digital age? And above all, how can we reshape the media landscape in the face of these challenges to better society?
Find books authored by Soledad O'Brien on the UBC Bookstore website.
Subscribe to our Phil Lind Initiative Newsletter for updates and details on how to register.
Follow along on Twitter with hashtag #Lind22.
Disclaimer: Please note that by using this service, your information will be stored on the Eventbrite server, which is located outside Canada. If you do not wish to use this service, please email lind.initiative@ubc.ca directly to register. Thank you.
Hosted by: The Phil Lind Initiative is hosted by the School of Public Policy and Global Affairs in the Faculty of Arts at the University of British Columbia