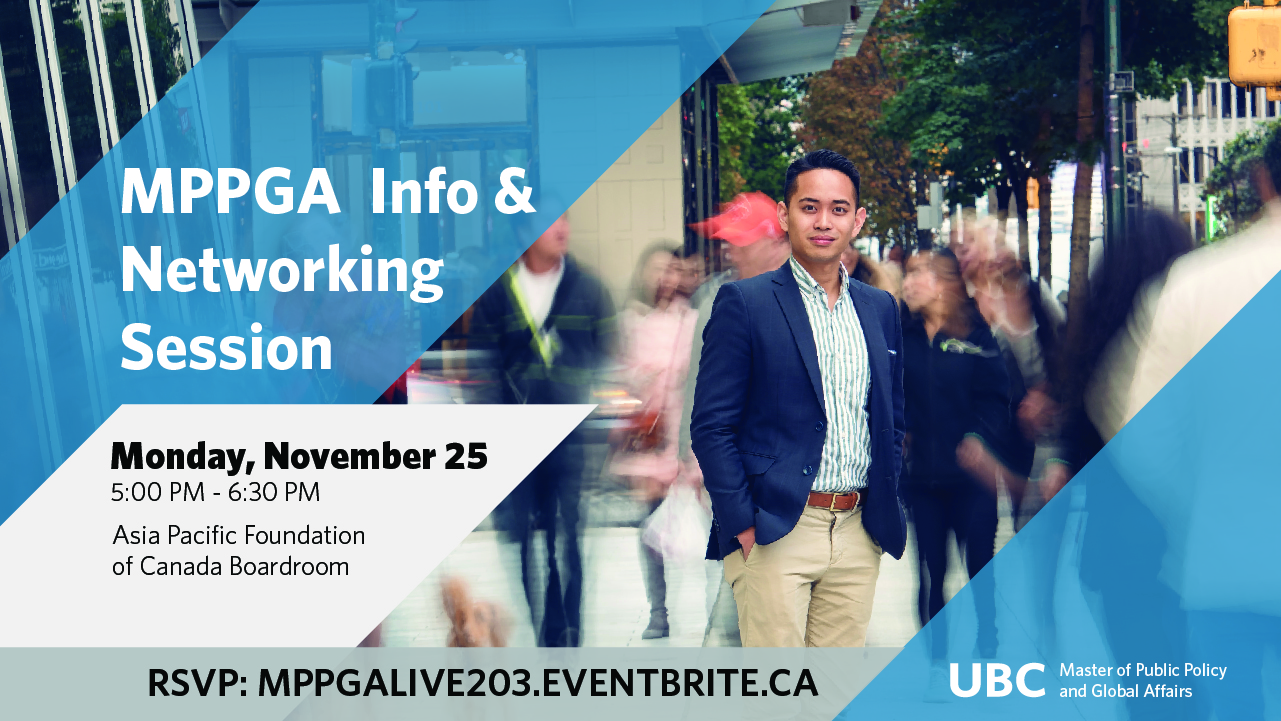 The University of British Columbia's School of Public Policy and Global Affairs is transforming policy education through innovative instruction that bridges essential theory and professional practice, including our signature Global Policy Project.
In our Master of Public Policy and Global Affairs, you'll study with students from around the world, gaining critical skills and a global perspective to help you to confront the most urgent issues of our time, from sustainability to social change, international development to governance.
Applications are now open. Apply by January 30, 2020.
Join us on November 25th in downtown Vancouver to gain an inside look at UBC's Master of Public Policy and Global Affairs program from staff and alumni. Come prepared with questions and enjoy networking over refreshments following the panel presentations.
Please RSVP. Refreshments will be provided.
Presenters:
MPPGA Program Manager Julia Park
MPPGA Program Coordinator Alex Brzezinski
Sara Harb, MPPGA Alumna, Consultant at International Financial Consulting
Ros Seibert, MPPGA Alumnus, 

Policy Analysis And Government Relations Specialist at Woodfibre LNG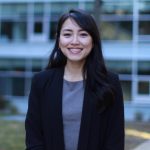 Bio: Sara Harb is a consultant at International Financial Consulting, where she manages projects, writes research reports and liaises with clients globally. As a generalist, Sara has a wide range of interests from development and migration to climate financing and energy.
Sara decided to pursue a master's degree in public policy and global affairs as she is driven by a passion to address social, economic and environmental issues that affect us all. During her time in the program, Sara went on exchange to SciencesPo in Paris and interned at the UNDP in Beirut where she joined the M&E/Reporting unit.
Prior to joining the MPPGA program, Sara gained four years of work experience in Saudi Arabia as a communications manager where she successfully led her team, honed her project management skills and built a strong rapport with clients. She also speaks English, Arabic, Korean and French.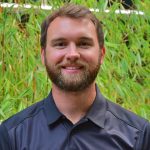 Bio: Ros is a recent Master graduate of the Public Policy and Global Affairs program at the University of British Columbia. He is currently a Policy Analysis And Government Relations Specialist at Woodfibre LNG.
He has three years working experience in formulating and analyzing foreign policy, defense, trade, and environmental legislation in the United States Senate. He has one and a half year of acting as the Special Assistant to United States Senator Bill Nelson.
Ros was born and raised in West Virginia. He graduated from West Virginia University with a BA in International Studies, specializing in Intelligence and National Security policy, and received his MA in International Politics from the University of Manchester.
Disclaimer: Please note that by registering via Eventbrite, your information will be stored on the Eventbrite server, which is located outside Canada. If you do not wish to use this service, please email Joelle.Lee@ubc.ca directly to register. Thank you.