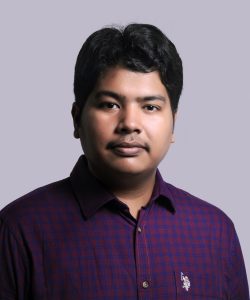 Mrinmoy is a Liu Scholar and PhD student in the UBC Department of Mechanical Engineering and SERB-UBC Fellowship holder. He is jointly supervised by Dr. Naomi Zimmerman and Dr. Amanda Giang. He has completed a master's in Environmental Engineering and Management from Indian Institute of Technology Kanpur and undergraduate studies in Civil Engineering from West Bengal University of Technology, Kolkata.
He is interested in characterizing household sources of air pollution and its impact on human health and climate change. He focuses on developing tools for assessing energy and health policies in developing countries like India using both numerical simulations and field studies. To study the cooking emissions and building characteristics, he has actively collected data from villages in India using low-cost and portable sensors and surveys. This data is utilized to inform models and helps evaluate the potential impact of household-level interventions for better and healthy living. Mrinmoy will be working with Professor Milind Kandlikar (School of Public Policy and Global Affairs; Institute for Resources, Environment and Sustainability) to study the relative impact of potential interventions in indoor air pollution to assess the household energy transition.
List of Research Interests:
Understanding the impact of household energy transition on air quality and human health.
Identifying the driving factors of indoor air quality and its association with building characteristics.
Exposure modeling and characterization of PM2.5, Black Carbon from natural and anthropogenic emissions.
Model based scenario analysis and inform policies pertaining to regional air quality and climate.
Websites:
Email address: mmrinmoy1991@gmail.com