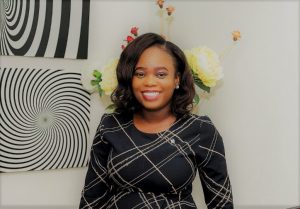 Oludolapo Makinde is a Liu Scholar and a doctoral student at the Peter A. Allard School of Law. Her research investigates the practicability of adopting an integrated approach which fuses corporate governance and corporate social responsibility measures with artificial intelligence tools to effectively tackle corruption involving Canadian multinationals doing business in the Global South. Her supervisory committee includes Prof. Carol Liao, Prof. James Thuo Gathii (University of Chicago School of Law) and Prof. Kristen Thomasen, and her research is supported by the Allard Scholar Graduate Fellowship, the Josephine T. Berthier Fellowship and the Dhillon Centre Business for Social Good Grant. Oludolapo also obtained her LLM degree from UBC and her LLB (Hons) from the University of Lagos, Nigeria.
In addition to her doctoral research, Oludolapo engages with the Vancouver community on issues relating to anti-Black racism. In particular, as a 2019 UBC Sustainability Scholar under the auspices of the Sustainability Scholars' Program, she investigated and identified key actions needed to address anti-Black racism in Vancouver. Her report which details her findings and recommendations drawn from literature and stakeholders, has contributed to ongoing municipal action on the subject.
As a Liu Scholar, Oludolapo will conduct research under the mentorship of Professor Philippe Le Billon on the theme of AI and anti-corruption.
Research interests: Corporate Governance, Anti-Corruption Law, Energy Transition and Sustainable Development, Race and Law, Business and Human Rights.
Selected Publications
Makinde, Oludolapo. "Gender Diversity on Corporate Boards: Much Ado about Quotas?" in Corporate Social Responsibility and the Law from the Next Generation of Lawyers," ed. Carol Liao [forthcoming 2022] McGill-Queen's University Press.
Makinde, Oludolapo. "Theorising Corruption in the Global South: A Multi-jurisprudential Perspective," University of Lagos Law Review Vol. 4. No. 2 (2021): 54 – 75.
Makinde, Oludolapo. "The Nigerian Corporate Governance Challenge: Inadequacy of Laws or Question of Enforcement?" Gravitas Review of Business and Property Law Vol. 11 No. 4 (2020): 59 – 76.
Makinde, Oludolapo. "Towards a Healthy City: Addressing Anti-Black Racism in Vancouver," B.C: City of Vancouver (Social Policy and Projects Department), 2019.
Selected Media Interviews
Simon, Audrey. "Oludolapo Makinde et la Ville de Vancouver Contre le Racisme Anti-Noir." La Source (July 7, 2020).
Cox, Wendy and Keller, James. "Western Canada: Hogan's Alley Once Again Offers Hope for Vancouver's Black Community." The Globe and Mail (June 27, 2020).
Nagy, Melanie. "Black Community Calls for Reconciliation Over Vancouver's Historic Hogan's Alley." CTV National News (June 19, 2020).
Rolfsen, Erik. "UBC Student Lays Groundwork for an Anti-Black Racism Strategy in Vancouver." UBC News (June 19, 2020).
Email address: omakinde@student.ubc.ca