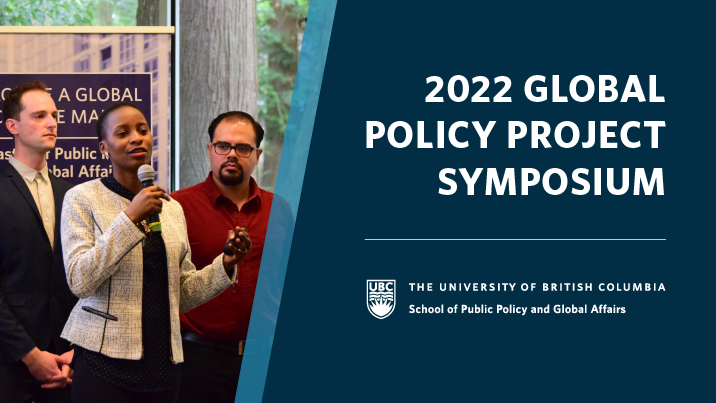 As a defining element of UBC's professional Master of Public Policy and Global Affairs (MPPGA) curriculum, the Global Policy Project (GP2) provides the opportunity for MPPGA students to engage with client organizations like governments, NGOs, and civil society actors on a real-world policy challenge, in Canada and around the world.
Leading up to their graduation, MPPGA students from the class of 2022 presented their policy findings at the annual Global Policy Project Symposium held by the UBC School of Public Policy and Global Affairs. This year's projects span a wide variety of themes, including health policy, reconciliation, and the housing crisis.
View some of the student teams' presentations below for a closer look at this year's Global Policy Projects.
---
Exploring Policy Options for the Village of Gingolx in the Context of Large Infrastructure Development
Working with the Gingolx Village Government, MPPGA students Surabhi Gupta, Paige Inglis, Prajna Singh, and Arthur Zhang provided the Village of Gingolx government with examples of economic development policies from similar contexts, policy frameworks in line with Indigenous self-governance, and evidence-based policies to gain community support for their evolving local economic development opportunities.
---
Activating the Mongolian Diaspora
MPPGA students Hari Narayan, Jemimah Ogundele, Anoushka Chandarana, and Anthony Coompson worked with their client, the International Organization for Migration, Mission to Mongolia, to assess the concerns and priorities of the Mongolian diaspora in North America while researching best practices for engagement to activate benefits for Mongolians both at home and abroad.
---
A Comparative Analysis of One Health Policies in Asia: Opportunities for Application in British Columbia 
For their client, Genome BC, MPPGA students Lisa Slager, Lindsey Wall, Soumya Kolluru, and Benedetta Beltramo explored the implementation of One Health in jurisdictions in Asia to find 'good practices' that can inspire, inform, strengthen, and accelerate One Health policy implementation in British Columbia, Canada.
"We were pleased to work with the Master of Public Policy and Global Affairs Program at UBC. It is a well-organized program, with high quality students and mentors. The final deliverables were very professional and presented on time. Overall we were very happy with this partnership and would definitely try to work again with the program"

– Client, Genome BC
---
Setting a Course Toward Social Public Procurement in India: A Global Good Practice Report
MPPGA students Julia Brown, Katherine Pease, Tasha Carruthers, and Annabel Steidl explored case studies to determine the enabling environment required for the successful implementation of social public procurement in India, specifically analyzing how best their client, the SELCO Foundation, can engage social enterprises to maximize social outcomes.
"The team was extremely proactive in reaching out to stakeholders across countries and undertaking a lot of their own research which was of great value, given the limited resources in the space, particularly for developing country contexts. Their thought-provoking questions and the overall experience have helped shape our understanding of the practice and its likely implications in the Indian context. We are keen to build on this effort and engage with Indian stakeholders to enhance the adoption of social public procurement policies and frameworks for the benefit of local social enterprises and last-mile communities."

– Client, SELCO Foundation
---
Collaboration to Prevent the Recruitment of Child Soldiers
Working with their client, the Dallaire Centre of Excellence for Peace and Security, MPPGA students William Shelling, Wilson Dargbeh, Moysal Sana, and Kshitij Sharan, examined the role of armed forces in UN peacekeeping missions in the prevention of the recruitment of child soldiers through the lens of the Vancouver Principles.
"The Dallaire Centre of Excellence for Peace and Security has benefitted greatly from the outstanding work conducted under the Global Policy Project (GP2).  The students brought critical perspectives and intellectual curiosity with high levels of enthusiasm and initiative.  The report and recommendations are being used to advance our mandate and inform our key stakeholders."

– Client, DCOE
---
The Youth Housing Crisis: Barriers Youth Face in Accessing Housing in Urban Centres
UN-Habitat has identified that the specific experiences, needs and barriers of youth ages 18-29 transitioning into the housing market are insufficiently covered by policy debates and urban planning design. Analyzing the diverse barriers that youth face when accessing safe, adequate and affordable housing across global urban centers, the findings from MPPGA students Annie Law, Dariel Filwood, Jamal Khamis, Priya Rai, and Samira Hosseina will be used to inform policy pathways for addressing youth housing needs.
---
Inspirations for the City of Vancouver: Engagement, Climate Policy & Reconciliation 
MPPGA students Kazi Mohua, Sason Ross, Shanel Feller, Soheil Nasseri, and Yeonjin Lee provided their client, the City of Vancouver, with inspirations on how to develop meaningful and impactful engagement practices with local First Nations and Urban Indigenous peoples to advance reconciliation with its climate policy.
"My experience working with students in the School of Public Policy and Global Affairs was excellent. The students were well prepared, professional and brought a tonne of passion and enthusiasm to our project. Their research is very applicable for our climate team, as we look to advance reconciliation in our work."

– Client, City of Vancouver
---