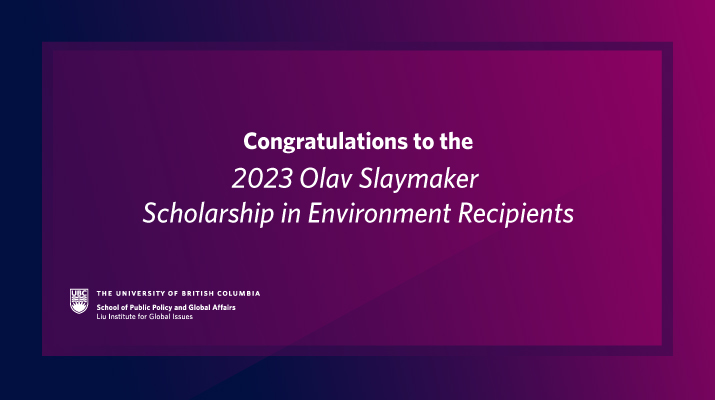 The School of Public Policy and Global Affairs (SPPGA) is pleased to announce and congratulate University of British Columbia graduate students Rudri Bhatt and Mercy Muthuuri, the recipients of the 2023 Olav Slaymaker Scholarship in Environment.
These scholarships have been generously endowed by The Simons Foundation and UBC, acknowledging Dr. Olav Slaymaker's significant contributions to environmental research. They are awarded to graduate students pursuing environmental studies under the supervision of a faculty member appointed in the School of Public Policy and Global Affairs.
Rudri Bhatt is currently a PhD student at the University of British Columbia (UBC) in the Institute for Resources, Environment, and Sustainability. Her research focuses on clean energy technologies and the electrification of non-road equipment in British Columbia, with a specific emphasis on air quality and equity. She has previously worked on energy security for Indigenous communities in British Columbia, Canada. Rudri holds a Master of Science in Resources, Environment, and Sustainability from UBC, where her work centered on promoting cleaner alternatives to agricultural waste burning in Northern India. She completed her Bachelor of Science in Civil and Environmental Engineering at the Technion-Israel Institute of Technology.
Mercy Muthuuri is currently pursuing a Master of Public Policy and Global Affairs at the University of British Columbia. Her expertise lies at the intersection of finance, policy, and climate change. She holds a Master's of Science in Finance and a Bachelor's of Commerce, both from the University of Nairobi. Her career has effectively connected investments and the private sector to economic contributions, with a particular focus on domestic resource mobilization and sustainable infrastructure projects. Her academic pursuit at UBC aligns with her commitment to addressing global sustainability challenges. She is also certified as an Expert in Climate Adaptation Finance, actively participating in infrastructure funding and climate finance discussions. Her research project on the Role of Nuclear Power in Low-Carbon Electricity Generation has earned her the prestigious Olav Slaymaker 2023 nuclear scholarship, further solidifying her position as a transformative force in advancing sustainable initiatives.