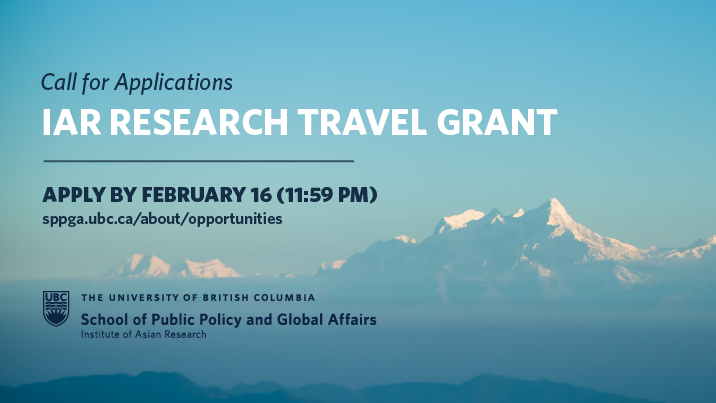 The Institute of Asian Research would like to invite UBC graduate students working on research in Asia to apply for the IAR Research Travel Grant. The grant will award $1000 to successful applicants who plan to travel for field work.
The fund should go toward research
Related to key contemporary issues in Asia, including social, political, cultural, or economic
Which require travel between March 2023 to Dec 2023
Application
Application period: JAN 16 – FEB 16
Deadline: FEB 16, 2023
Applicants should submit their application with required documents to iar.sppga@ubc.ca.
The applicant must either be a current Master's or Ph.D. candidate at UBC whose research is focused on Asia. They can be either domestic or international students.
Application requires:
Short research proposal (approx. 1 pg)
An email of support from a UBC faculty member
Budget for Research and list of other sources of funding
CV
Each application will be evaluated based on:
Strength of the research proposal
Suitability of research topic
Academic and professional experience and qualifications
Successful applicants will be notified by March 15, 2023.