At the request of Public Safety Canada, the Council of Canadian Academies (CCA) has formed an Expert Panel on Public Safety in the Digital Age to examine leading practices that could help address risks to public safety while respecting human rights and privacy. Heidi Tworek, Associate Professor at the School of Public Policy and Global Affairs and Department of History, University of British Columbia has been appointed as a member.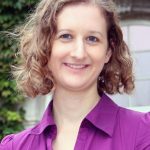 "I'm thrilled to be working with such an interdisciplinary group of experts to understand one of the pressing issues of our time."
– Dr. Heidi Tworek
Dr. Tworek is a part of a multidisciplinary group with expertise in cybersecurity, social sciences, criminology, law enforcement, and law and governance, chaired by Jennifer Stoddart, O.C., Strategic Advisor, Privacy and Cybersecurity Group, Fasken Martineau DuMoulin. Together, they will seek to answer the following question:
Considering the impact that advances in information and communications technologies have had on a global scale, what do current evidence and knowledge suggest regarding promising and leading practices that could be applied in Canada for investigating, preventing, and countering threats to public safety while respecting human rights and privacy?