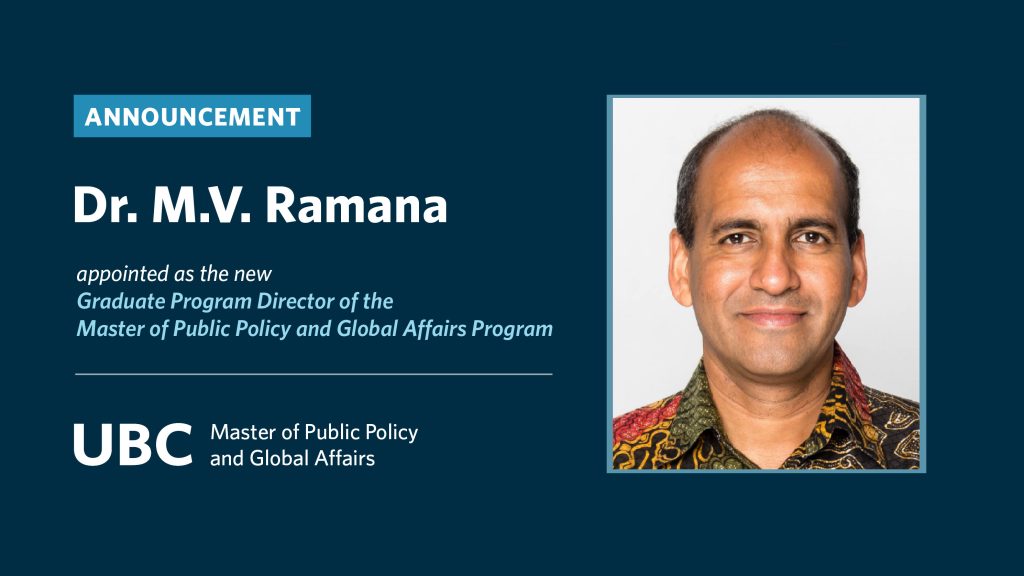 Dr. M. V. Ramana has been appointed Graduate Program Director of the Master of Public Policy and Global Affairs (MPPGA) program at the UBC School of Public Policy and Global Affairs (SPPGA) starting July 1, 2022. The professional MPPGA program equips future policy makers and global change makers with a profound understanding of policy-making processes through innovative learning, career development, and mentorship.
Dr. M. V. Ramana is Simons Chair in Disarmament, Global and Human Security and Professor at SPPGA, and has been director of both the Liu Institute for Global Issues (2017 – 2022) and the Centre for India and South Asia Research in the Institute of Asian Research (2020-2022). His research interests are in the broad areas of international security and energy supply, with a particular focus on topics related to nuclear energy and fissile materials that can be used to make nuclear weapons. He combines technical skills and interdisciplinary methods to address policy relevant questions related to security and energy issues. He is the author of The Power of Promise: Examining Nuclear Energy in India (2012, Penguin Random House India).
"I look forward to interacting with students from the current and future cohorts of the MPPGA program. With their varied backgrounds and interests, MPPGA students add great value to SPPGA and UBC more generally. With support from these students and my colleagues, I look forward to making the MPPGA program more effective in shaping policy at all levels."
SPPGA acknowledges the tremendous efforts of outgoing Graduate Program Director Dr. George Hoberg. Dr. Hoberg led the MPPGA program and students through a variety of challenges posed by the on-going pandemic as well as many successes, including the graduation of our sixth MPPGA cohort this past spring.