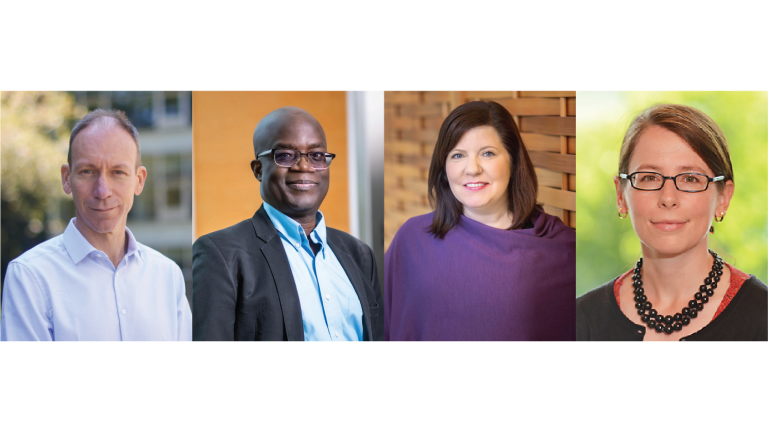 UBC School of Public Policy and Global Affairs (SPPGA) congratulates professors Philippe Le Billon, Rashid Sumaila, Sheryl Lightfoot, and Kristen Hopewell whose projects received SSHRC funding through Partnership Development and Insight Grants.
A total of 58 new projects led by UBC researchers have been awarded funding of $13 million through the Social Sciences and Humanities Research Council's Partnership Grants, Partnership Development Grants, and Insight Grants programs.
SSHRC Partnership Development Grants provides support to teams from one to three years who are working in a formal partnership between post-secondary institutions and public, private, or not-for-profit organizations. The grants are intended to either develop research and related activities in the social sciences and humanities, including knowledge mobilization and the meaningful involvement of students and emerging scholars; or to design and test new partnership approaches for research and related activities that may result in best practices or models that can be adapted by others.
SSHRC Insight Grants support research excellence in the social sciences and humanities with funding available to both emerging and established scholars for research initiatives of two to five years. Stable support for long-term research initiatives is central to advancing knowledge as it enables scholars to address complex issues about individuals and societies, and to further our collective understanding.
We look forward to seeing the impact our faculty will make due to this funding. You can read more about the projects below.
Professors Philippe Le Billon (SPPGA; Geography) with UBC co-applicants Nathan Bennett (Institute for the Ocean and Fisheries) and Rashid Sumaila (SPPGA; Institute for the Ocean and Fisheries) received a Partnership Development Grant for their project, "Fishy crimes: Partnering to improve small-scale fishers livelihoods" for three years.
This Partnership Development Grant project responds to calls for more systematic reporting and analysis of fisheries-related offences through collaborative work between researchers and practitioners, and for greater social and environmental justice including through stronger accountability for industrial-scale fishing and the seafood industry. By supporting a more effective reporting and critically assessing regulatory and enforcement practices, this project seeks to inform and promote socially-just fisheries policies and enforcements practices protecting the livelihoods and rights of small-scale fishers.
Associate Professor Sheryl Lightfoot (SPPGA; Political Science; First Nations and Indigenous Studies) received a Partnership Development Grant for her project, "Decolonizing Settler States: Unravelling Systemic Blockages to Indigenous Rights in State Institutions and Civil Society," for three years. This network emerged as a result of the Research Excellence Cluster on Global Challenges to Democracy: Rights, Freedoms, and Human Development that Dr. Lightfoot received in 2016-17 and 2018-19, together with professors Max Cameron and Lisa Sundstrom.
This partnership aims to demystify the systemic blockages that prevent settler colonial states in the Global North from decolonizing, defined as implementing the full body of Indigenous human rights as articulated in the United Nations Declaration on the Rights of Indigenous Peoples (UNDRIP) and other human rights law. The project places Indigenous scholar, practitioner and community-level voices at the forefront to ensure that Indigenous viewpoints are central to our understandings of decolonization processes in settler colonial states.
SPPGA Associate Professor Kristen Hopewell received a SSHRC Insight Grant for her project, "Contemporary Conflicts in the Politics and Governance of International Trade." Amid dramatic recent changes in American trade policy, the global trade regime has been thrown into crisis. Under President Trump, the US – the dominant power in the global political economy – abandoned its traditional support for the rules-based multilateral trading system, and rejected its core principles of free trade, international cooperation and the rule of law. Fueled by a wave of populist anti-trade sentiment, the US initiated trade wars and aggressive unilateral trade measures against all of its major trading partners and launched an attack on the rules and dispute settlement mechanism of the World Trade Organization (WTO). Despite the election of President Biden, he has maintained many of Trump's trade policies. These policies pose a profound threat to the stability of the trade regime and the global economy, and carry particular risks for a country like Canada that depends heavily on trade with the US.
This project will analyze how other states have responded to the abdication of American leadership in the trading system and its rejection of trade multilateralism in favour of aggressive unilateralism. It will pursue two distinct but related lines of investigation, analyzing: (1) international efforts to reform the WTO in order to maintain the functioning of the liberal trading system, and (2) the strategic policy choices made by individual states in determining how to respond to the US's use of coercive power in trade. This research will contribute to our understanding of major contemporary conflicts in global trade politics and governance, and is expected to be of considerable interest to both academics and policymakers in Canada and around the world.