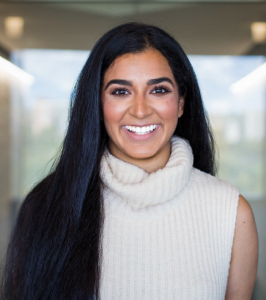 The UBC School of Public Policy and Global Affairs wishes to congratulate Master of Public Policy and Global Affairs alum Ravina Anand on being selected in the "Top 50 Canadian Business Changemakers" by the Globe and Mail. Ravina is recognized as one of Canada's top 50 entrepreneurs, academics and executives for her leadership as Co-founder and Chief Operating Officer of FLIK, the Female Laboratory of Innovation Knowledge.
FLIK is an online apprenticeship portal connecting womxn entrepreneurs and business owners with female talent. Their goal is to help increase female-led ventures globally and advance womxn's economic participation. FLIK not only brings together female leaders and talent to create curated apprenticeships, but it is also a lively community where members connect and share advice.
FLIK has recently been nominated for a 2021 Small Business BC award. You can vote for FLIK in the "Best Youth Entrepreneur" category until March 8 here.
We spoke with Ravina to hear what recognition as a Top 50 Canadian Business Changemaker means to her:
"Changing our perception of who can be an entrepreneur, what an entrepreneur looks like, and what an entrepreneur is permitted to solve is important. This recognition [Top 50 Canadian Business Changemakers by Globe and Mail] is a brief glimpse into the future that I along with many underrepresented and underestimated founders hope to see in the future – womxn redefining the traditional idea of entrepreneurship.
I am grateful to have had the opportunity through the UBC MPPGA program to have worked directly with the Women's Initiative for Gender Justice to understand the significant challenges womxn encounter. Key learnings from my research mission to New York, Geneva, and The Hague contributed to my multidisciplinary approach in solving problems. Intellectual curiosity – whether through reading, asking a lot of questions, or challenging the standards around me at both a local and global level – have further enabled me to examine underserved communities and how I can best build and create in order to create equal opportunity for such communities.
Globally, less than 1 in 5 businesses are led by womxn, and to solve this inequity, FLIK aims to be the comprehensive resource accelerating womxn through the female founder pipeline. We are creating skills development and lifelong learning opportunities for young womxn to prepare for the future workforce; accelerating entrepreneurial skills and develop a new generation of job creators; and improving access to education and skills opportunities for womxn may be left behind by the rapidly changing global economy.
I am continuously inspired by the remarkable female founders in the FLIK community and beyond. They are the catalyst to significant change. Together, we are redefining the traditional norms of business and entrepreneurship, the meaning behind them, and how they can be executed." – Ravina Anand