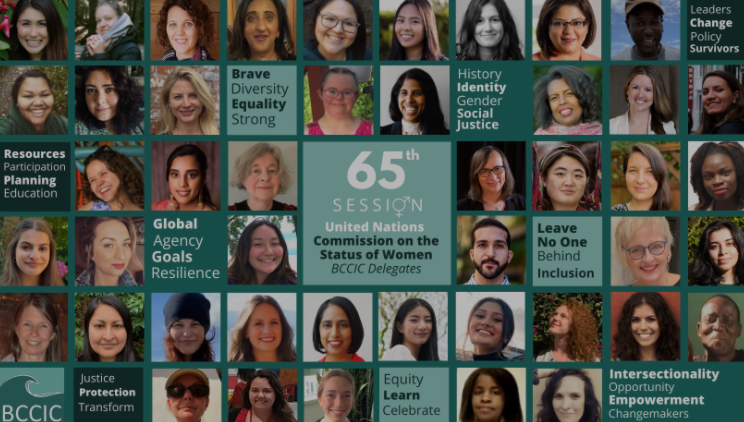 Two Master of Public Policy and Global Affairs alumni, Christiana O. Onabola and Bashar Alsaeedi, have been selected to be part of the British Columbia Council for International Cooperation (BCCIC)'s delegation to attend the UN Commission on the Status of Women (CSW65) happening from March 15-26, 2021. Christiana is currently a BCCIC volunteer SDGs Policy Researcher and PhD Candidate at the Faculty of Human & Health Sciences, University of Northern British Columbia. Bashar is a Policy Analyst with BCCIC supporting national SDG advisory councils.
During the CSW65, the BCCIC delegates will attend official and side events hosted by permanent missions, UN entities and intergovernmental agencies as well as side and parallel events by NGO CSW Forum. The delegates will have the opportunity to share their insights and perspectives prior to, during, and post CSW events.
Christiana and Bashar have interviewed delegates for several of the blogs that BCCIC will be publishing. They explore each individual's achievements in gender equality and how it has played a role in their lives or careers, as well as reflecting on the Commission on the Status of Women's (CSW) theme for this year: Women's full and effective participation and decision-making in public life, as well as the elimination of violence, for achieving gender equality and the empowerment of all women and girls.
Bashar reflects on his involvement thus far: "I have learnt a great deal from these interviews especially after exploring topics on women's representation in male dominated industries like private sector industries, the use of language about gender equality in spaces like CSW, and the importance of representation of Indigenous peoples, women and youth voices when writing policy. By conducting interviews and meeting other BCCIC delegates, I have built important connections and expanded my network on gender equality. It has also made me reflect on the role that boys and men can and should play in promoting gender equality."
Christina shares: "It's exciting to be part of the delegation to attend the 65th session of the UN Commission on the Status of Women. I am grateful to BCCIC for this selection.  I am looking forward to the CSW65 main sessions and side events, particularly, the making of gender-transformative sense for inclusion of women in decision-making, and how some civil society organizations have successfully inculcated this approach into their work, using an intersectional lens. The overarching theme for the event focuses on women in public life and achievement of full and effective participation in decision-making. This, I consider, very apt, at a time when the inclusion of women and diverse women groups in decision-making has often been rendered tantamount to mere representation, for the sake of diversity. The game is being challenged for much more – for inclusion to translate to empowered, engaged participation of women. This is foregrounding not just how many women are participating, but more importantly, how diverse groups of women are emancipated to engage by providing enabling platforms and resources for full participation in decision-making processes.
As a delegate and BCCIC Volunteer in the capacity of a SDGs Policy Researcher, I have taken on the responsibility to write a pre-delegation blog with a gender-focused lens, and interview a fellow delegate, while I make a blog article of the responses. I will also be writing blogs during and after the event; making use of some of the gleanings, discussions, and takeaways from the sessions. I am very positive that these experiences will sharpen my intersectional lens in approaching social justice issues."
Bashar further discusses his excitement about being a part of BCCIC's CSW 65 Delegation this year. "I will be attending official meetings and parallel side events in March where I will be expanding my knowledge on achieving gender equality, empowering women and girls and the important role that boys and men can play in promoting gender equality and social justice. I will be attending a number of events hosted by UN missions, government institutions, and civil society organizations where I will explore topics such as women in leadership positions, the shift of masculine norms to promote women's economic empowerment, the efficacy of national strategies to combat violence and ensure the advancement of women, and good practices and lessons learned from addressing the COVID-19 pandemic through an intersectional gender and peacebuilding lens.
As both a BCCIC staff member and delegate, I have the responsibility of reporting back to the Policy Director and Gender Specialist, Dr. Zosa De Sas Kropiwnicki-Gruber, on my findings from different policies in place at the national and local levels, and examining what Canada can learn from its international partners. I will also assist with the compilation of a delegation impact report. Generally, this experience has left me feeling inspired to promote gender equality, as well as inclusion, diversity and social justice."
The BCCIC Delegation will be sharing blogs before, during and after the event, as well as a series of informative posts on social media. Delegates have had the opportunity to contribute to CSW's political declaration which BCCIC delegates have reviewed alongside other organizations and countries worldwide.
Read the Blogs on the BCCIC Website
Find social posts throughout March 2021 via BCCIC's Facebook, Twitter, LinkedIn