Enjoy this spotlight below on Bo Wang, MPPGA Alumnus and Associate at the Principles for Responsible Investment (China).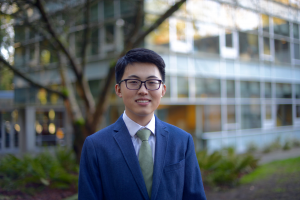 After his placement as a Junior Professional Consultant at UNDP Vietnam supported by the United Nations Association of Canada-MPPGA Young Professional Award, MPPGA alumnus, Bo Wang, moved to Beijing, China in June, 2019 to join the UN-supported Principles for Responsible Investment (PRI).
The PRI is an investor initiative and non-profit headquartered in London, UK and in partnership with UNEP Finance Initiative and UN Global Compact. PRI aims to achieve a sustainable global financial system that enables long-term value creation and the sustainable development of the environment and society. Signatories (mainly major investment managers and asset owners) to the PRI are committed to six Principles for Responsible Investment, including integrating environmental, social, and governance (ESG) factors into their investment analysis and decision-making and becoming active investors who engage investee companies in their ESG practices.
Bo is based in Beijing as a China Associate in the PRI's global Signatory Relations team. A major part of his responsibilities involves bridging the PRI's London office and Chinese signatories, as well as local signatories with one another so that they work together to continuously improve their responsible investment practices across themes and asset classes.
In addition, he will be facilitating signatories' reporting duties to the PRI which ensure the accountability of the PRI and its signatories and working alongside his colleagues in Beijing to recruit influential asset owners in the local market, such as insurance companies, the national pension fund, and sovereign wealth funds, to foster a community of responsible investors.
As Bo shares: "I have long been passionate about working at the intersection of economics, finance, and public policy. The MPPGA program has not only equipped me with a comprehensive understanding of various aspects of public policy but also connected me to supportive professors, mentors, and exciting opportunities, in spite of my niche interest in sustainable finance. I deeply value the experience in the MPPGA program."