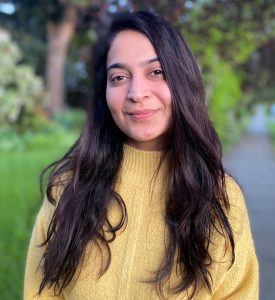 Congratulations to UBC Master of Public Policy and Global Affairs (MPPGA) student Shifa Thobani for receiving the Jamaloddin Khanjani Family Scholarship. The selection by made in May 2022 by the Awards Committee at the UBC School of Public Policy and Global Affairs.
The Jamaloddin Khanjani Family Scholarship is a $4,450 scholarship made available through an endowment established by Farid Rohani in honor of Jamaloddin Khanjani, a successful businessman who, because he was Baha'i, lost his business after the 1979 Islamic revolution in Iran. The scholarship is in honor of Mr. Khanjani's commitment to and support of education and human rights.
The scholarship supports a graduate student whose studies focus on human rights and related aspects of public policy and global affairs, with preference given to students in the MPPGA program.
Shifa shares what this scholarship means to her: "This scholarship is a recognition of the power of a community-led approach in solving complex development challenges in countries like India. It has inspired me to continue my work in the space of menstrual hygiene in rural India. This one is for the women and girls I have worked with in the past, and will work with in the future!"