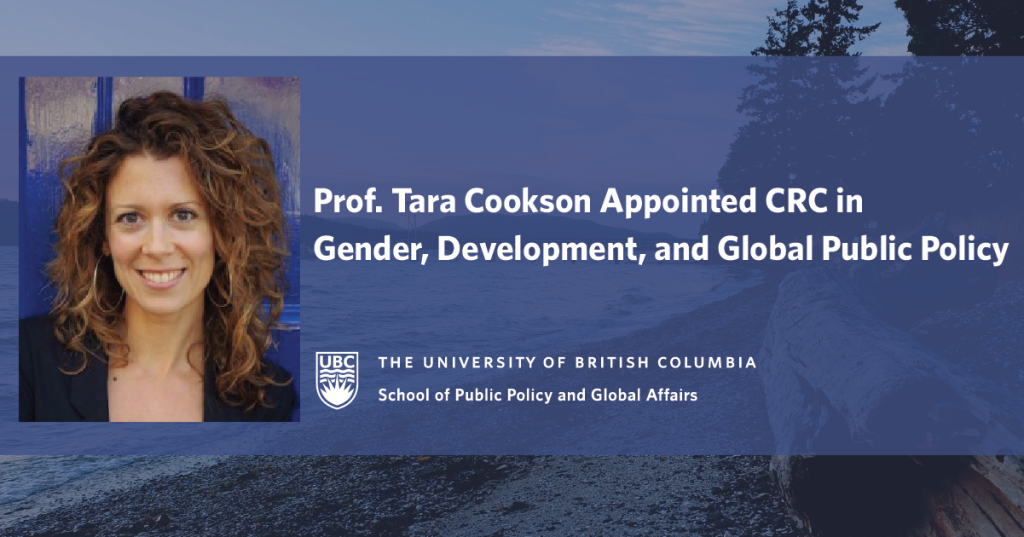 Dr. Tara Cookson, Assistant Professor in the School of Public Policy and Global Affairs in the Faculty of Arts at the University of British Columbia, has been appointed as a Tier 2 Canada Research Chair in Gender, Development, and Global Public Policy. The appointment comes as part of the Government of Canada's announcement that the Canada Research Chairs (CRC) Program is investing more than $151 million to support 188 new and renewed Canada Research Chairs at 43 institutions.
Dr. Tara Cookson is exploring the "gender data revolution" — a shift in development policy that puts gender data at the heart of efforts to achieve the SDGs. Cookson and her research team are trying to understand the revolution in terms of its potential to shape power relations among development leaders and influence priorities and financing policy issues in the field.
Dr. Cookson shared: "I'm thrilled to be appointed as a Canada Research Chair in Gender, Development and Global Public Policy. I work with policymakers and practitioners around the world to understand how they can better use data to advance gender equality, support caregivers, and built robust social protection systems. UBC already provides a fantastic environment for this kind of research, given the university's widely-recognized leadership on the Sustainable Development Goals. The Canada Research Chairs program provides an additional level of support that is unheard of in most settings; I'm deeply grateful for the opportunity to amplify the impact of my research through this program."
The CRC Program enables UBC to achieve the highest levels of research excellence while chairholders improve our depth of knowledge and quality of life, strengthen Canada's international competitiveness, and help train the next generation of highly skilled people through student supervision, teaching and the coordination of other researchers' work. The CRC Program continues to provide opportunities for researchers to excel in their fields, and build teams of experts at Canadian institutions.
Associate Professor Heidi Tworek (SPPGA; History) was also appointed as a CRC this year, in recognition of her work in history and policy of health communications. SPPGA Director Allison Macfarlane said: "I'm deeply impressed by the quality of research of our two newest CRC chairs, Heidi Tworek and Tara Cookson. Both work on essential topics relevant to our time, Heidi on history and policy of health communications, especially relevant in our pandemic times, and Tara in gender, development, and global public policy, also essential to understand for the health of the planet. We are proud to host these two remarkable scholars."