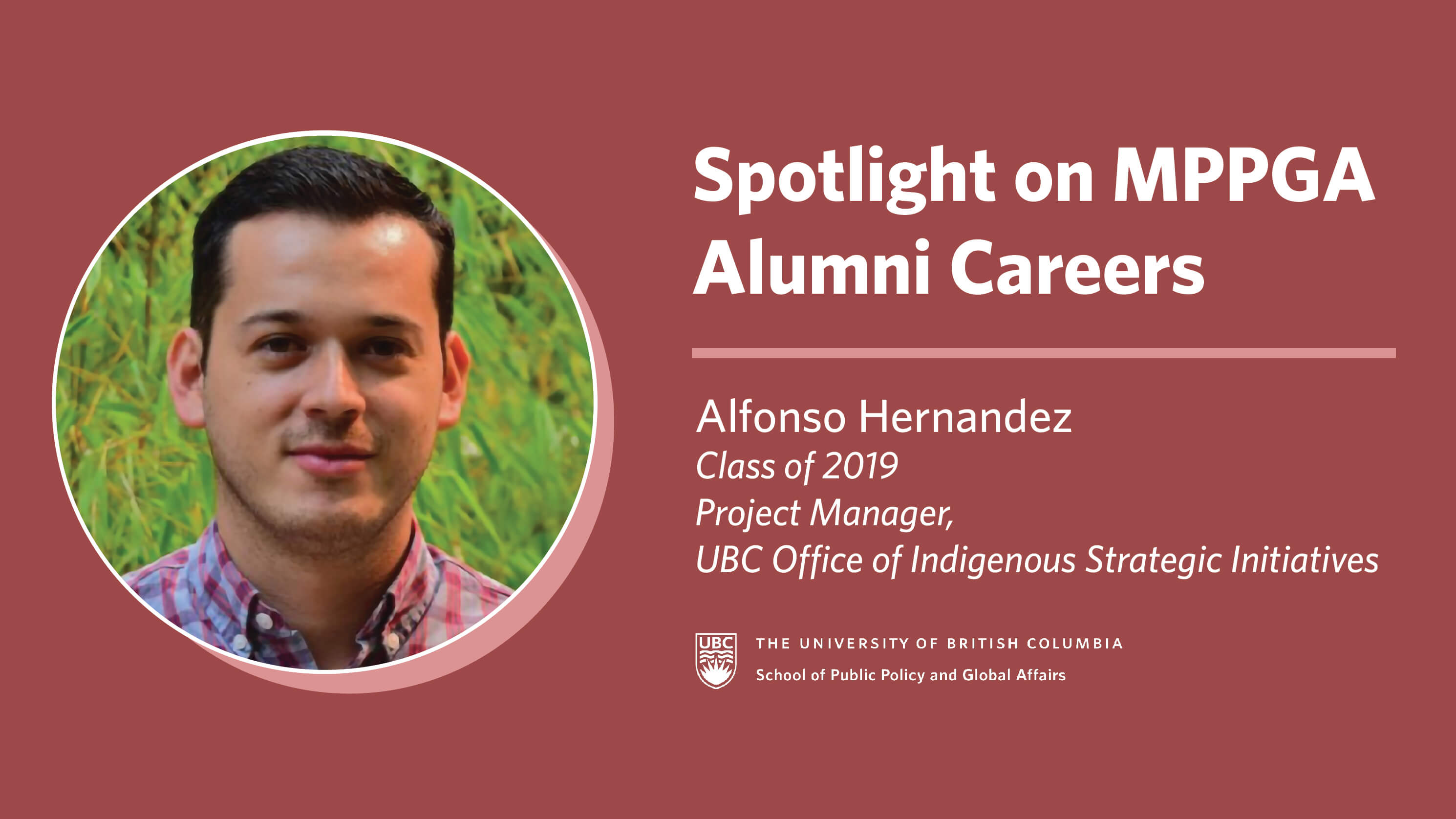 During our Spotlight on MPPGA Alumni Careers series, meet the UBC Master of Public Policy and Global Affairs (MPPGA) alumni who are committed to addressing pressing and complex public policy and global affairs challenges facing communities around the world.
Today, we are featuring Alfonso Hernandez ('19) who currently works as a Project Manager at the Office of Indigenous Strategic Initiatives (OISI) at the University of British Columbia.
SPPGA: Could you please tell us a little about yourself, your background, and how you became interested in public policy and global affairs?
My name is Alfonso Hernandez. I am originally from Mexico. I completed my Master's in Public Policy and Global Affairs at UBC in 2019. Following my graduation, I worked as Public Management and Strategic Planning Consultant for the United Nations Economic Commission for Latin America and the Caribbean and as an external Energy Policy Consultant for the Inter-American Development Bank. After two years living in Santiago, Chile, I returned to Vancouver and joined the UBC OISI team in October 2021.
I am fortunate to live and work on the traditional, ancestral, and unceded territory of the xʷməθkʷəy̓əm (Musqueam) people. Prior to joining the MPPGA program, I worked for a couple of years for the Government of the State of Jalisco, Mexico at the Sub-Secretariat of Planning and Evaluation. I had the opportunity to work with exceptional policy makers who inspired me to pursuing the Master of Public Policy and Global Affairs at UBC.
SPPGA: Were there experiences you had during the MPPGA program that directly or indirectly contributed to your career journey?
The MPPGA gave me multiple opportunities to gain valuable skills that I have been able to apply directly and indirectly in the different roles I have had so far. In the summer of 2018, I was part of the UBC Chongqing Fellowship, an interdisciplinary summer course at the Southwestern University of Law and Political in Chongqing, China.
After this incredible experience, I was selected for the Inter-American Development Bank Summer Internship in Washington, DC. During the internship, I applied the skills gained during the first year in the MPPGA. During the second year, I held a Work-Learn student position at the Canadian International Resources and Development Institute (CIRDI) at UBC.
One of the most enriching experiences was the Global Policy Project (GP2). As part of a dynamic and creative team, we developed a comparative analysis of gender analysis frameworks. We provided a set of recommendations on how to incorporate the analysis results into project design for the Asian Infrastructure Investment Bank (AIIB). We were fortunate to work under the supervision of UBC faculty and AIIB staff. This project included fieldwork in the province of Gujarat, India, and Beijing, China.

SPPGA: What was your Co-op position and what were your key takeaways? Did this position change how you think about your skills and career path or interests?
In the summer of 2018, I was selected to participate in the Inter-American Development Bank Summer Internship. My position for three months was as General Operations Analyst at the Office of the Southern Cone Countries. The primary responsibilities of this job were to analyze infrastructure project proposals from a countries' strategic alignment and the IDB's corporate objectives perspective and present these findings for discussion during the project meetings attended by interdisciplinary teams. This internship influenced my preferences for the Global Policy Project and the courses that I selected during my second year and allowed me to self-reflect on the skills that I had to strengthen to better contribute to an international development career.
SPPGA: Please describe your current role. What makes you proud about this work?
Project management is the core of my role at OISI, which is the office mandated to support, advise and guide the university-wide implementation of the Indigenous Strategic Plan (ISP) at UBC. I am currently managing a number of projects that collectively aim to advance the priorities of the ISP. My role also enables me to engage with various stakeholders across both campuses to contribute to building and strengthening the relationships with Indigenous communities. I am inspired by UBC's goal to become a leading university globally in the implementation of Indigenous Peoples' human rights.
I am also motivated by the passion and commitment of the OISI team as well as the enormous interest from UBC's faculty members, staff, and students to learn about Indigenous issues and advance reconciliation. I look forward to working collaboratively with colleagues, campus partners, and community stakeholders to turn the Indigenous Strategic Plan's goals and actions into reality.
SPPGA: Could you describe the policy influence or impact you are having in this current role?
Being a Project Manager at the Office of Indigenous Strategic Initiatives gives me the unique opportunity of having an active role in advancing the implementation of the UBC 2020 Indigenous Strategic Plan.
SPPGA: What specific knowledge, skills, and/or networks did you gain in the MPPGA program that help you succeed in this role?
The MPPGA and the multiple opportunities the program gave me allowed me to gain knowledge and skills that have been highly relevant in my professional career. Creative problem solving, quantitative and qualitative data analysis, stakeholder engagement, critical thinking, and policy analysis are just some of the skills I developed during the program. They have helped me succeed in my past professional experiences and current role.
SPPGA: What is your career advice for current MPPGA students and new graduates?
I advise current MPPGA students to take advantage of the multiple opportunities that the program and UBC provide, identify the career path you would like to follow and work on developing the skills needed to succeed. Stay focused and work hard to achieve your dreams.
Thank you for your time and insights!