During our Spotlight on MPPGA Alumni Careers series, meet the Master of Public Policy and Global Affairs alumni who are committed to addressing the pressing and complex public policy challenges facing the world.
This week, we are featuring Chiamaka Mọgọ ('19) who is a Nigerian-Canadian. She pursued the Development and Social Change elective stream while a MPPGA student. Maintaining several current roles, Chiamaka is a Board Director with the Canadian Race Relations Foundation (CRRF), the Executive Secretary and a Board Member of the African Marine Environment Sustainability Initiative (AFMESI), and the Founder and President of the Board of the Initiative for Inclusive Dialogue in Nigeria (IIDN).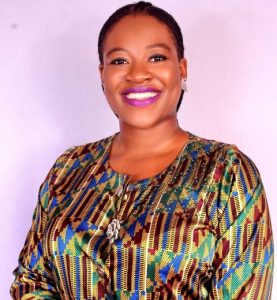 What were your primary interests while studying in the MPPGA program?
 
As an MPPGA student, my main interests were in catalyzing equity and good governance. I chose the Development and Social Change stream of the program. Where there were options for me to choose the contexts of my own policy brief and research paper assignments, I objectively centred them around those interests of mine. I wrote several papers covering parts of Africa, Asia, and some Indigenous communities across the world.
Which opportunities did you participate in during the MPPGA program that contributed to your career journey?
I was very active as an MPPGA student and did my best to take advantage of the professional development opportunities that were available.
The Global Policy Project was an intense and good experience, especially in the sense that I got to further branch out to environmental sustainability. Our team of five students worked with officials from the City of Vancouver on the Greening Vancouver's Fleets project.
With regards to the Co-op program, as I was feeling defeated with the job placement search, I got an interview invitation from the University of British Columbia's Sexual Violence Prevention and Response Office (SVPRO). The interview was a success and I became the Policy Analyst and Education Programs Assistant. The SVPRO was quite new at the time and I was a part of the growing team. I was entrusted with the role of reviewing the university's Sexual assault and other sexual misconduct policy — Policy 131, as it was called at that time. That meant I knew the ins and outs of that policy. In that role, I conducted interviews with staff on their views of the benefits and issues with the existing policy, compared the policy to that of other universities in British Columbia, and regularly engaged with other university departments. At the end of my Co-op term, I submitted a detailed report of the review process, findings, and recommendations to the Director of the SVPRO and also gave a presentation that was attended by other SVPRO staff.
When the United Nations Association in Canada internship opportunity came along, I attended the information session and applied. I had an interview and landed an internship at the International Organization for Migration (IOM) in Ghana. That was a dream come true for me.
What is your current position and main responsibilities?
At the moment, I hold a few positions that keep me happily busy and in line with the interests that I had as an MPPGA student. I am a part-time Board Director with the Canadian Race Relations Foundation. I am the Founder and President of the Board of the Initiative for Inclusive Dialogue in Nigeria (IIDN). In addition, I am the Executive Secretary and a Board Member of the African Marine Environment Sustainability Initiative (AFMESI).
What makes you proud about your current job? How does it relate to your MPPGA degree?
All of those positions are directly related to promoting better socio-economic outcomes, especially for communities that have been marginalized in different ways. For that, I am proud that I am still on the path that I long planned for. I am also proud to see skills that were sharpened during the MPPGA program coming into good use in my jobs.
How do you influence change or hope to influence change in your professional and/or personal life?
I do my best to influence change in different societal contexts.
As a Board Director at the CRRF and the youngest one, I influence change by being active in my role, contributing my ideas and skill sets, and learning seriously from my Board colleagues. Within the Board, I offered to serve on both the Human Resources and the Strategic Plan Implementation Committees, in order to work more collaboratively with my colleagues and further the work of the Foundation. Recently, I was a Panelist on a webinar that was put together by the CRRF office to commemorate the International Day for the Remembrance of the Slave Trade and its Abolition. The webinar was yet another medium for me to share with a large audience, current pressing matters relating to anti-Black racism in Canada, needed action steps, and a reminder that the time for action has to be now!
My work with IIDN and AFMESI takes me closer to my native country and continent, respectively. At IIDN, I influence change through voluntary service along with fellow volunteers on the team. I founded IIDN in 2017 in order to foster more actions around equity, social cohesion, and sustainable development in Nigeria. Since then, research articles, policy briefs, informative interviews, youth engagement activities, and more have been undertaken by the organization — in line with our mandates. I do welcome MPPGA students and others to reference IIDN's publications in their research assignments. IIDN's work has been gaining national recognition. In the month of April, 2020, a sub-committee of the Office of the Senior Special Adviser to the President on SDGs invited IIDN for a consultation session ahead of Nigeria's submission of its 2020 Voluntary National Review report to the United Nations. That was another moment to influence change; I represented IIDN in the deliberations.
My role as the Executive Secretary of AFMESI expands my worldview a lot, as it is a Pan-African organization with a strong focus on marine sustainability across the continent. Currently, I influence change in that role by convening stakeholders and promoting knowledge sharing on the topic of marine sustainability for communities and nations in Africa.
Also, I influence change by learning from my parents and my siblings who constantly lead with diligence, empathy, and great focus.
What career advice would you give to MPPGA students and alumni?
The hard work will pay off, even if the process takes time. Stay focused on your goals. Please also foster social justice with your education and the expertise that you have amassed.
Thank you, Chiamaka.