During our Spotlight on MPPGA Alumni Careers series, meet the UBC Master of Public Policy and Global Affairs (MPPGA) alumni who are committed to addressing the pressing and complex public policy challenges facing the world.
Today, we are featuring Rafael Posada ('19) who is originally from Mississauga, Ontario and currently lives in Vancouver, B.C. Post-graduation, he is now the Co-Founder, COO & Managing Partner of Stratego Solutions.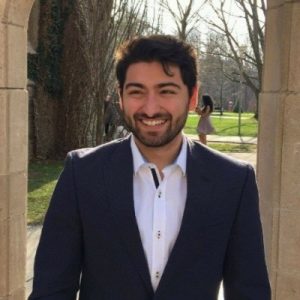 What were your primary interests while studying in the MPPGA program?
My primary interests were in behavioural economics and social policies, so I ended up combining courses from two streams: Development & Social Change and Resources, Energy & Sustainability.
My electives mainly focused on understanding China and other countries in Asia. I took courses with Dr. Timothy Cheek (Asian Intellectuals) and Dr. Paul Evans (Global China), which gave me an introduction to understanding the political and economic developments in the region. Moreover, I took an elective that aligned with my streams and interests with Dr. Jiaying Zhao (Behavioural Foundations for Public Policy). This course gave me an introduction to the behavioural assumptions in policy development and allowed me to assess different policies with that in mind later on.
Which opportunities did you participate in during the MPPGA program that contributed to your career journey?
There are a few opportunities I participated in that contributed to my career journey.
The first one was being involved and up to date with the different discussions in the MPPGA Student Association. Although I was not formally part of the student association my first year, I eagerly tried to support them in advocacy. This allowed me to build strong relationships with colleagues, professors and staff, learning the different policies and procedures in our program and UBC. This led me to run and be elected to be the student representative in the President's Advisory Committee for the selection of the SPPGA Director 2020. This gave me an opportunity to develop criteria, consult with colleagues and professors about the School's vision and finally interview the candidates. It was a fascinating experience that allowed me to learn about the political infrastructure in an organization and take part in decision-making processes for selecting an executive.
The second one was working at the University. As a domestic student from Ontario, working for UBC allowed me to learn a lot about the University and the province of British Columbia for that matter. One of the aspects I was gladly introduced to early on was the relationship between First Nations communities, UBC and the Government of BC. The opportunity to work as a Residence Graduate Advisor and a Graduate Teacher Assistant provided me with a wide-range of educational opportunities that enriched my experience while supporting other students in their academic and professional career.
The opportunity to work on different projects while I was doing my masters allowed me to encounter certain policy problems within the organizations I worked for. As a result and with the support of different mentors, I decided to use one of my courses in my second year as a platform to develop a research proposal and make changes. The opportunity to use a course as a platform to work on something that interested me was amazing and we were able to make concrete positive changes. I recommend that students reach out to professors and discuss research and career interests as they are happy to support you.
Lastly, and perhaps one of the most rewarding experiences, was doing an international Global Policy Project (GP2). I had the opportunity to work along with four MPPGA colleagues as a consultant for the Asian Infrastructure Investment Bank (AIIB), where we conducted field work in China and India. The direction of the project was shaped throughout the year, but we ended up providing the Bank with policy recommendations that assessed the impact of their infrastructure projects on gender. We encountered different challenges throughout the Project that allowed me to learn about the socio-political barriers in the region. I recommend any student hoping to learn about a different region to take on a GP2 that allows them to get out of their comfort zone.
What job titles have you held since graduation?
Research Assistant for the Department of Organizational Behaviour at Sauder School of Business, UBC.
Co-Founder, COO & Managing Partner for Stratego Solutions
Chief Global Officer & Managing Partner for Retail Brands at Deal Smartie
What are your main responsibilities in your current position?
My current positions are the ones listed above. The ones that take most of my time are at Stratego and Deal Smartie. They both started as ideas that have grown to bring onboard professionals in different fields, and the journey is only starting.
The vision with Stratego is to be more than a strategy consulting firm and promote a movement we call Practical Dreamers, a collaboration and people first approach to pursue a dream. As a result, we support start-ups in their development of their dreams and we help them make them practical.
I am currently working with GLOCAL Foundation of Canada, a non-partisan, non-profit organization, in a grassroots initiative to support the upcoming provincial election in Saskatchewan and British Columbia through a digital platform youcount.ca given traditional channels of civic engagement have become either difficult or costly due to social distancing during COVID-19. With an internal executive position, my main responsibilities have been to develop our internal policies and documents that support the team in working remotely. I have focused on internal and external communication guidelines and drafting policies for their digital platform. On another note, we are developing a strategy for partnerships to engage youth in civic awareness and political participation.
On the other hand, in a project with Stratego, I have taken on an active role with Deal Smartie, one of our partners, and support the team in bringing medical and non-medical masks to the public for affordable prices. We saw the global scarcity yet the need for masks, so we decided to use our global partnerships to contribute. My main responsibility rests on supporting the team and developing a plan to contribute to the provision of PPE in Canada, Latin America, and the Middle East. Having said that, we have a sales strategy that we hope to implement in the months to come in order to donate medical masks for every non-medical mask sold. I am looking forward to seeing how the project unfolds.
What makes you proud about your current job? How does it relate to your MPPGA degree?
As I took the leap to start an organization upon an uncertain job market, I have had the chance in alignment with my professional values to pick the organizations I want to work with. Stratego Solutions is beyond a strategy consulting firm, as we hope to develop a network of professionals that share our values and want to make changes in our current systems that have not worked for all humanity.
My current work with GLOCAL is directly related to the MPPGA program as the organization strives to empower residents in Canada to integrate a solid, creative domestic engagement with a nuanced global understanding in politics, business, academics and philanthropy. Our digital platform youcount.ca aims to increase civic awareness and voter turnout during these upcoming provincial elections.
On another note, I am supporting the team at Deal Smartie developing a global strategy to provide medical masks to front-liners in Latin America at the moment. My understanding of the position that Canada has in the global arena has allowed me to navigate different questions in the process. I believe many of the tools learned in the MPPGA have helped me make strategic suggestions and contribute to the team in their launch. Moreover, it is the reflection of experiences and application of tools with the capacity to adapt them is what has allowed me to support my team and clients the most.
How do you influence change or hope to influence change in your professional and/or personal life?
I believe influencing change starts from being comfortable with change yourself. My personal and professional experiences living and working in different countries plus working with start-ups have made me comfortable with uncertainty and constant change. I think being comfortable with change and developing the ability to adapt to situations is one of the most important skills I learned throughout my career. The pandemic has been a test for many of us that gives us the opportunity to adapt to unprecedented situations. These challenges faced are better tackled together in an integral collaboration because together we can succeed.
On that note, I influence change by being honest and transparent in my communication, yet with respect for authority and a thorough understanding of the bureaucracy of an organization. I believe change starts with a mentality and the biggest challenge is to convince others why change can be good and many times necessary for progress. My capacity to influence change comes from not being afraid of making mistakes and reflecting on them to improve. I have made a few already and I am sure I will make more during my career, yet it is with the attitude of a student that we thrive during challenging times. Learning from our mistakes so we avoid making the same ones, but taking on challenges with learning objectives in mind. As a result, mistakes are just part of the equation of success, so don't be afraid to make them.
What career advice would you give to MPPGA students and alumni?
My biggest career advice is to take on challenges, talk to many people in the professions you are interested in, and don't be afraid of making mistakes. I encourage you to get involved and talk to colleagues and professors. The MPPGA program provides you with an interdisciplinary education and the opportunity to meet professionals in different fields, which can provide you with different doors. However, it is up to you to open them.

Thank you, Rafael!