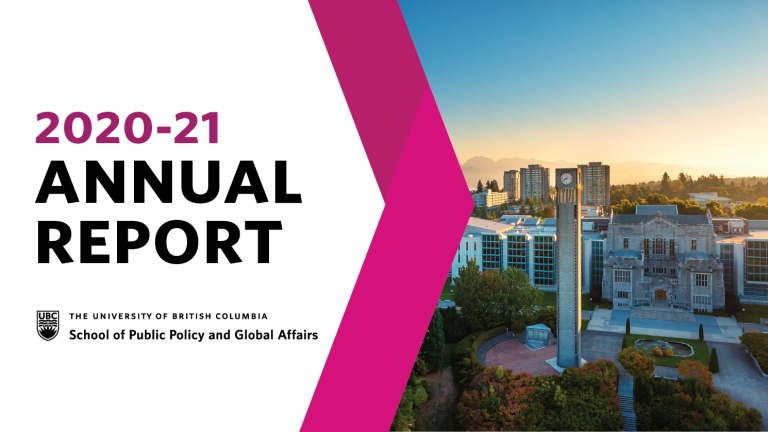 Learn more about the UBC School of Public Policy and Global Affairs in our 2020-21 Annual Report.
Through narrative, infographics, and imagery, the SPPGA annual report features our faculty's research projects, policy engagement, and notable achievements, student and alumni stories, and our convening and learning activities.
The Research & Impact section outlines our collaboration and partnership, where we are working, and shines a spotlight on research and policy work that responded to the COVID-19 pandemic as well as other highlights from faculty-led projects that span the world. Additionally, learn about our faculty's recent high-level appointments and awards under Notable Announcements.
The Master of Public Policy and Global Affairs section highlights how our school responded to the pandemic, with faculty, staff, and students drawing upon their creativity and perseverance to implement and adapt to new teaching strategies and ways of connecting and engaging with the policy world. Learn about our alumni career paths, student publications, and the range of Global Policy Projects that our students engaged in, reflecting the lessons they gained from virtual fieldwork.
SPPGA strives to exchange knowledge, raise awareness of pressing issues, and foster an inclusive space for interdisciplinary, multi-stakeholder dialogue among students, academics, government, industry, non-profits, and community. Under Convening, Learning & Engagement, we share examples of high profile speaker series, program activities, and the efforts of students, faculty, and staff to nurture an accessible, inclusive, equitable, and respectful environment at SPPGA.
This section also outlines the major achievements and activities of our partners, which include the Institute of Asian Research (IAR) and its five research centres on Asia, the Liu Institute for Global Issues (Liu), the Centre for the Study of Democratic Institutions (CSDI), and the Office of Regional and International Community Engagement (ORICE).