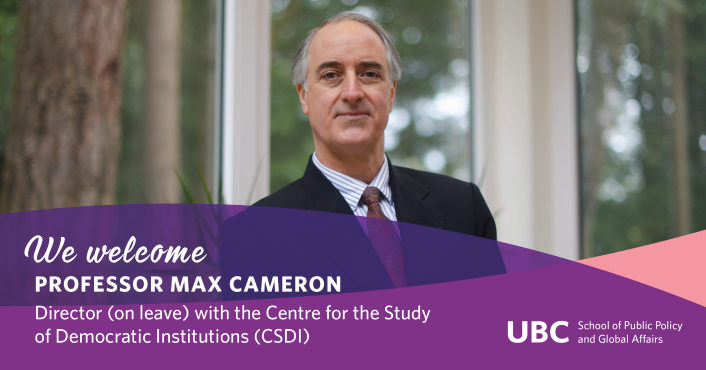 The School of Public Policy and Global Affairs (SPPGA) welcomed Professor Maxwell A. Cameron to the School of Public Policy and Global Affairs as of July 1, 2021. Prof. Cameron (Ph.D., California, Berkeley, 1989) is jointly appointed with SPPGA and Political Science at the University of British Columbia. He is also Director (on leave) with the Centre for the Study of Democratic Institutions (CSDI) and the former Acting Director of the School of Public Policy and Global Affairs (July 2019 – August 2020).
Professor Cameron specializes in comparative politics (Latin America), constitutionalism, democracy, and political economy. He is the author or editor of a dozen academic books as well as over fifty peer-reviewed articles and book chapters.
In an interview with SPPGA, Professor Cameron outlines his current research, engagement and how students can get involved in his work. Learn more about him below:
SPPGA: Can you tell us a bit about yourself?
Sure, I come from a family of educators, writers, and iconoclastic thinkers so, not surprisingly, I took an early interest in politics. I was educated up in a free school called the School in the Barn (which was, literally, in a barn) inspired by the Summerhill alternative school in England. Growing up, many of my friends were refugees from Latin American dictatorships. My fascination with them and their cultures led me to backpack through the region after high school. What I saw made me want to study politics, so when I was admitted to UBC I took the Arts One program and then Honours Political Science. I read Guillermo O'Donnell's work on authoritarian regimes in Latin America and decided that, if that was political science, I wanted to be part of it.
I did my doctorate at Berkeley, and then taught for ten years at Carleton University's Norman Paterson School of International Affairs, before coming to UBC in 1999. As director of the Centre for the Study of Democratic Institutions I have spent a decade preparing people with a vocation for public service through the Institute for Future Legislators.
SPPGA: What drives your research? What local or global issues keep you up at night and why? What types of questions do you attempt to address?
Three things, I think. First, I believe constitutional democracy provides the best arrangement for collective decision-making, not only because all other systems are worse, but also because democracy is part of a way of life that is intrinsically valuable. Most of my work is motivated by a passion for democracy and a desire to make actually existing democracies live up to the etymological roots of the word (that is, demos = people, kratos = power).
Second, I am deeply skeptical about the ability of unregulated markets to generate shared and sustainable prosperity. Whether writing about free trade agreements in the 1990s, or the oligarchic tendencies in politics in Latin America today, my motivation is to understand the ways in which the introduction of markets and competitiveness in all spheres of life can actually impoverish us as citizens and weaken the solidarity that makes societies cohere.
Finally, and increasingly in recent years, my work has returned to political theory, especially the role of ethics in politics. My last book was on the idea of practical wisdom, or phronesis, which is the knowledge and skill to do the right thing in a given situation, and do it in the right time, the right way, and for the right reasons. We need practical wisdom in our lives, our work, and even our leisure time.  And we certainly need it in politics.
SPPGA: What are you working on currently? Can you give an example of how this shows up in our daily lives?
I just submitted a book edited with Grace Jaramillo on democratization and democratic backsliding in the Andean region. It was an international collaboration supported by a research excellence cluster grant involving researchers in Latin America and Europe (some of who are current or former students). The book explores the ways in which the very idea of democracy is increasingly contested. Although our focus is on the Andean countries, the storming of the US Capitol and the anti-democratic turn in the Republican Party, as well as the increasing assertiveness of authoritarian leaders around the world, suggests that it is time to take very seriously the challenge of protecting and deepening our democratic ways of life. We need to think of democracy not just as a set of rules or procedures but as a way of life.
I've also just completed an article on what I am calling democratic virtue ethics, which makes the case that we should consider politics a profession (as Max Weber did), and as such it demands practical wisdom. Politicians contribute to human flourishing, in this view, by resolving disagreements through alternation in power. Although we think of elections as the core of democracy, in fact navigating plurality is something we have to do all the time in our everyday lives. Take the example of mask and vaccine mandates. We have reason to believe wearing masks and getting vaccinated is good for ourselves and others, but people also don't like to be told what to do, so we have to find a balance between getting most people to comply without being heavy handed. Bonnie Henry's mantra, "be kind, be safe, be calm," is a good example of practical wisdom.
SPPGA: Are you working on any major publications?
Several papers of mine have recently been published, and their topics range from liberalism and political inclusion, to a critique of competitive authoritarianism, to analysis of oligarchic tendencies in Latin America.
I'm working on several more papers on advocacy in the professions, COVID-19 policy responses in Latin America, the breakdown of democracy in Venezuela, mining and the rural vote in Peru's 2021 election, and phronesis in politics and political science.
SPPGA: What types of policy engagement are you currently pursuing? How does your work influence policy?
I have been doing some work on the Inter-American Democratic Charter. As I mentioned, democracy is increasingly contested in the Latin American region. This has made it hard to build a broad consensus around how to support and reinforce democracy. In fact, the region's main multilateral body, the Organization of American States, has exposed electoral irregularities and in turn been accused of undermining democratic government. Canada has been part of a more-or-less fruitless effort to bring about change in Venezuela (promoting or undermining democracy depending on your viewpoint). So, I think scholars should step up and contribute to this debate and in the process find ways to make the Democratic Charter a more effect instrument of supporting democracy.
To that end, I have had initial conversations with folks in the OAS and Global Affairs Canada, and will be examining these issues in one of my courses with the SPPGA next term. Since there is both a US-led democracy summit planned for later this year, and an OAS Summit of the Americas next year, I think the timing is right to bring academic scholarship into these policy debates. I did a lot of work on the Democracy Charter a couple of decades ago (it was proclaimed on 9-11, 2001), and look forward to returning to this theme in a very different regional and global context.
SPPGA: What are you most excited about in joining SPPGA as a faculty member?
I think of SPPGA as a UBC-wide hub of policy debate that attracts students and scholars who are keen to leverage their research into action. We are living through multiple overlapping crises of climate change, a pandemic, governance failures, and, frankly, much despair and pain arising from a host of social ills. I'm not interested in scholarship that does not connect to these challenges and I have found among my colleagues in SPPGA a willingness to push back against the ways in which the normal incentive structures in our institution compel us to over-specialize and focus excessively on narrow metrics of professional success. In other words, I am excited to be part of a school takes seriously the importance of relevance and public engagement. I'll continue to have a foot firmly planned in my discipline, but I welcome the interdisciplinarity of SPPGA.
SPPGA: Please tell us more about the current work of CSDI and the Institute for Future Legislators. How can UBC students become involved with CSDI?
Sure, the Institute for Future Legislators (IFL) is open to anyone who has a vocation for public service, especially if they think at some point they would like to run for elective office. We offer a boot camp for aspiring politicos, providing intensive mentoring and training to learn the skills and knowledge to be an effective legislator.
As part of the program we take participants (circumstances permitting—this has been interrupted by COVID-19) to the Legislative Assembly in Victoria where we run a full-scale simulation of a parliamentary session. Our approach is practical, experiential, and experimental.  We want to give folks a sense of what it is like to be a politician, to learn this from inspiring practitioners, and to engage in ongoing reflection on what kind of politician they would like to be.
The program is cross-partisan and open to the public as well as students. I strongly encourage anyone with an interest in exploring political action to join us, and I think many SPPGA students, given their interest in public policy, might find this a way to learn about governance from a different perspective than what is normally offered in a policy school.
Thank you.