Southeast Asia in an Evolving Global Landscape: Prospects for an Integrated Region and Implications for Canada.
Canad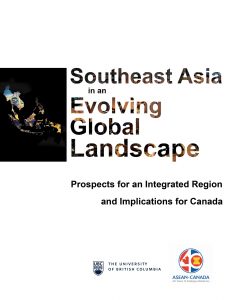 a has signalled its intention to comprehensively re-engage the Asia-Pacific region and reclaim its own position as a Pacific nation. Southeast Asia is a vital part of this strategy. As Canada and ASEAN celebrate 40 years of dialogue partnership, which coincides with the golden jubilee of the grouping itself, there is growing momentum to bring the relationship to the next level.
Against this backdrop, Global Affairs Canada held a conference entitled Southeast Asia in an Evolving Global Landscape: Prospects for an Integrated Region and Implications for Canada in Ottawa on May 30, 2017, marking an important next step in this direction. This high-profile event brought together a total of 200 participants, including ambassadors and diplomats from ASEAN member states, leading Canadian and international scholars on Southeast Asia, and representatives from Global Affairs and the broader government community. Punctuated by remarks from The Honourable Chrystia Freeland (Minister of Foreign Affairs), H.E. Le Luong Minh (Secretary-General of ASEAN), and Canada's 16th Prime Minister, The Right Honourable Joe Clark, discussions during this day-long event covered major issues in Canada-ASEAN relations, from geopolitics to security challenges and economic opportunities. From these stimulating exchanges emerged a set of innovative, yet realistic recommendations on how Canada could better assert its added-value in this strategic region, where a number of major players already vie for attention.
An edited volume from the conference will be launched during the Canadian Council for Southeast Asian Studies' Conference on October 26-28, 2017. The volume brings together contributions from the panelists, giving them the opportunity to render and further develop their assessments and recommendations. In the process, they lend important support to Canada's endeavour to develop a sound and effective foreign policy towards Southeast Asia, one that builds on its previous, well-remembered contributions to regional peace and prosperity, but goes beyond earlier engagements. In the process, the volume also identifies what its partners could gain from Canada "being back" in the regional sphere.
Edited by Stéphanie Martel and Nhu Truong. With contributions from Kai Ostwald, Brian Harding, Christopher Goscha, Mairead Lavery, Deborah Helms, Elina Noor, Lindsey W. Ford, Sidney Jones, Jonathan Berkshire Miller, and Paul Evans.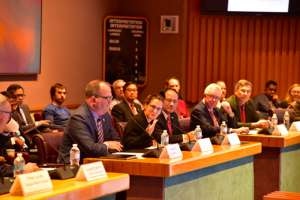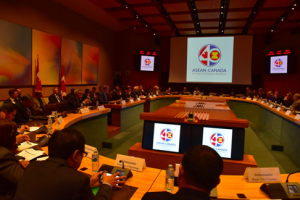 ---
Outline of Chapters:
Preface
Keynote Speech by The Right Honorable Joe Clark 
The Right Honorable Joe Clark
Foreword by the Conference Organizers at Global Affairs Canada 
J. Ian Burchett and Rosaline Kwan
Introduction
Southeast Asia in an Evolving Global Landscape: What Role for Canada? 
Stéphanie Martel
Part 1 – Southeast Asia in a New Strategic Context 
Democratic Crossroads and Political Transitions in Southeast Asia: Domestic and International Factors 
Kai Ostwald
Southeast Asia's Role in Geopolitics
Brian Harding
ASEAN Regionalism at the Indochinese Fault Line 
Christopher Goscha
Part 2 – Economic Opportunities in a Fast-growing Regional Market
Establishing a Foothold in Southeast Asia: Export Development Canada's Experience 
Mairead Lavery
Prospective for a Canada-ASEAN Free-Trade Agreement
Deborah Elms and Barath Harithas
Part 3 – Trends in the Regional Security Environment 
Stuck Between A Rock And A Hard Place: Managing Great Power Competition 
Elina Noor
The South China Sea: Current Flashpoints and Future Prospects for Resolution 
Lindsey W. Ford
The Shifting Extremist Threat in Southeast Asia 
Sidney Jones
Part 4 – Towards a Comprehensive Policy for Canada in Southeast Asia 
Canada, an Indispensable Partner? Perceptions from the Region 
Jonathan Berkshire Miller
Elements of a Canadian Strategy for Southeast Asia: The Strategic Relevance of ASEAN
Paul Evans
Conclusion
Institutional Dilemmas in Southeast Asia: Flexibility, Credibility, Stability and the State 
Nhu Truong