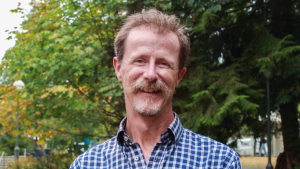 School of Public Policy and Global Affairs and IRES Professor, David Boyd, is an environmental lawyer and an internationally renowned expert on human rights and the environment, with a focus is on identifying laws and policies that will accelerate the transition to an ecologically sustainable and just future, both in Canada and across the world.
Newly appointed as a special Rapporteur on human rights and the environment for the UN Human Rights Council, David's focus will be to ensure that the United Nations recognizes every person's right to a healthy environment. He believes this will act as a catalyst for stronger environmental laws, enhanced public participation, and most importantly, cleaner air, cleaner water, and healthier ecosystems.
The Master of Public Policy and Global Affairs is thankful to have him as a part of our diverse interdisciplinary faculty, where he will share his insights on environmental justice, environmental rights and responsibilities, the rights of nature, the debate between regulation and economic instruments, and urban environmental issues. Read more about his goals as the special Rapporteur for the UN in UBC Science.