About


The Policy Studio is a university-wide endeavor that focuses on finding innovative solutions to complex, systemic, or resilient problems through the use of the strategic design method. It integrates disciplinary and interdisciplinary expertise from across UBC faculties and departments. The Policy Studio is based at the UBC School of Public Policy and Global Affairs (SPPGA).
"As change becomes more unpredictable and rapid, we need to update our ways of developing and implementing policy. Challenging problems need not just multidisciplinary 'experts' but also everyone who has a stake in an issue. And when we bring multi-sectoral actors together, a clear process framework is essential so there are results, not just more talk." ~ Moura Quayle, Professor of Strategic Design and founding Director (2017-2019), School of Public Policy and Global Affairs
The Policy Studio:
Focuses on complex and wicked systemic problems;
Is solution oriented – emphasizing policy design, development and, most importantly, implementation;
Has a strategic focus on interdisciplinary and cross-disciplinary research, including policy design research, policy learning research, and the exploration and development of innovative methods of academic inquiry;
Facilitates knowledge mobilization and knowledge exchange; and,
Is public good oriented, incorporating an international and global focus.
Policy Design Handbook
The Policy Design Handbook is designed to assist the policy design and implementation process. The handbook is intended for use by UBC Master of Public Policy and Global Affairs students, as well as other students in other programs where policy is a key aspect of their passions.
Strategic Design
The Policy Studio is built on the strategic design method  – a participatory process rooted in user research where at its best, multi-disciplinary teams blend creative and critical-thinking techniques to explore, co-create, prototype, and launch resilient solutions to big picture challenges.
The Strategic Design method was evolved at the d.studio of UBC – Sauder School of Business and then successfully extended to university wide interdisciplinary projects inside and outside the academic domain.
ASK: Strategic design integrates three key distinctive phases, the ASK phase relates to problem understanding, analyzing cause, symptoms, and consequences of a certain identified problem and incorporates diverse disciplinary approaches for a thorough analysis. It focuses on user-centred understanding of experiences to capture both observations and insights. This phase aims to develop empathy with the current and potential user of a service to generate preliminary options that will be tested or piloted in the TRY phase.
TRY: This second phase focuses on deeper exploration of options, scenarios, and draft proposals; it includes a series of lean or fast prototypes responding to the needs of having researchable models to test and compare.
DO: The third phase known as DO deals with the decision making, implementation and evaluation of the outputs, product, service, or policy. All the phases incorporate a deep dive of problem understanding, innovation intents, and reflection time throughout a whole iterative process.
Strategic design method is a highly participative oriented pedagogy as it engages participants with a variety of stakeholders including academics, thematic experts, users, and representatives from the diverse body of stakeholders. The flexibility of the application of the method makes it suitable for a short period "challenges", or a full undergraduate or graduate course. Currently, PPGA 511:  Leadership for Policy Professionals (1.5 credits), utilizes strategic design pedagogy in this required course for second year Master of Public Policy and Global Affairs students.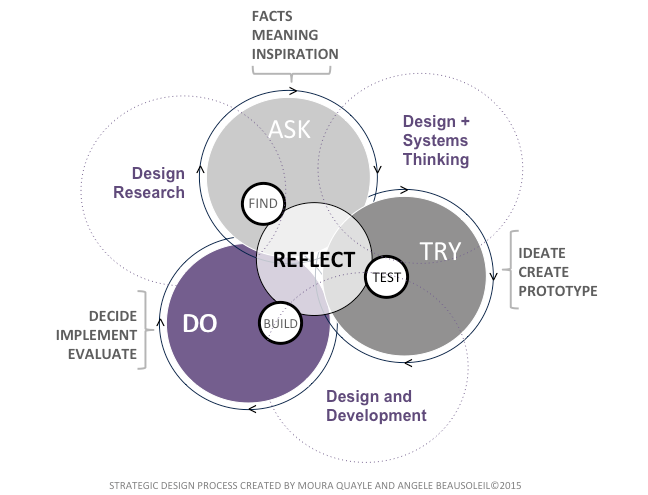 Courses
The following courses incorporate strategic design as a pedagogical approach:
COMM 388: Design Strategies for Business Innovation (3.0c)
PPGA 590: Global Policy Project (6.0c)
PPGA 511: Leadership for Policy Professionals (1.5c)
Strategic Design for Transformation – a new non-credit course for Ph.D. students (starting January 2022)
UBC's Sauder MBA & executive courses (Graduate level)
People
Professor Moura Quayle
Moura was the founding Director (2017-2019) of UBC's School of Public Policy and Global Affairs and teaches in the Sauder School of Business. Moura's interests lie in rethinking, refining and rebuilding collaborative spaces at the intersections of academia, government, business and civil society. Learn more about her work here.
Dr. Marcelo Bravo
Marcelo is a Policy Studio Research Fellow. He is currently practicing strategic design as the Lead for Patient-Oriented Research and KT Capacity Building and Research, Evaluation and Analytics at BC's Northern Health Authority. You can reach him at: marcelo.bravo@northernhealth.ca
Marcelo's research interests focus on co-designing inter-sectoral partnerships amongst academia and stakeholders through knowledge mobilization processes, to maximize the impact of knowledge and research. In recent years, he has worked with Moura Quayle to develop the Policy Studio, seeking to extend the scope of the strategic design method and its applications in the public realm in Canada and abroad. Marcelo has experience working in social policy, NGOs, civic groups, and academic institutions in three countries. He brings a unique international, pedagogical, interdisciplinary and cross-disciplinary experience to policy and complex problems. Marcelo holds a Master in Prospective Studies and Strategy at Tec de Monterrey – Graduate School of Public Policy, Mexico, and has completed his PhD in Interdisciplinary Studies (Policy and Social Innovation), at the UBC Interdisciplinary Studies Graduate Program.
Projects
Examples of work in the last four years:
2020 – 2021
With the able assistance of MPPGA alum Kingsley Eze – Policy Studio Research Assistant, two projects have been the focus of activity: The Policy Design Handbook (see link) and a Research Project titled: Embedding Strategic Design into Graduate Education to Enable Systemic Change Leadership. A paper will result from the surveys and interviews with students from PPGA 511:  Leadership for Policy Professionals and PPGA 591L: Strategic Design for Systemic Change.
2019 – 2020
A) Vancouver Coastal Health's Healthy Public Policy Collaboration
The Policy Studio is in an ongoing collaboration with Vancouver Coastal Health (VCH) – Population Health Unit, Office of the Chief Medical Health Officer. The main goal is to strengthen and support the healthy public policy and engagement work performed by VCH's staff and partners. This collaboration has four specific objectives:
1) to support and launch a series of VCH's policy studios aiming at working on social determinants of health in partnership with local and regional actors;
2) to support the development of a VCH's policy studio framework and guidelines that will strengthen the work of Healthy Public Policy and advocacy work;
3) to research and co-generate a healthy public competencies piece that will serve as guiding document for upcoming learning agendas and professional development plans, and;
4) to serve as academic liaison connecting with local, regional, and national researchers supporting the advancement of a network of researchers committed to research and engagement that will support healthy public policy as a core area of practice.
2018
A) Strategic Design for Complex Problems at UAM – Mexico
B) Co-Creating the UBC Knowledge Exchange. A collaborator in the UBC Innovation Hub
Download the Co-Creating the UBC Knowledge Exchange: A Collaborator in the UBC Innovation Hub report
C) Re-Envisioning ISGP: Exploring Opportunities for the Interdisciplinary Studies Graduate Program
2017
D) Enhancing KMb@UBC
Download the Enhancing KMb@UBC report
E) Resilient Cities Policy Challenge
Download the Resilient Cities Policy Challenge Ideabook
F) Tec de Monterrey Strategic Design Sessions
2016
G) Policy Studio in Ottawa 
The UBC Women in House Program is an innovative and practical program hosted by the UBC School of Public Policy and Global Affairs that is aimed at promoting a greater level of female representation in the Canadian government. The program pairs female and female-identified students for a full day with a Member of Parliament or a Senator so that students can directly observe political procedures, learn about gender equity, and engage in mentorship and networking with Canadian political leaders.
Participants are also involved in a second day of learning where they attend an academic portion of the program with journalists, professors, and/or other practitioners on a related topic, as well as enjoy a tour of the Parliament Buildings.
The program includes fully subsidized return flights from Vancouver to Ottawa and accommodations. Students need to be fully available for all four days if accepted into the program and will also be expected to submit a blog post reflecting on their experience within two weeks of their return to Vancouver for posting on the UBC School of Public Policy and Global Affairs' website.
*The 2020 Women in House Program was held on March 11-12, 2020 in Ottawa. Read the student reflections here.
Eligibility

The 2020 program was open to ten female and female-identified students enrolled in the following programs at the University of British Columbia during the 2019-2020 school year:
Doctor of Political Science
Master of Political Science
Master of Public Policy and Global Affairs
Bachelor of Political Science (4th year)
Bachelor of International Relations (4th year)
To Apply

Applications are now closed. For inquiries, please contact Aaron Posehn, SPPGA Executive Assistant: aaron.posehn@ubc.ca