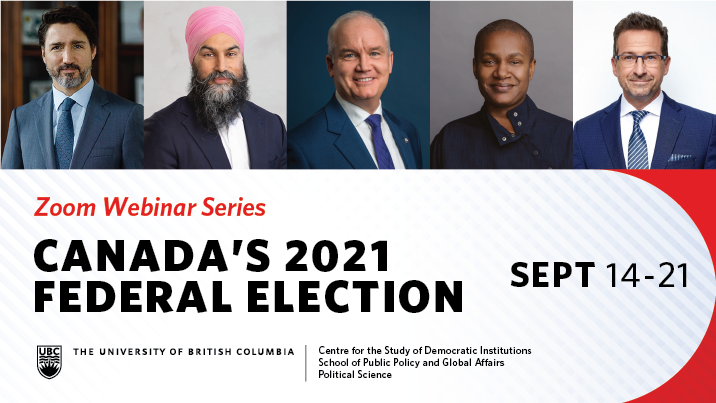 Canada's 2021 Federal Election Webinar Series
Canadians are returning to the polls less than two years after the most recent federal election. And what a time it has been! A minority government, party leadership change, and most significantly, the COVID-19 pandemic, all marked the short life of the 43rd Parliament. Canadians vote (or mail in their COVID-safe ballots) on September 20th to elect the 44th Parliament and pass judgment on the Liberal government's most recent stint in office.
This is not the first pandemic election in Canada, several provinces have gone through the exercise, re-electing governments in the midst of earlier waves. Will Canadians reward the government's pandemic performance and grant the Liberals the majority government they seek, keep them a minority government, or change government altogether? A comfortable government lead in the polls seems to be ebbing away and Canadians are seeking answers on questions like climate change, the post-pandemic recovery, housing, the opioid crisis, health care and reconciliation with Indigenous peoples.
Join us for a series of panels commenting on campaign issues and dynamics and evaluating the results of September 20th.
All are welcome. Please register in advance for the Zoom link.
Canada's 2021 Federal Election & the Climate Crisis
Tuesday, September 14, 2021
12:30 pm – 2:00 pm PT

Panelists discussed the science behind this year's climate emergencies, campaign promises as they relate to climate, and things to watch for in the run-up to the election.
Learn More and View the Recording
2021 Election: Policy Promises, Candidates, and Challenges
Thursday, September 16, 2021
12:30 pm – 2:00 pm PT
Panelists will discuss policy issues, candidate diversity –what it's looked like over time and why it matters, and delve into the challenges posed for a range of actors (like researchers, parties, Elections Canada) by holding a snap election.
Learn More and View the Recording
Post-Election Analysis
Tuesday, September 21, 2021
12:30 pm- 2:00 pm PT
Join us as we discuss campaign dynamics, the result of the election and the impact it may have on Canada's most pressing policy issues.
Hosted by: The Centre for the Study of Democratic Institutions, the School of Public Policy and Global Affairs and the Department of Political Science, University of British Columbia