Gain hands-on learning through our Global Policy Project, International Exchange Program, and other experiential opportunities.
---
Important
Experiential learning opportunities may be modified or reduced to accommodate changes in policies or necessary safety requirements due to COVID-19. For example, in 2021-2022, our Global Policy Project continued with virtual fieldwork with our local and international partners.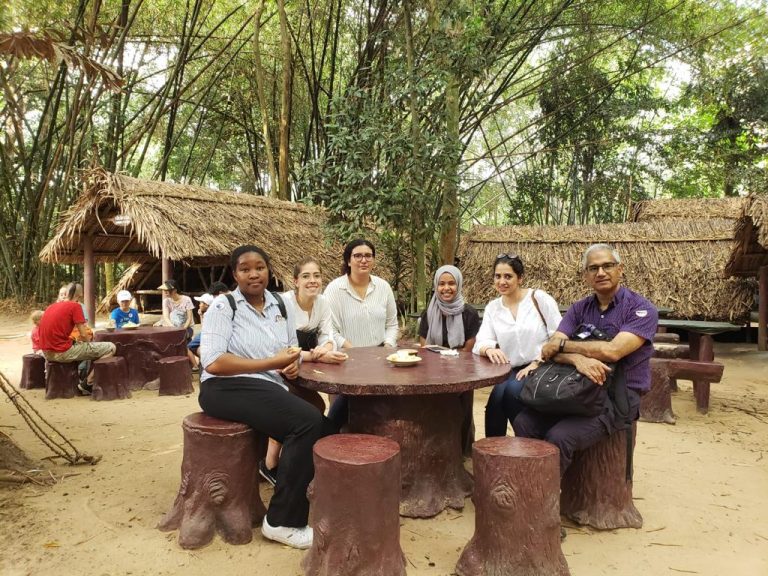 Global Policy Project
A defining element of UBC's MPPGA curriculum is an intensive capstone project titled the Global Policy Project (GP2) (PPGA 590), which provides opportunities for you to directly engage with key stakeholders including policy makers and civil society. This is your opportunity to be a policy entrepreneur. You work in a team and apply your creative thinking and analytical skills to a real-world policy challenge.
International Exchange Program
The UBC School of Public Policy and Global Affairs partners with premier public policy schools in Europe and Asia through an international student exchange program.
Currently, our second year MPPGA students have the opportunity to study internationally with the Hertie School of Governance (Berlin, Germany), Sciences Po School of Public Affairs (Paris, France) and Lee Kuan Yew School of Public Policy, National University of Singapore (Singapore). There are opportunities for you to go on exchange to other institutions as well.
Student Initiatives – The Pub
The Pub is a student-led policy magazine of the School of Public Policy and Global Affairs, the primary medium of MPPGA students to connect with the broader UBC community and the rest of the world. Here you will find articles, podcasts, and other digital content that discuss wide-ranging policy issues across the world, such as sustainability, foreign policy, and international development.
Aside from their diverse array of policy insights, The Pub is also the home of the MPPGA Student Association, the official student body representing the program.
Conferences and Competitions
The MPPGA program offers students various opportunities to participate in international conferences, business forums, policy case competitions, Global Public Policy Network meetings, and more. Build your policy expertise and networks by participating in these global policy discussions.
MPPGA students participate in high level discussions at forums and case competitions around the world every year. A sample is below:
Four students competed in the 2021 National Public Administration Case Competition, a virtual competition due to COVID-19. The team worked on the case study, A National Disgrace: Long-Term Care and COVID-19.
One student attended the 2020 NASPAA-Batten Student Simulation Competition which was based on running a simulation of a city as a team of five, with each team member playing the role of a city commissioner in charge of wellbeing, transportation, health, infrastructure, or as the mayor.
Four students competed in the 9th Annual CAPPA National Public Administration Case Competition in Quebec City which focused on the housing affordability crisis in Canada. The team was supported by SPPGA Professor George Hoberg and SPPGA Policy Practitioner Fellow, Andrea Reimer.
Three students participated in the second year of UBC's Women in House (WiH) program on March 9-10, 2020 in Ottawa. The program provided them an inside look into the working lives of female politicians in Canada, as well as leaving them informed and inspired to pursue their passions.
Several students attended the Think Global, Link Local 2020 Networking Breakfast on March 5, 2020, hosted by the Vancouver Branch of the United Nations Association Canada in collaboration with the NGO & Nonprofit Studies Program at Kwantlen Polytechnic University.
Two students attended the 2019 Global Public Policy Network (GPPN) Conference held at the Lee Kuan Yew School of Public Policy in Singapore. The GPPN is an international network of Public Policy schools and serves as a platform for institutional partnership, research collaboration, and student exchange.
A MPPGA student was appointed as a VISION20 (V20) Fellow, joining V20 Founding Co-Chair, UBC Professor Yves Tiberghien at the workshop "Beyond Neoliberalism in Emerging Markets" held at the Brookings Institution in Washington, DC in 2019.