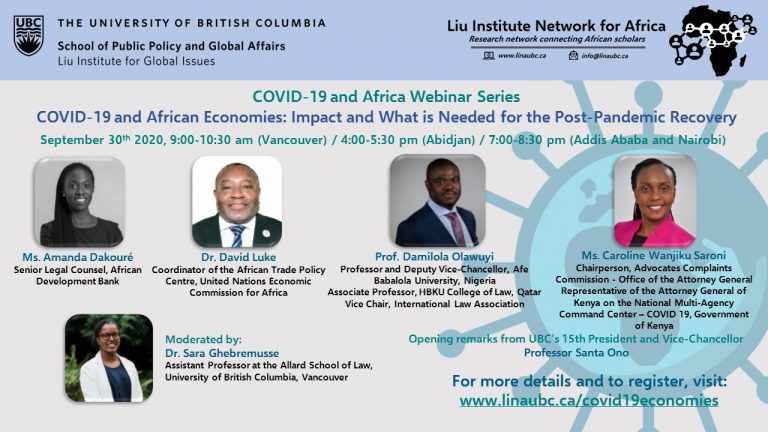 The "COVID-19 and Africa" webinar series is hosted by the Liu Institute Network for Africa (LINA) at the School of Public Policy and Global Affairs, University of British Columbia. LINA is a graduate student-led multidisciplinary policy, academic and community research network, with faculty, postdoctoral, student, professional and community members. The previous webinars in the "COVID-19 and Africa" series have examined African responses to COVID-19 across the public health, food security and education sectors.
LINA will be hosting another webinar exploring the impacts of COVID-19 on socioeconomic development across Africa, and the measures that are necessary for the post-pandemic recovery. The webinar will take place on Wednesday, September 30 from 9:00 am–10:30 am Pacific Time (Vancouver), 4:00 pm–5:30 pm GMT (Abidjan), and 7:00 pm–8:30 pm East Africa Time (Addis Ababa and Nairobi) over Zoom. Panellists from international organizations, Kenya and Nigeria will speak to the webinar theme at the continental, regional, or national levels.
Opening remarks: Professor Santa Ono, UBC's 15th President and Vice-Chancellor
Moderator: Dr. Sara Ghebremusse, Assistant Professor, Peter A. Allard School of Law, UBC
Speakers:
David Luke, Coordinator of the African Trade Policy Centre, United Nations Economic Commission for Africa
Amanda Dakouré, Senior Legal Counsel, African Development Bank
Damilola Olawuyi, Professor and Deputy Vice-Chancellor, Afe Babalola University, Nigeria, Associate Professor, HBKU College of Law, Qatar, and Vice Chair, International Law Association
Caroline Wanjiku Saroni,

Chairperson, Advocates Complaints Commission – Office of the Attorney General; Representative of the Attorney General of Kenya on the National Multi-Agency Command Center – COVID 19, Government of Kenya
Speakers' Bios:
Dr. David Luke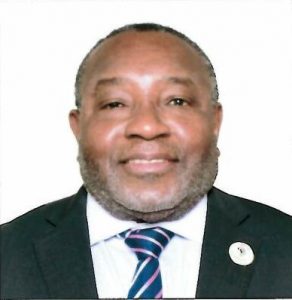 David Luke is Coordinator of the African Trade Policy Centre at the UN Economic Commission for Africa (ECA) with the rank of a director at the Commission. He is responsible for leading ECA's research, policy advisory services, training and capacity development on inclusive trade policies and in particular the boosting intra-African trade and the continental free trade area initiatives. His portfolio also includes WTO, EPAs, Brexit, AGOA, Africa's trade with emerging economies, and trade and cross-cutting policy areas such as trade, industrialization and structural transformation, trade and gender, trade and public health and trade and climate change.
Prior to joining ECA in 2014, he served as UNDP trade policy adviser in Southern Africa and Geneva and also as Senior Economist and Chief of Trade at the Organization for African Unity/African Union Commission, and as an Associate Professor at Dalhousie University in Halifax, Canada.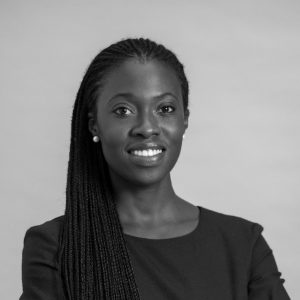 Ms. Amanda Dakouré
Amanda Dakouré is a Canadian qualified lawyer with over ten years of professional experience with the Canadian government, international law firms and international organisations. Based in Abidjan for the past four years, she currently holds the position of Senior Legal Counsel in the Office of the General Counsel at the African Development Bank Group where she provides legal advice to statutory bodies of the institution.
Prior to joining the Bank Group, Ms. Dakouré was an Associate in International Arbitration at White & Case LLP in Paris where she provided legal advice in both international commercial and investment disputes.
Ms. Dakouré holds a LL.M. from the London School of Economics where she specialized in International Business Law. She also holds a LL.B. and B.Soc.Sc. in Economics from the University of Ottawa where she was Editor-in-Chief of the Ottawa Law Review from 2009-2010.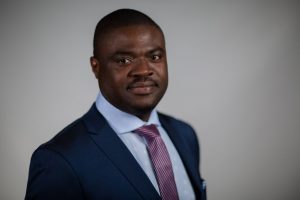 Prof. Damilola Olawuyi
Damilola S. Olawuyi is a Professor, Deputy Vice Chancellor, Chancellor's Fellow and Director of the Institute for Oil, Gas, Energy, Environment and Sustainable Development (OGEES Institute), Afe Babalola University, Nigeria. He is also an Associate Professor of Law at HBKU College of Law, Doha, Qatar.
A prolific and highly regarded scholar, Professor Olawuyi has practiced and taught law in Europe, North America, Asia, Africa and the Middle East. He has served as a visiting professor at Columbia Law School, New York, China University of Political Science and Law and senior visiting research fellow at the Oxford Institute for Energy Studies. In 2019, he was a Herbert Smith Freehills visiting professor at Cambridge University. He was formerly an international energy lawyer at Norton Rose Fulbright Canada LLP where he served on the firm's global committee on energy investments in Africa. He has delivered lectures on energy law in over 40 countries. Professor Olawuyi has published close to a hundred articles, book chapters and books on petroleum law, energy and international environmental law. His most recent book publications include The Human Rights-Based Approach to Carbon Finance (Cambridge University Press, 2016) and Extractives Industry Law in Africa (Springer, 2018). Professor Olawuyi serves on the executive committees and boards of several organizations. He is Vice Chair of the International Law Association; co-chair of the Africa Interest Group of the American Society of International Law (2016-2019); and member of the Academic Advisory Group of the International Bar Association's Section on Energy, Environment, Natural Resources and Infrastructure Law (SEERIL). He is the Editor-in-Chief of the Journal of Sustainable Development Law and Policy.
Professor Olawuyi holds a doctorate (DPhil) in energy and environmental law from the University of Oxford; a master of laws (LL.M.) from Harvard University; and another LL.M. from the University of Calgary. He has been admitted as Barrister and Solicitor in Alberta, Canada; Ontario, Canada; and Nigeria. Professor Olawuyi is a regular media commentator on all aspects of natural resources, energy and environmental law.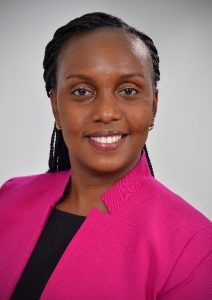 Caroline Saroni (formerly Caroline Kago)
Caroline Saroni is an advocate of the High Court of Kenya with over fourteen years' experience in the practice of law. She has taught law at one of the leading public law schools in Kenya since 2009 as well as published several articles in the area of regional integration, trade and investments law and public participation.
Caroline currently serves as the Chairperson of the Advocates Complaints Commission. She is also a Tobacco Control Technical Legal Expert for the WHO-Regional Office for Africa.
In March 2020, Caroline was appointed by the Honorable Attorney General to the legal cell of the National Multi Agency Command Center – COVID 19 (NMACC-Kenya) to represent the Office of the Attorney General and Department of Justice.
Caroline is a member of the McCabbe Centre for Law and Cancer (Melbourne, Australia) International Alumni Network and the Leading in Public Life: Women, Influence Power Programme Alumni Network under the Nelson Mandela School of Public Governance, University of Cape Town.
Moderator's bio: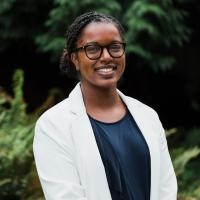 Dr. Sara Ghebremusse
Dr. Sara Ghebremusse is an Assistant Professor at the Allard School of Law. She writes, researches, and teaches in the areas of African law and society, law and development, mining governance in the global south, human rights, and transnational law. She has published in all these fields and has presented her research at conferences in Canada, Germany, Kenya, Mexico, South Africa, and the United States. Dr Ghebremusse supervises graduate students in subjects related to her research and teaching interests. She is a member of UBC Black Caucus.
Hosted by: