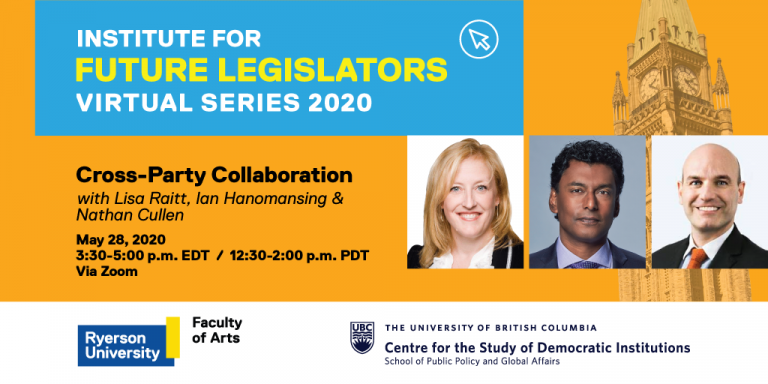 Polarization in Canadian politics has risen rapidly in recent years. Yet, over the past few months, we have seen remarkable examples of politicians from all parties in Canada working together to tackle the crisis brought on by COVID-19. Can this become the norm going forward? Where have cross-party collaborations succeeded before? Under what circumstances are politicians able to set-aside partisanship to work together? Can the growing polarization we have seen in Canadian politics be reversed?
Former Members of Parliament, Nathan Cullen and Lisa Raitt kick off our IFL Virtual Series with a discussion of their experiences working across party lines, and what possibilities they see going forward.
This session is moderated by Ian Hanomansing, host of The National on CBC.
ABOUT THE SPEAKERS: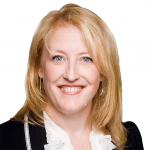 The Honourable Lisa Raitt joined CIBC Capital Markets in January 2020, having previously worked in both the public and private sectors. Ms. Raitt's current focus is on senior client coverage and business development with clients in the energy, infrastructure and industrial sectors, which align closely with her deep expertise.
Prior to her current role, Ms. Raitt was the President and CEO of the Toronto Port Authority. She was elected into the House of Commons in 2008, where she went on to hold three senior portfolios serving as Minister of Natural Resources, Minister of Labour, and Minister of Transport. Most recently, Ms. Raitt was the Deputy Leader of the Official Opposition and the Conservative Party of Canada.
Ms. Raitt holds a Bachelor of Science degree from St. Francis Xavier University and a master's degree in Chemistry from the University of Guelph. She possesses an LL.B from Osgoode Hall Law School and was called to the Ontario bar in 1998. In 2020 Ms. Raitt was named a Woodrow Wilson Center Global Fellow of the Canada Institute.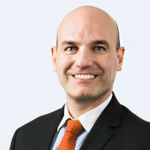 Nathan Cullen is a Senior Advisor, providing strategic advice and support to StrategyCorp's clients. He brings 15 years of experience as an accomplished Member of Parliament and veteran member of the New Democratic Party of Canada (NDP) to the firm.
First elected in 2004 and re-elected four consecutive times until his retirement from federal politics in 2019, Nathan represented the riding of Skeena—Bulkley Valley in British Columbia. During his tenure in Parliament, Nathan served as the NDP Critic for Finance, Environment, Democratic Reform, Natural Resources, and Human Resources and Skills Development. Nathan was also House Leader for the Official Opposition. In addition to his many parliamentary roles, he was a candidate for the federal NDP leadership in 2012.
Prior to his political life, Nathan owned a private consulting company that specialized in strategic planning and conflict resolution. He has a deep interest in issues relating to energy, rural affairs, and Indigenous peoples.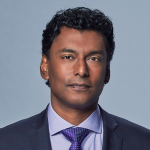 Ian Hanomansing hosts THE NATIONAL from Vancouver. Born in Trinidad and raised in Sackville, New Brunswick, veteran host and reporter Ian Hanomansing began his broadcasting career at CKDH Radio in Amherst, Nova Scotia, working at radio stations in Moncton and Halifax before joining CBC in Halifax in 1986. His assignments took him to Toronto the following year and eventually to Vancouver, where he was a national reporter for fourteen years.
Among his major assignments: the Exxon Valdez oil spill and San Francisco earthquake (both in 1989), the Los Angeles riot (1992), Vancouver's two Stanley Cup riots (1994 and 2011), the Hong Kong handover (1997) the Slave Lake Alberta wildfire (2011), the Humboldt bus crash (2018) and seven Olympic Games, the most recent in Sochi in 2014.
He has hosted a wide range of programs including: Pacific Rim Report (1995-1999), which focused on Canada's connection to Asia; Times 7 (2005), a joint venture between CBC News and the New York Times; Canada Now (2000-2007), a national supper-hour newscast; Still Talking Hockey (2004), a sports-themed late night program on CBC British Columbia; Feeling the Heat (2007), a summer series about the environment on CBC Radio One and CBC News Network with Ian Hanomansing (2012-2017) which won a Canadian Journalism Award in 2014 and shared a Canadian Screen Award in 2015, both for breaking news coverage.
ABOUT THE SERIES:
This session is part of the IFL Virtual Series, co-presented by UBC's Centre for the Study of Democratic Institutions at the School of Public Policy and Global Affairs and the Faculty of Arts at Ryerson University. The IFL Virtual Series brings together political practitioners from the Institute for Future Legislators to share their insights, experience and expertise. Please see our IFL Virtual Series webpage for more information on all upcoming events.