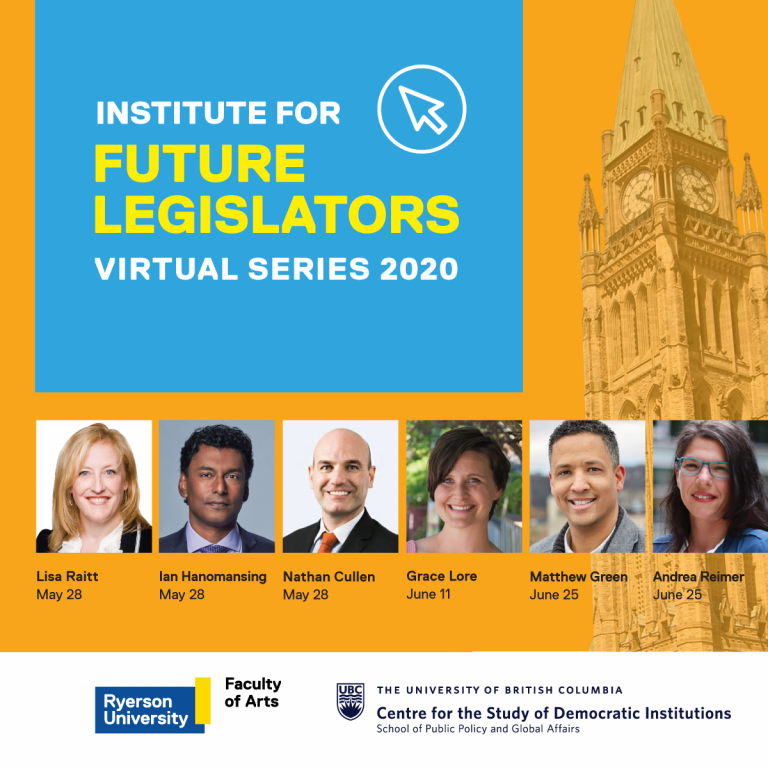 Welcome to the IFL Virtual Series!
This series has now ended. Click on the titles below to watch video recordings of each session. 
The Institute for Future Legislators (IFL) provides intensive hands-on mentoring and training for anyone who seeks the experience and knowledge necessary to make a difference in Canadian politics — whether at the local, provincial, or federal level. Through the Institute, former politicians, journalists and advocates provide hands-on training and mentorship to participants on topics including legislative life, effective political communication and working within and across political parties. At the end of the Institute, participants put their training into practice with a lively simulation of a parliamentary session.
Due to the global COVID-19 pandemic, we are unable to offer an in-person Institute this year. Over the past months, we have collectively experienced the challenges of a world grappling with a devastating and deadly pandemic. We have watched global leaders both fail and succeed at guiding their countries and constituents through this crisis.  It is during these times that the importance of having strong legislators who can make difficult decisions for the health and welfare of their communities, becomes vital.
UBC's Centre for the Study of Democratic Institutions (CSDI) at the School of Public Policy and Global Affairs (SPPGA) has partnered with the Faculty of Arts at Ryerson University to co-present a free virtual series that will expose you to our repository of seasoned political practitioners who will share their insights, experience and expertise on effective leadership, democracy, communications, and engagement and what it means during a global crisis.
Session 1 – May 28, 2020
Cross-Party Collaboration with Lisa Raitt & Nathan Cullen. Moderated by Ian Hanomansing
12:30 p.m.–2:00 p.m. PDT/ 3:30 p.m.-5:00 p.m. EDT. Via Zoom
View Event Recording
Session 2 – June 11, 2020
Getting Trolled on the Campaign Trail: How Candidates Address Online Harassment and Incivility with Grace Lore & Chris Tenove
10:00 a.m.–11:30 a.m. PDT/ 1:00 p.m.-2:30 p.m. EDT. Via Zoom
View Event Recording
Session 3 – June 25, 2020
Leadership and Representation: Connecting with communities and amplifying voices with Matthew Green & Andrea Reimer. Moderated by Brittany Andrew-Amofah
12:30 p.m.–2:00 p.m. PDT/ 3:30 p.m.-5:00 p.m. EDT. Via Zoom
View Event Recording
Session 4 – July 9, 2020
Making Space for Indigenous Governance: Two Examples in Conversation with Damien Lee & Marrissa Mathews
10:00 a.m.–11:30 a.m. PDT/ 1:00 p.m.-2:30 p.m. EDT. Via Zoom
Session 5 – July 23, 2020
Cutting through the Noise: Mastering the Elements of Clear Political Communication with Alison Broddle & Elamin Abdelmahmoud
12:30 p.m. –2:00 p.m. PDT/ 3:30 p.m. – 5:00 p.m. EDT. Via Zoom
Session 6 – August 13, 2020
How-To Parliament: An Introduction to the Institute for Future Legislators
12:30 p.m.– 2:00 p.m. PDT  / 3:30 p.m. – 5:00 p.m. EDT. Via Zoom