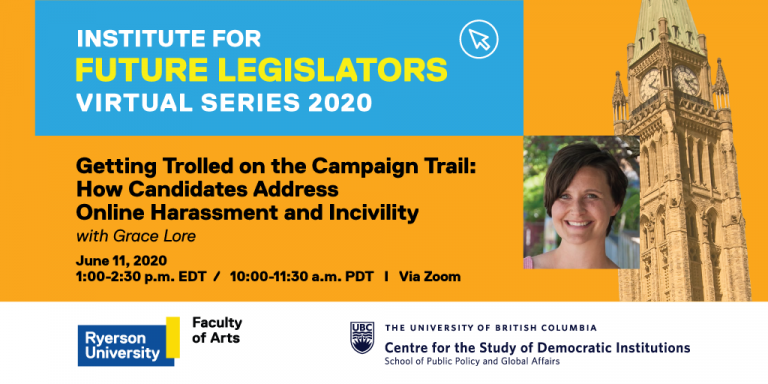 From before the COVID-19 pandemic forced a great many activities to go digital, social media has played an increasingly important role in local, provincial and federal elections. Through social media platforms, candidates and voters can connect rapidly and directly. This has brought new opportunities but also new challenges, including high volumes of abusive and toxic messages directed at candidates and elected officials.
Dr. Grace Lore and her team have been researching the forms and effects of online harassment, particularly during the 2019 federal election. She, along with UBC Postdoctoral Fellow Dr. Chris Tenove, will join us to talk about their research, and to discuss policy changes and individual strategies to address this problem.
ABOUT THE SERIES:
This session is part of the Institute for Future Legislators (IFL)  Virtual Series, co-presented by UBC's Centre for the Study of Democratic Institutions at the School of Public Policy and Global Affairs and the Faculty of Arts at Ryerson University. The IFL Virtual Series brings together political practitioners from the Institute for Future Legislators to share their insights, experience and expertise. Please see virtual series page for more information on all upcoming events.
ABOUT THE SPEAKERS: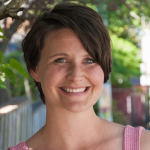 Grace Lore is a lecturer at the University of Victoria where she teaches Canadian Politics, Political Science Methods, and Gender and Politics. She works with women's organization like the Equal Voice, the Victoria Sexual Assault Centre, and the PEI Women's Coalition, to promote women's political representation and best practices in gender-based policy.
She has a PhD in Political Science from the University of British Columbia where she studied the relationship between electoral systems, women's political representation, and the representation of gendered policy issues. She is mom of two and was recently a candidate for Victoria city council in the 2018 municipal election.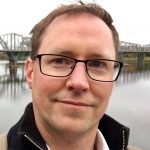 Chris Tenove is a Postdoctoral Fellow in the Department of Political Science at the University of British Columbia. He researches democratic participation, public policy, and digital politics. In recent years he has published studies and policy reports on the threats that disinformation and harmful speech pose to Canadian democracy. Together with Grace Lore and Heidi Tworek (UBC History and SPPGA), he is conducting an in-depth study of the online abuse of Canadian politicians.