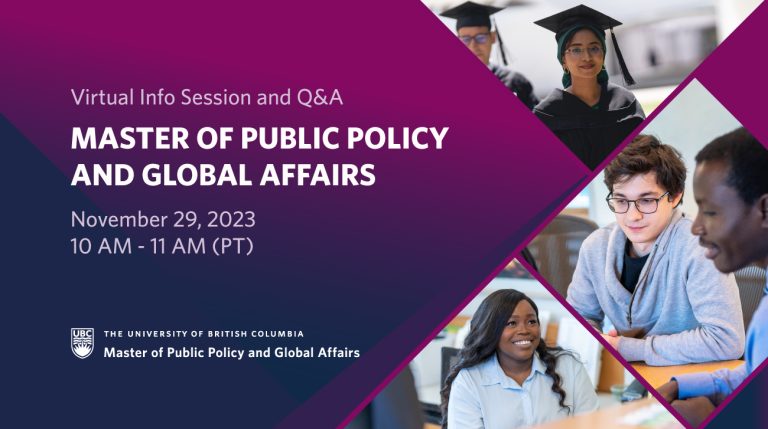 Master of Public Policy and Global Affairs Info Session
We invite you to join us for an exciting information session where you can delve deeper into the world of the Master of Public Policy and Global Affairs (MPPGA) program. Whether you're a prospective student or simply curious about this field, this session offers a fantastic opportunity to explore the program and have all your questions answered.
Date: November 29th
Time: 10 AM – 11 AM
Location: Zoom (Virtual event)
Are you ready to embark on a transformative journey towards becoming a global change maker? The University of British Columbia (UBC) invites you to explore the Master of Public Policy and Global Affairs (MPPGA) program through our upcoming virtual info session over Zoom.
The MPPGA program is designed to equip future policy makers with the knowledge, skills, and experiences necessary to tackle the world's most pressing challenges. With a strong focus on rigorous knowledge acquisition, policy analysis, career development, and experiential learning, this program paves the way for you to excel as a policy professional.
What to Expect at the Info Session:
Introductions: Get to know the key figures behind the MPPGA program and your fellow attendees.
Presentation: Gain a comprehensive understanding of the MPPGA program, its curriculum, and the unique opportunities it offers.
Videos: Get an inside look into the program, its successes, and the experiences of students and alumni.
Panel Discussion: Engage with our panel, which includes staff, students, and program alumni. Hear firsthand about their experiences and insights into the MPPGA program.
Mingling: Connect with like-minded individuals who share your passion for global affairs and public policy. Expand your network and build lasting relationships.
Why UBC?
At UBC, you will have the privilege of learning from a diverse faculty and engaging with policy practitioners at a top-ranked university known for its commitment to addressing climate change. You'll be located in Vancouver, British Columbia, consistently ranked as one of the greenest and most livable cities in the world.
Don't miss this opportunity to kickstart your journey towards becoming a global change maker. RSVP for our virtual Zoom info session on November 29th, from 10 AM to 11 AM (PT). Take the first step toward a fulfilling career in public policy and global affairs. Join us and be part of the solution to the world's most pressing issues. We look forward to meeting you on November 29th!